Whenever we look for operating systems for hacking and security analysis purposes, Kali Linux's popularity usually fades everything away. But there are a few contenders like Parrot Linux and BlackArch that holds a special place among them. Though some Windows-based options like Commando VM are also there, most of the security researchers prefer to go with the Linux-based distros.
Parrot 4.6 Linux Distro Released
The Parrot Linux team recently released the new Parrot Linux 4.6 with some major improvements such as KDE Desktop, OpenNIC support, etc. The new version is released after three months of a continuous heavy development cycle. It's a big achievement for the team as they have now shifted to their own infrastructure using the same.
If you are unaware, the Parrot Linux comes in different versions with different goals. While the Home/Workstation version offers a lightweight environment for normal uses and privacy, the Security version offers a full-fledged system for pen-testing, forensics and reverse engineering. If you are someone who is not involved in any security work and just want the feel of Parrot, go with the Home/Workstation version.
Read: Project Elisa Launched For Linux in Safety-Critical Systems
What's New in Parrot Linux 4.6?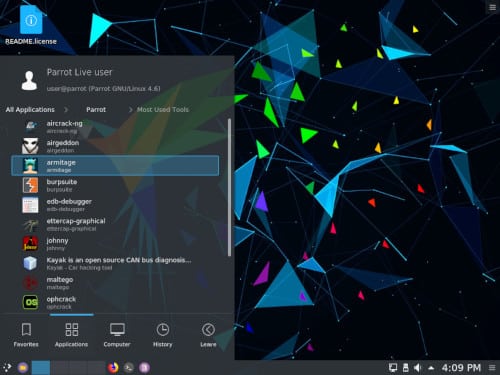 The Parrot 4.6 Linux distro has added a new ISO image based on the KDE Plasma desktop. Before this change, Parrot distro shipped with the default MATE desktop. The new desktop flavor is available with both Home and Security versions.
Talking about the design, a new boot-splash animation and desktop background looks amazing. While the themes and icon remain the same, the desktop-based and some wallpapers have been upgraded to match the new look.
The APT's enforcement of HTTPS in the new Parrot Linux is also one of the other major changes. The distro is now configured to redirect to HTTPS mirrors whenever possible. In case the HTTPS mirrors aren't available, the signatures will be still verified.
In order to provide freedom to users and allows domain resolution of some special top-level domains, Anonsurf now comes with an option to change default DNS servers to OpenNIC DNS resolvers.
The Nvidia drivers are also updated to the new 410 version to provide better performance. The Parrot 4.6 comes with Linux 4.19 Kernel that may not be the latest 5.0 but comes with long-term support.
The team is constantly working to rebuild the sandbox. "Sandboxed applications in Parrot OS are now more stable and reliable than before, and we are pushing forward with plans to not only add more profiles but utilize firejail's capabilities to their fullest," said Parrot Linux team.