Apple, the first ever company to touch down $1 trillion mark and one of the tech giants popular for its high quality, expensive and top-notch products, is no doubt have proven their domination over the whole tech world but, is the case same that Apple holds for the Indian market?
A recent research and study depict that Apple has been facing failures in India especially with the sales of expensive ranked iPhones which are way more expensive and you have to sell your organs to own them. In this article, I will try to figure out why iPhones have to face a bit of criticism in India? So, let us get started.
The Stats
Apple iPhones are demanding products around the world. If you give a gauge at the stats shown below that is about the iPhone market share then, the numbers show that after the Android eco-system, iOS is the most popular and trusted OS among the users.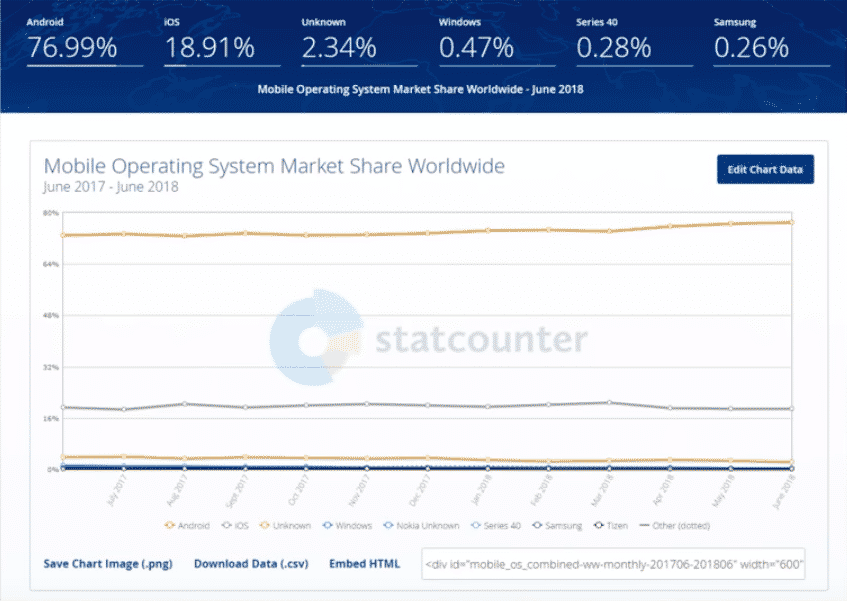 Source: Statcounter
And takes about 18.91% market share. If I talk about the iOS users in market share by reason then we have the following data.
North America about 48% of the total users
Oceania in Australia about 48.34% of the total users
Europe about 24.06% of the total users
In Asia and South America, it has about 10% of  total users
Lastly, in Africa, the market share is about 7% of the total users.
Pointing out the Asia Pacific reason, its just 10% don't you feel awkward! Countries like India with a population of more than 1 billion and such a small per cent.
Also, the unpopularity can be clearly seen from this image below.

When it comes to sales, Apple is nowhere on the table. If I talk about the market share of MacBooks then also scenario doesn't change. The below picture is the laptop's market share of Q1(2018). The reason is clearly the price that the laptops of Apple hold for the same configuration that other companies provide at a lower price.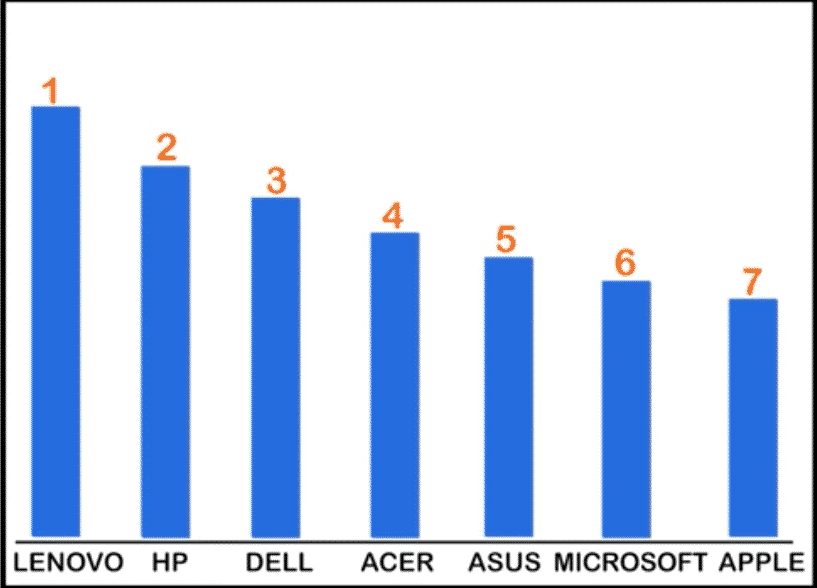 Why is this so?
India is the world second-biggest phone market where each company pays extra attention to satisfy the needs of the people but Apple is gambling with the sentiments of people by pricing their phone in lacks because, In India, Apple products are more often treated as a symbol status rather than a smartphone with camera and internet connectivity and Apple understand this very well.
When Tim Cook visited India way back in 2016, he said,
 Apple was in the country for a "thousand years."
But, with iPhone sales continuously going in the downward trajectory,  this seemed like a joke by him and Unfortunately for Apple, any good joke often contains a grain of truth.
According to Counterpoint Research; in the first half of this year, Apple shipped fewer than 1 million iPhones in India which is very less when compared to Samsung, that shipped about 17.4 million smartphones in the same time period, while Xiaomi shipped nearly 19 million units.
Over the years, Apple's jagged policies to seek profitability per handset over erect volume has never really competed with the likes of Samsung in terms of overall smartphone shipments in India. Apple shipped 2.6 million iPhones in India in 2016, a growth of over 50 percent compared to the year before.
That number rose to 3.2 million in 2017, but by the end of last year, there were signs that the growth was going down according to Counterpoint. Apple's share of the Indian smartphone market has dropped to just 1 percent as of Q2 (April to June) 2018 and all thanks to the expensive iphones touching the price of 1.3 lack.
Here are some reasons that can actually justify the downfall of Apple products in India.
A boost in "Made in India" campaign by the Indian government has forced most of the tech giants to establish their manufacturing plants in India. Since import duties on mobile have been increased and imports of the components required for local assembly has been done duty-free, or taxable at lower rates so, the Indian government has been pushing smartphone makers to set up shop in the country.
 The rise in sticker prices of Apple products is a major concern for most of the middle-class buyers. It's cheaper to buy a return ticket to the UK, but buying an iPhone XS, XSMax or even X is far beyond the capability of Indian customers.
 Feature phones. Yes, in 2018 even. The stats showed us that they still account for over 50 percent of all mobile phones shipped in the country as of the third quarter last year. Thanks to the Jio Phone that captured nearly 36 percent of the feature phone market in India in Q1 2018, which is still bigger than the smartphone market in India in terms of pure volume.
Lack of Dual Sim feature in the Phone. This feature is existing from 2000 but, why Apple is not offering this feature is still a mystery for most of us. Though, XS and XSMax and XR are now having an electronic sim which will take Indian buyers to digest for a while.
Apple seems to be selfish by degrading the older models. This is a weird strategy from one of the finest company in the world to force people to buy their new models.
A smaller screen size and poor screen resolution than most of the mid-range range devices available in the Indian market.
Conclusion
By this post, I really don't want to hurt the sentiments of Apple fans as I am my self an Apple Fan Boy and I buy it because of its solid build quality, finish, and durability. But, don't deny the truth as its always bitter to taste that people in India buy an Apple product just to show other people. You may say that I do the same thing but what's wrong in this let's accept it, I accept this, you should even accept this.
Apple has been really lucky enough to gain such kind reputation in the World that its products are the best and most valuable but hey, I really don't think so that the products are value for money in any means. Majority of Indian users buy cheaper devices. According to Counterpoint Research, the "premium smartphone market" in India is around Rs. 30,000, or roughly $450. This is the reason why iPhone SE and 5s  is most sold in India.
Companies like MI, OnePlus, Oppo and Vivo have realized this fact and the prices of their devices lie under 40K even for their flagships. I am not saying this to suggest Apple but if this continues then Apple's market will go down the same route as Sony or HTC anytime soon.
Globally, the iPhone is doing as well, and with the launch of new iPhone models, it will do well only but, unless the company decides to introduce a cheaper iPhone for Indian market it's hard to see how Apple can start selling more units in a way that will gain them significant market share.