The most popular video games PlayerUknown's Battleground and Fortnite "Battle Royale" are widely played and enjoyed across the globe. To add to the popularity of the game, a mobile version has also been launched so a player can carry the game around. Both games have a lot of similarities with pretty much same gameplay style but there are many differences which makes it hard for people to choose which game is best for them.
So, let's discuss both games including their origin, gameplay style, features, and availability. At the end of this article, you'll know almost everything about PUBG mobile and Fortnite Battle Royale mobile version.
PUBG Mobile
PUBG was developed and published by PUBG corporation in 2017 and is a multiplayer action game where more than one hundred players fight on the battlefield. The one who survives till the end is declared as a winner. The game begins with players parachuting from the plane on a map area of 8 by 8 km. The players decide when to step out and are dressed in their customized clothing. Once they land, they ransack the buildings for armor's, weapons, vehicles, clothing etc. These things are uniformly spread across the map with the best ones being available in the highest risk areas.
Each player strives to shoot out from their hideout place and protect themselves. They can loot the dead players of their belonging and move on. The area of the map shrikes to become smaller. It randomly attacks the players by throwing bombs. An indication of such an action is given to the players to prepare themselves to move to the safer zone. An overhead plane passes throwing loot items on the surviving players. It remits visible red smoke to draw the players attention.
PUBG well played takes about 30 minutes to complete the game and declare a winner. It has very clear graphics and response time is really quick. It performs better and faster on the mobile handset giving a better control to the player at a fast pace. It has a wide console which is a feel-good factor for the player.
Fortnite Battle Royale
Fortnite is developed and published by Epic Games in 2017. They are the creator of UNREAL engine (a Game development Platform). It has two versions. The Battle Royal version is most popular. It's a free-to-play game. Fortnite follows the same game style as PUBG because it's also based on Battle Royale.
It features up to 100 players, alone or in small squads, attempting to be the last player alive by killing other players or evading them while staying within a constantly shrinking storm eye to prevent taking lethal damage from being outside it. Players must scavenge for weapons and armor to gain the upper hand on their opponents.
In Fortnite, players can break down most objects in the game world to gain resources they can use to build fortifications as part of their strategy.
Which game is Better? PUBG mobile or Fortnite?
Both PUBG and Fortnite "Battle Royale" is popular and worth a try. Depending on one's choices, one of them occupies the favorite list, even though both are equally challenging for the players. Let's talk about the difference between PUBG mobile and Fortnite:
Looting and Other Mechanisms
It's always hard for developers to provide PC-level controls on the tiny mobile screens but both games have done a very good job by providing auto pick up options for looting.
When it's auto pickup is enabled on PUBG, it'll auto picks up the best stuff in loot and ignores the rest unless you tap the icon to pick it up manually. If you pick up a scope for your rifle, it will automatically attach to the rifle you are using at the moment. If the attachment doesn't fit any of your guns, you can't pick it up. You can also disable the feature and do everything manually.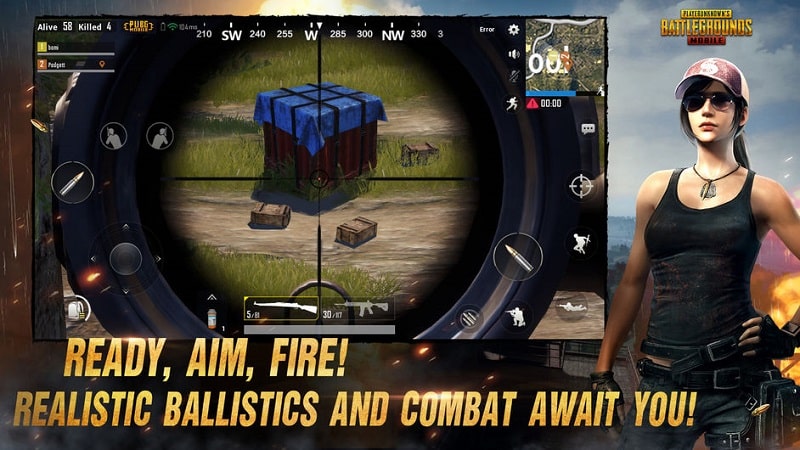 It also has a mechanism for an autorun, where you just have to swipe all the way up to the Fast Run button. It'll keep a fast pace moving across long distances without touching the move forward icon. To open the doors, you'll need to tap a button to open and close them. You can pick vehicles and drive them with very easy controls. So if you are not good at aiming, you can still kill people by using UAZ or Buggy.
Fortnite is a simple game where you don't require scope or attachments, you just have to pick a gun and start shooting at other players. It'll auto pick the rest including the bullets and medical stuff. Here, you can also turn off the auto pick feature from the menu.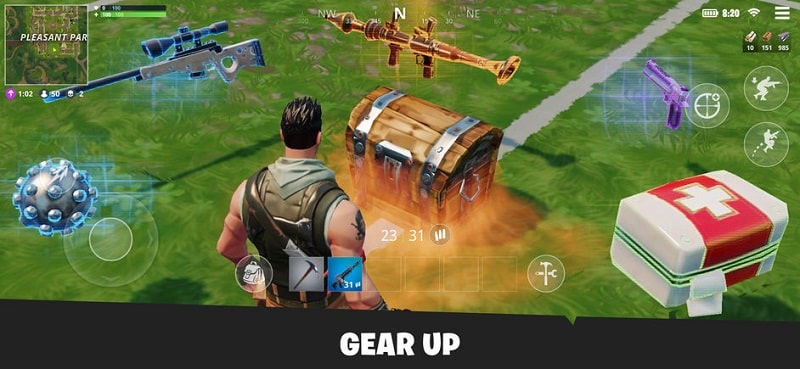 When someone is approaching, you not only hear their footsteps but also see tiny footstep icons pop up in the direction. That makes it easy to identify the surrounding without even using headphones. In Fortnite, simply walking through doors opens them and tapping on the doors shuts them. You can't drive vehicles in Fortnite but you can fly sometime.
If you like a game where you can have a gun upgrade system, different scopes & sights, recoils, and vehicles, you should play PUBG. If you just want to grab a gun and start shooting, Fortnite is the game for you.  
Graphics and UI
PUBG
is a military-style shooter with somewhat realistic graphics. The characters look like normal human beings. The guns also look like real guns. It's developer Tencent, has created many mobile games before and they are good at creating better UI for mobile users that includes controls and buttons placements.
Fortnite is very cartoonish and very colorful. But, it's always fun to play because of its very polished graphics design. Coming to it's UI, EPIC Games tried their best but they don't have much experience of creating mobile games. Hence, it will take a few more updates to provide a better UI to its users.
If you like realistic gunplay games like Counter-Strike or Call of duty, you should play PUBG. If you like to play games like Team Fortress, Overwatch or X1Z1, you should play Fortnite.  
Availablity
The best part of the Fortnite is that it allows you to cross-play on any device like mobile, iPad or Xbox.  You can play a game on one device and continue on another device from the same level which is not available in PUBG. But Fortnite mobile is currently available for iOS devices only. Android support is coming within the next few months.
PUBG don't support cross-platform. You have to create different accounts on different devices. But, that's not a big deal here because we're only talking about a mobile version of the game. PUBG supports both iOS and Android OS making it one step ahead than fortnite.
If you have an iOS device, then you have the option to play both games on your device but if you own an Android device, you can only play PUBG for now.
Performance
It's hard to compare the performance of both games because PUBG is available on both Android and iOS but Fortnite is limited to iOS only (As of now). There are very limited versions of iOS devices and most of them are very up to date in terms of technology and hardware. So, it's easy for Epic games to identify the problems and make Fornite smoother.
But, despite being available on both platforms, PUBG managed to make the gameplay less laggy and smooth compared to its PC version.
If you own an Android device, you should have a phone with good CPU and RAM to run PUBG. For iOS users, both games are well optimized. 
Conclusion
PUBG and Fortnite both games are fun to play and enjoyable. They have a very similar style yet provides different graphics, UI, and mechanisms for players. Both games are free of cost and being updated regularly. Now that you've read this article, you must've known which game is suitable for you to play. Things may change in the future so I'll keep editing this article whenever there is a new update.