It's been a long time, Intel hasn't released anything particularly exciting. The Intel i7 (Kaby Lake) is currently the best processor in the market right now. However, it seems like the wait is going to be over soon. According to the recent leaks on Anandtech forum, The Intel corporation is apparently about to unveil a new lineup of desktop CPUs with a new high-end Core i9 CPU (Skylake-X) with 12 cores.
A forum member posted the PPT slide outlining a new crop of Core i9 processors. It looks like some employee or partner took a photo of a PowerPoint presentation in German with the full upcoming lineup. These processors would be based on the LGA-2066 architecture, and if valid would create a strong lineup of high-end desktop CPUs. With 12 cores and a power consumption of 140W, this is likely going to be the most powerful CPU in the market.
According to the image, the new Core i9 designation would refer to four different chips ranging from the Core i9-7800X up to the Core i9-7920X. These chips would have a minimum of six cores and 12 threads and would range in speed from a 3.5GHz base and 4.0GHz Turbo 2.0 up to an undisclosed maximum speed. Between 28 and 44 PCIe lanes would be supported and the thermal design power (TDP) would run at a scorching 140 watts.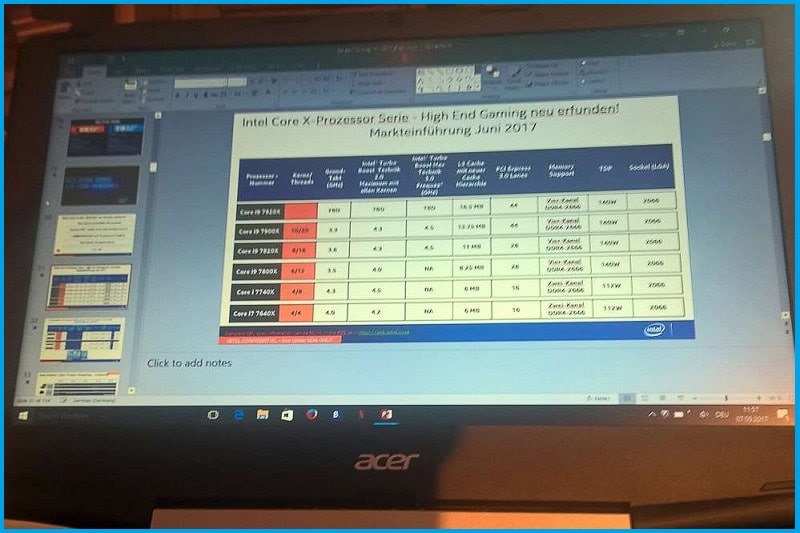 However, this blurry picture doesn't say much. The forum member also typed down the specification.
Skylake-X (Core i9) Lineup and Specifications
Core i9-7920X
12C/24T
16.5MB L3
44 PCIe lanes
Clocks TBD (August Launch)

Core i9-7900X
10C/20T
13.75MB L3
44 PCIe Lanes
3.3Ghz Base
4.3Ghz Turbo 2.0
4.5Ghz Turbo 3.0!

Core i9-7820X
8C/16T
11MB L3
28 PCIe Lanes
3.6Ghz Base
4.3Ghz Turbo 2.0
4.5Ghz Turbo 3.0

Core i9-7800X
6C/12T
8.25MB L3
28 PCIe Lanes
3.5Ghz Base
4.0Ghz Turbo 2.0
Core i7-7740K
4C/8T
8MB L3
16 PCIe Lanes
4.3Ghz Base
4.5Ghz Turbo 2.0
Core i7-7640K
4C/4T
6MB L3
16 PCIe Lanes
4.0Ghz Base
4.2Ghz Turbo 2.0
– L2 cache = 1MB (Skylake-X), 4x as much as Core i7-7700K
– Dual DDR4-2666 for Kaby Lake-X / Quad DDR4-2666 for Skylake-X
– 112W for Kaby Lake-X / up to 140W for Skylake-X
– Apparently all Core i9 parts support AVX-512 (TBC)
– Launch in June, except 7920X (August)
According to Guru3D,
The two highest rated procs, i9 7900X and 7920X have been tested on some integer and floating point calculations. These benchmarks These would be the 10 and 12 core models.

The 10 core  i9-7900X scores 107 points in a single core config and 1467 points with all of them activated. The base clock frequency of this proc is 3.1 GHz, the Turbo however is not listed. The 2.9 GHz clocked 7920X 12 core proc had a better score in single threaded perf at 130 points. For the chip with all cores tested it scored 1760 points.