Last week, the FDA announced it had approved the first prosthetic arm that's capable of performing multiple simultaneous powered movements.
The new Deka arm (codenamed Luke, after Luke Skywalker's artificial hand) was developed by Dean Kamen, inventor of the Segway. The project began in 2006 when DARPA funded multiple research initiatives in an attempt to create a better class of prosthetic device for veterans returning home from the Iraq War. Today's FDA approval is a huge step for the Deka, as it means the devices are now clear for sale — provided the company can find a commercial partner willing to bring them to market.
Designing prosthetics
Humans have been building prosthetics for millennia; the oldest known artificial limb is the "Cairo Toe," discovered in the tomb of a wealthy Egyptian noblewoman and thought to date to 950 BC. By the Middle Ages, craftsman had created artificial hands with intricate systems of pulleys and clamps that could securely grip a sword. The earliest known example of this type of prosthesis was made for the Franconian knight Götz von Berlich, pictured below.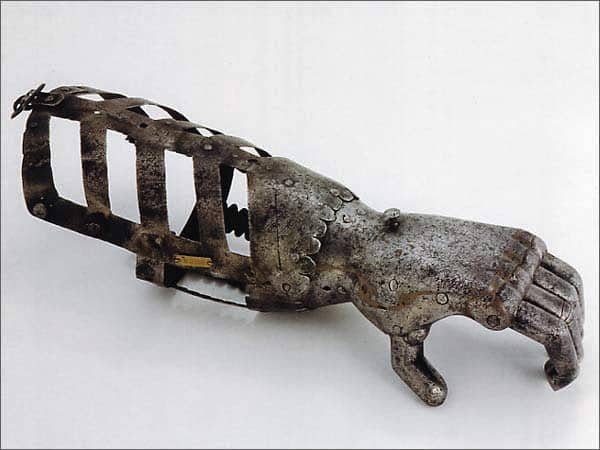 Articulated artificial hand
Today, there are a number of artificial arms and hands, from single hooks to split hooks to complex limbs capable of multiple functions. Some systems are body-powered (meaning that movement of another part of the body articulates the limb) while others rely on batteries. The field is incredibly complex — a split hook (literally two hooks that can open and close to grip objects) can be body-powered or electrical and may be "voluntary open" (the limb is closed by default and requires energy to open) or "voluntary close" (force is required to grip an object). Each has its own advantages and disadvantages — and that's the simplest kind of device.
A full consideration of the types of prostheses and they're various advantages and disadvantages is therefore beyond the scope of this article, but I brought them up to put the Luke arm in context. (For more info on prosthetic limbs, our feature on Iron Man-like exoskeletons is a good place to start.) The media has a tendency to talk about advances in artificial limbs as a monolithic field, but in reality, amputees have very different needs and baseline capabilities and there is no "one-size fits all."
What Deka does differently
The Deka Arm System is a battery-powered device that blends multiple approaches. Some of the Deka's functions are controlled by myoelectricity, which means the device senses movement in various muscle groups via attached electrodes, then converts those muscle movements into motor control. This allows the user a more natural and (theoretically) intuitive method of controlling the arm rather than relying on a cross-body pulley system. The more advanced myoelectric systems can even transmit sensation back to the user.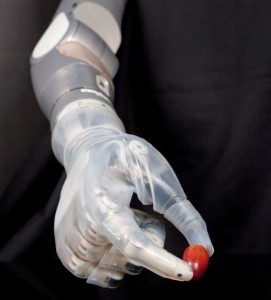 What sets Deka apart is that it can also be configured to rely on wireless sensors embedded in the soles of a user's shoes, and may even be capable of interfacing with some of the alternate cutting-edge techniques in prosthetic limb research. Using a technique known as targeted muscle reinnervation (TMR), researchers have experimented with transplanting nerves from damaged limbs into still-functioning muscle tissue. A person with a residual arm could have some of those nerves transplanted into the pectoral muscle. The artificial arm is again linked to the area using electrodes, and when the user thinks "I'm going to move my (missing) elbow," the nerves still fire. The arm then picks up those movements — and adjusts itself accordingly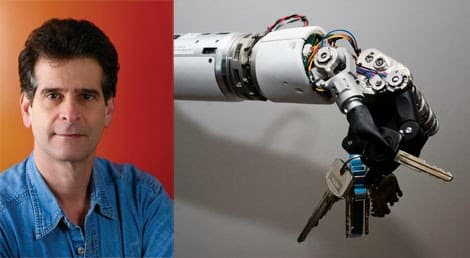 An early version of the Deka arm and creator Dean Kamen.
This type of control flexibility is essential to creating a device that can address the wide range of needs from various amputees and Deka's degree of fine-grained control is remarkable.
The real challenge for the Deka arm, as for many other types of sophisticated prostheses, is cost. A simple prosthestic arm (an essentially cosmetic device) can run $3000, while a sophisticated prosthesis can crack $50,000. In many cases, limbs have a relatively short lifespan; it's not unusual to need a replacement every 3-4 years due to wear and tear on the device. Visual presentation is also a major issue — amputees often own multiple prostheses, including cosmetic ones, simply to avoid the embarrassment of wearing an obviously artificial limb. That's one reason why the Deka Arm System's design has evolved towards a much more normal-looking hand — many amputees don't want to wear crude-looking mechanical devices.
The prosthetic market is too broad, and the needs of amputees too specific to declare any single device a one-size-fits-all success, but the Deka looks as though it could move the science of amputation forward and offer a significant number of veterans and amputees a device that more closely mimics natural human function than anything we've seen before