After being banned from both Facebook and Twitter, former US President Donald Trump has decided to start his own social networking network. It will be named "TRUTH Social" and "stand up to the tyranny of Big Tech," according to Trump's social media platform.
After merging with Digital World Acquisition Group (DWAG), Trump Media and Technology Group (TMTG) is expected to launch the social media app as its first initiative.
The Taliban has a significant presence on Twitter, yet your favorite American President has been silenced," Donald Trump stated in the statement, which was directed at both Twitter and Facebook at the time.
After the attack on the Capitol in January, the former US president's social media accounts were blocked or even banned due to his inflammatory postings. Over the course of his administration, Donald Trump repeatedly advocated for reining in Big Tech, which includes firms like Facebook and Google.
The unveiling of the "TRUTH Social" is not surprising, since Trump and his aides have previously hinted at building a platform that would compete with Facebook and Twitter. However, what the "TRUTH Social" would look like remains a mystery for the time being.
According to Trump, the newly combined company would establish "a competitor to the leftist media consortium," which he described in a statement. According to a news release, the firm was established as a SPAC (a special purpose acquisition company). "Popular vehicle for different transactions, including the move from private to publicly listed firm," according to the US Securities and Exchange Commission." The term "blank check firms" is commonly used to describe these businesses.
To pre-register, go to the Apple App Store and look for Trump's new social networking site "TRUTH Social." A beta version will be accessible only to invited users starting in November. An all-inclusive implementation, on the other hand, is anticipated during the first quarter of 2022.
Former Trump adviser Jason Miller created his own social media site, GETTR, some months ago. However, Donald Trump has yet to acknowledge his participation. His main focus was on creating his own social media platform. He declared, "I'm not on any social media platforms like Parler, GETTR, Gab, or anything else." I'll make an announcement as soon as I've decided on a platform or have built/completed my own on it. I'm grateful for your help."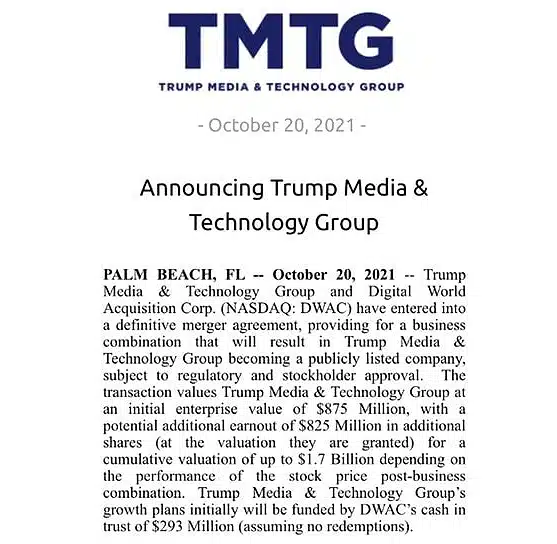 Trump-Twitter Conflict
He expressed regret for not doing the same with Twitter in Nigeria but said he'll have another chance to do it when he runs again in 2024.
He predicted that Twitter would try to silence him and that the firm wouldn't last long without Section 230, which shields websites from lawsuits when users submit unlawful information back in January 2021 when his suspension was enacted.
This is the first time I have heard from him, and he promised a "major announcement" and the possibility of creating his own platform in the near future.
@POTUS stated that "Twitter workers have cooperated with the Democrats and the Radical Left in deleting my account from their platform, to silence me" and the "75,000,000 wonderful Americans who voted for me." Trump has subsequently removed the statement.
"We are not going to remain QUIET! It's not about FREE SPEECH on Twitter anymore," Trump said on the social media platform.
Some of the world's most hateful people are permitted to talk freely on a Radical Left platform, which they promote.