It was only a few days ago that it was announced that WhatsApp will soon allow users to respond to messages, and now the first images of the new feature have begun to appear online.
The messaging app – WhatsApp, which is owned by Facebook, is working on incorporating emoji replies into texts. It is already available on popular social media platforms such as Facebook, Instagram, iMessage, and even LinkedIn. If you don't want to respond to every message you get, you may just react to the message by using emojis to express your feelings.
A well-known insider Wabetainfo was the first to report about WhatsApp's planned feature update, which was later confirmed by the company.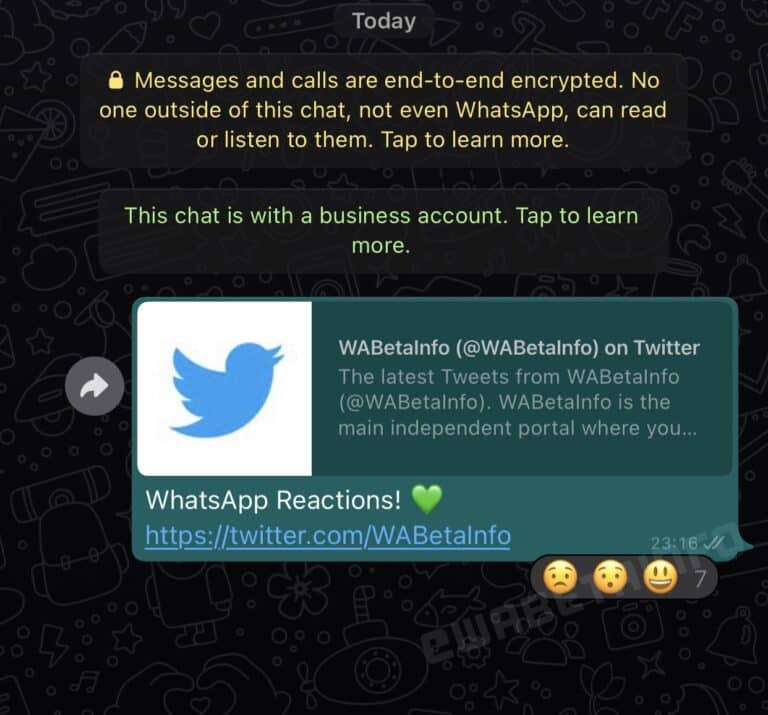 According to the picture posted by Wabetainfo, the emoji replies would display immediately underneath the messages that were received through the app. You may also be interested to know the 10 Best WhatsApp Tricks and Features
.Individual and group conversations will both be able to take advantage of the functionality. Everyone in the group would be able to see it individually to see how they reacted to the message.
"As you can see, this message has seven different replies, and, for the time being, you may respond with whatever emoji you choose. Because reactions are not anonymous, everyone participating in the conversation will be able to see who responded to a certain message. Even though the screenshot was obtained from an iOS version of WhatsApp, the company is working on bringing message replies to the WhatsApp beta for Android as well", according to the company.
It was also reported by Wabetainfo that you may respond to a message several times by using different emojis. Additionally, the procedure is end-to-end encrypted, ensuring that no one outside of the conversation can view your replies. There is no limit to the number of reactions a message can have, however, if you have more than 999 reactions, the message will read "999+." Particularly relevant in group conversations is the concept of "group chats."
It is revealed by the WhatsApp features tracker that the feature is present in the development stage. The final feature may differ from what has been shown during the beta releases.
Also on that topic, WhatsApp has officially introduced the ability to transfer chat history from one iPhone to another Android phone.
Although the feature will be available to all Android phones eventually, WhatsApp will begin with Samsung phones running Android 10 and higher as a test platform for the service.
Users will need to connect a USB-Type C connection to the lightning connector to transfer the data. However, even after you have moved your data from an old device to a new phone, your data will continue to be retained on the old device indefinitely. You may manually delete it if you don't want it to be there anymore.