Windows 11 is ready to be released on October 5th, at least in its original form. We had anticipated Microsoft's next operating system to arrive a little sooner, but now that the debut is closer than ever, the company is scrambling to tighten up the last parts of its operating system.
Edge, the built-in browser for Windows, is a component of this endeavor. The preview of Edge 93 Beta was published just a month ago, and now it was made available in its final form, which includes several important enhancements.
Microsoft Edge 93 Features
Groups of Tabs

The first and most important feature is group tabs. Yes, you read that correctly; group tabs are now a reality on the Microsoft Edge web browser. Because it allows you to group tabs and categorize them properly, tap grouping has become virtually a standard feature of Google Chrome. Edge 93 beta testers were treated to a minor but quite beneficial upgrade, which has now made its way into the final public release of the operating system.
You may also prioritize tabs inside tab groups to improve your ability to concentrate on your task. This functionality may be quite useful for individuals who want to have a multitude of tabs open at any given time.
Not only does grouping tabs make it easier to organize your work, but it also makes it easier to be more productive as well. The feature will function in a manner that is quite similar to that of Chrome, so users who are moving from Chrome should expect to feel right at home.
Continue from where you left off
In the beginning, Edge 93 stable was scheduled to be the first to officially launch the "Pick up where you left off on PDF documents" functionality, which had already been released in the beta, but that date has now been moved up to October. According to reports, Microsoft has placed it on hold to iron out flaws and polish it before releasing a stable version.
If you haven't already guessed from the extremely descriptive name, the function lets you continue reading your PDF documents when you are between turns on the page. One of the most significant drawbacks of browser-based PDF readers is that there is no option to resume reading from where you left off.
However, Edge will soon include this feature. This one was one of the most often requested by Insiders, ranking right up there with Overlay Scrollbars in terms of popularity. However, it was only recently postponed until October, so it would not have been included in this update if it had been.
Overall Scrollbars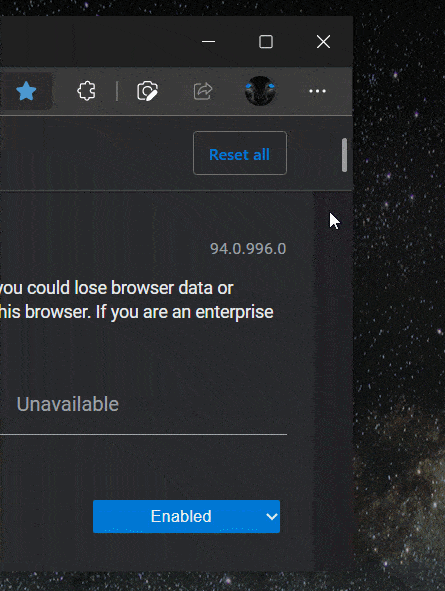 Speaking about Overlay Scrollbars, well, let's just say Overlay Scrollbars are awesome! Overlay Scrollbars, which are already present in Edge 94 (and above) Dev and Canary versions, are now making their way over to Edge 93 for a stable release.
In contrast to traditional scrollbars, overlay scrollbars are more simple and elegant in design, and instead of being permanently connected to the browser window, they only appear when you hover your cursor over them.
As you can see in the image above, their design is consistent with the general look and feel of Windows 11. Since many native Windows 11 programs, such as Settings, already feature these sorts of scrollbars, updating Edge to include them seems only natural.
Having said that, overlay scrollbars are also available in Windows 10 as an option. They appear to be slightly different in Edge 93 than they did in the Edge 94 beta at the time of writing. This is because the command line with the flag "OverlayScrollbarWinStyleAnimation" does not function correctly on Edge 93. Hopefully, Microsoft will address this issue as quickly as possible.
Picture-in-Picture Mode (PiP)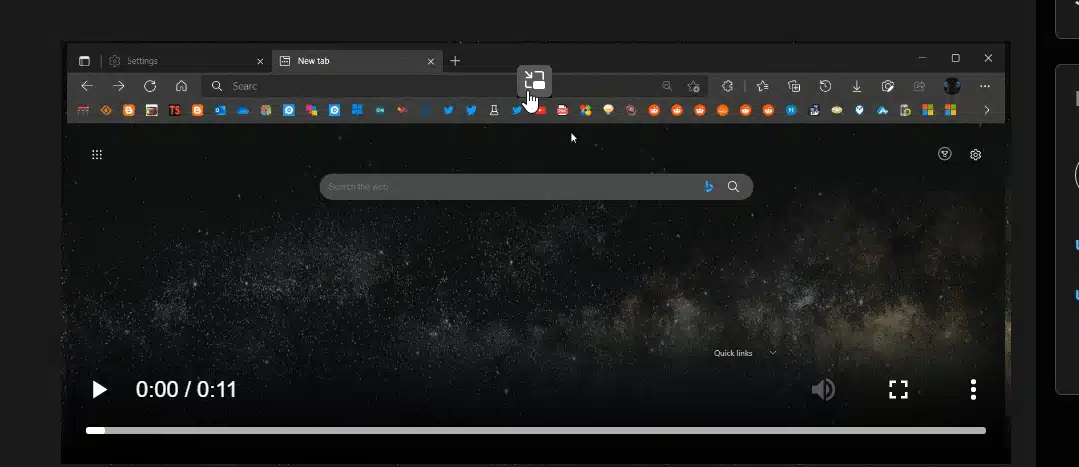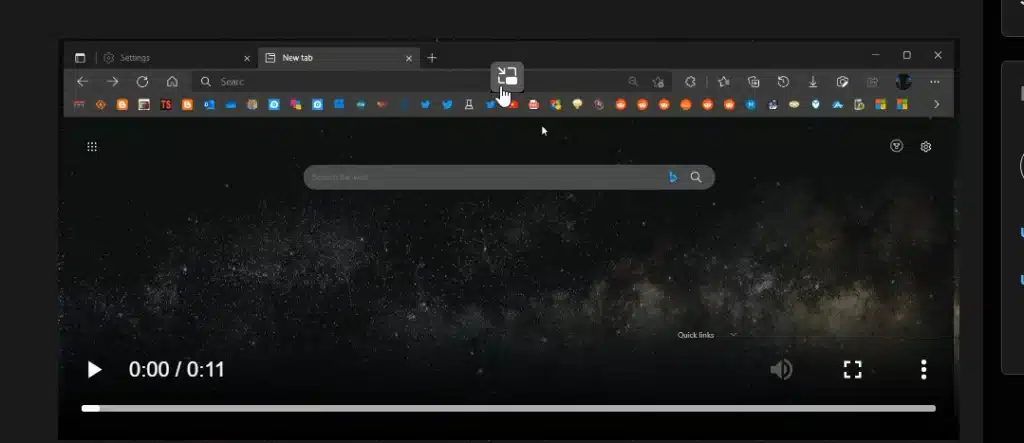 Furthermore, Edge 93 comes pre-installed with enhanced PiP capabilities. Picture-in-Picture mode is already supported by Microsoft Edge for select videos, but we can expect this functionality to be significantly expanded in Edge 93. Now, merely holding your cursor over a video, if one is available, will give you the option to watch it in PiP mode. However, for the time being, this capability is only available to macOS users; it is unclear when Edge on Windows will be upgraded to include this functionality.
Edge 93: Other Updates
There have been several additional minor but noticeable improvements in this release. A new feature for vertical tabs, a notable Edge feature, is the ability to conceal the title bar of tabs on the fly. To make corporate deployment easier, the first Preferences have been included. Furthermore, Edge 93 introduces the transformation of Internet Explorer legacy mode into a "no-merge" mode. Also included in Edge 93 are a few small cosmetic tweaks to bring the browser into line with the general visual design of Windows 11.
Enhancements to the visual appearance
Mica, the substance that dominates the majority of Windows 11's interface, is also featured prominently in Edge 93. The title bar of the browser has been updated with Mica, which is only available on Windows 11.
The backdrop is now just barely visible through the title bar, which is a Windows 11-exclusive modification. The title bar is given a very slight transparency effect as a result of this. It nicely complements the frosted, transparent appearance of Windows 11, and it also helps to provide a feeling of visual hierarchy in the interface.
Edge 93 in Windows 11 has acrylic applied to the context menus, which is a new feature. When compared to Mica, acrylic is significantly more transparent, allowing more of the backdrop to show through.
This update is part of the broader Fluent Design user interface that can be seen across Windows 11. You may enable an option in the Edge settings that raises the font size and spacing in these context menus, once again mirroring the rest of Windows 11.
Please ensure that you're using Edge 93 stable or above to make use of these features. If you're an Edge Insider, probably, you've already tried most, if not all, of the suggestions above. It is recommended that you download Edge Dev or Canary if you want to remain up to date with the latest features being introduced to Edge, such as improved Sleep Tabs and Immersive Reader. For everyone else, the stable version of Edge is the most sensible option to consider.