Do you use Youtube for watching videos and Live streams but don't like watching Advertisements? Well, you may have some good news. YouTube is actually rolling out a new subscription service named 'YouTube Premium Lite' for an Ad-free experience. YouTube Premium Lite is a very affordable plan if you compare it with the current plan.
The popular option to disable ads when watching YouTube videos may soon become even cheaper with this new subscription. Users of some regions have found a new YouTube Premium Lite subscription in Google's tariff scale, which costs significantly less than the current price of "ad-free" access.
As of now if you are a European user then you have to pay around € 11.99 for your individual YouTube Premium subscription. There is also a "family" option, which provides a subscription plan for up to five people for about € 17.99.
The new subscription plan has recently launched in the Netherlands, which costs just € 6.99 per month of service. At the same time, it includes only the function of disabling ads in videos.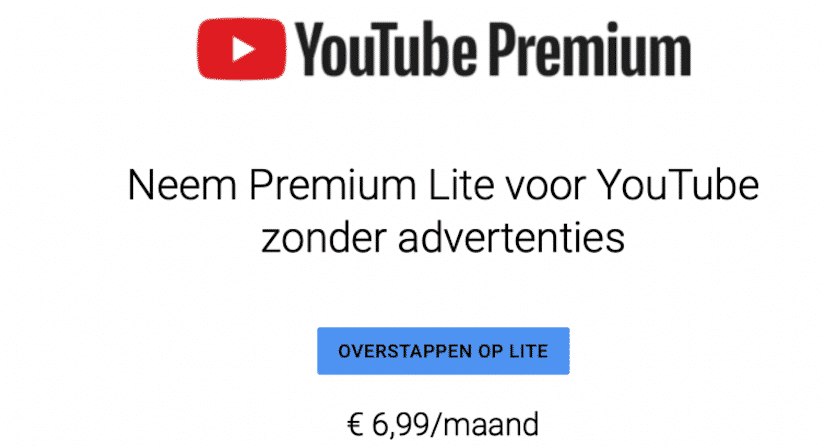 Right now this service is only available in Belgium, Denmark, Finland, Luxembourg, the Netherlands, Norway, and Sweden. but it is very likely that Google will roll it out for the world soon enough. Users who decided to refuse further paid use of the 'Youtube Premium', received an offer to switch to a more affordable plan.
According to them, the activation of the Youtube Premium Lite subscription requires a temporary disablement of the ad blocker in the browser.
Google said in an official statement to The Verge:
In Nordics and Benelux (except for Iceland), we're testing a new offering to give users even more choice: Premium Lite costs €6.99/month (or local equivalent per month) and it includes ad-free videos on YouTube.
What to Expect from Youtube Premium Lite?
It seems like Youtube wants to target people who just don't want ads and at the same time don't want to pay extra money for other services. You may not be able to enjoy other youtube premium perks such as Youtube Music or background video play. this can be an ideal plan for those who want Ad-free Youtube Videos and a Low-cost monthly subscription plan.