If you want to find a hosting plan, one of the first things you will likely consider is the price, especially if you are a small business owner. This is understandable because most small businesses operate on a limited budget. They need to use their limited resources where they will have the biggest impact.
Small business owners understand the importance of having a web presence. However, some may mistakenly believe that any web presence is beneficial. The truth is that if your website is constantly down if it runs slowly if it is littered with advertising, or if there are security issues, this can harm the reputation of your business to a point where it may not recover. The aforementioned problems are often the result of choosing cheap hosting.
While downtime might not seem like a huge issue to bloggers for small businesses and online vendors downtime can affect conversion rates and sales by up to 30%. In a recent study by Hosting Canada, they found that popular discount web hosting solutions had as low as 94-97% uptime which if measured out over a few months could mean several percentages lost in customers.
In this guide, we are going to discuss the benefits and drawbacks of cheap hosting.
Benefit: It Is Cheap
As a business owner or even as an individual looking to start a website for image sharing, a personal blog, or whatever other reason, your budget motivates, dictates, and limits what you can do. Cheaper hosting, such as shared hosting, is attractive for this reason. It allows users the opportunity to share resources on a single dedicated server, thereby having all of the benefits of a server without the responsibility of managing it or the cost of having a dedicated server.
Drawback: Security Concerns
One of the reasons why cheap hosting is so cheap is because the owner of the server is paying the least amount possible for technical support and administrators. This on its own generates a whole host of security concerns.
Cheap servers do not let you install features like antivirus programs to protect your site. With shared hosting, if one of the hosted sites develops security issues, it affects all of the other sites on the server, including yours.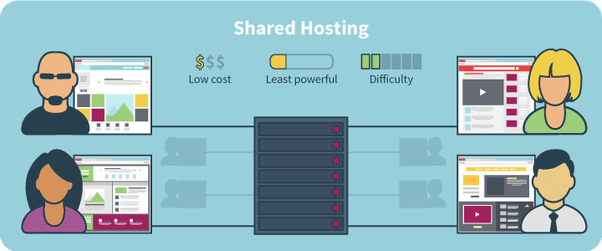 Benefit: Easy to Use
The cheapest hosting is shared hosting. This is the easiest type of hosting for users to set up and use. Shared hosting makes it simple for you to configure software and use pre-installed technologies. You are able to do all of this with the intuitive Control Panel installed on the server.
Drawback: Limited Resources
Another reason why a hosting provider can offer a server for cheap is that they are cramming as many websites as they can on a single server. All of the websites on that server are battling for limited resources. If another website has a marked increase in web traffic, this can slow your website down. It can even make certain resources completely unavailable.
Benefit: Convenient
A person with absolutely no tech skills can access a shared server and host their website. With cheap hosting, you don't worry about hiring a professional to manage your database or your hosting services. This is a convenient option for small business owners who want to have a web presence but who do not know anything about the technical side of hosting.
Drawback: Limited Customization
Most cheap hosting companies only allow their users to install default configurations of CMS programs. You are not able to modify system files with the aim of improving the performance of your site. The web hosting company has complete control over the server. They are the ones that allocate resources to you. This means that they can add or remove resources at their discretion.
Benefit: Support and Reliability
Many cheap hosting sites offer online support and technical assistance. Many of these hosts offer support 24/7. The options for tech support may vary but often include an online chat, support via email, and support over the phone. Most sites have at least some staff with the technical expertise to answer questions you have. If the site is properly supervised and properly monitored, you have the confidence of knowing that the server is going to be reliable.
Drawback: Support and Reliability
Cheap hosting companies need to cut costs somewhere. They can do this with personnel or with the quality of the servers and equipment they use. It is not uncommon for them to do both. This means that when a technical issue affects a server, they may not have experienced staff or a sufficient amount of staff to address the issue. This could lead to more downtime for your site.
The same is true of customer support. Because of not having sufficient staff, your phone call, chat, or email may go unanswered for days or weeks. If you are able to communicate with someone, you may find yourself talking to a person who has little to no technical expertise, and so your problem is not resolved.
Benefit: No Admin Issues
A benefit of using cheap shared hosting is that the company takes care of the admin and maintenance issues of the hosting infrastructure. This means that you do not have to spend your time doing maintenance or worrying about administrative tasks. Even cheap hosting companies understand the importance of providing their clients with a functional product. Most will strive to keep up with admin issues.
What about Free Hosting?
There are a number of sites offering free hosting. It can be tempting for a small business owner to think that if cheap is good, then free is better. Nothing in this world is free. Some hosting companies offer free hosting as a way of enticing you into purchasing their paid service. Others offer their service for free but then make money by advertising on your site. Others offer their services for free and then sell your personal information to marketers as a way of financing their endeavor. If you are serious about starting a website for your small business or your personal blog, our recommendation is to steer clear of most free hosting companies.
We have striven to present a balanced view of the benefits and drawbacks of cheap hosting. For some small businesses, cheap web hosting is the way to go. As their business grows, they may migrate to a more expensive form of hosting, such as a dedicated server.
Are you currently using a cheap hosting company? Have you used one in the past? If so, we would love to hear from you. Tell us about your experience in the comments section below.