It is well known to everyone how widespread Fortnite is among game lovers. Epic Games announced in a blog post in June that the number of Fortnite players has risen to a staggering 125 million. "In less than a year, Fortnite has grown to 125 million players."
Fortnite's track with Android is quite interesting. Earlier it was available only to the Samsung phones compatible with Battle Royale. You can say that it was exclusively for Samsung. But now there is a proclamation coming from the twitter handle of 'Epic Games' that, Fortnite is available on any compatible Android devices.
Though Fortnite is not available on Google's Play Store. You are needed to download it directly from Epic's website. It is so because Epic doesn't want to share its profit from Google.
Formerly gamers were required to sign up on the website of Epic Games following invitation, then getting chance to play the game on Android phones. But it is quite easy now, you can simply go to Epic's website and download the Fortnite game in your phone or open the website on PC and scan the QR code.
Also, Read: PUBG Mobile vs Fortnite: Which Game is Better For You?
Tips for Beginners: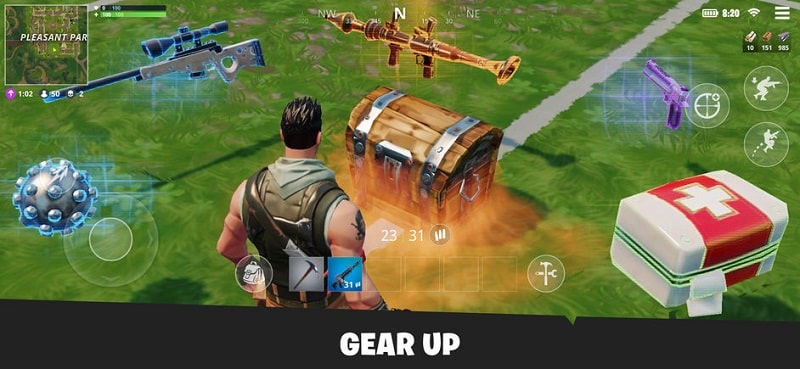 Well if you are coming to Fortnite after hearing the news, if you were unknown to this fabulous game before then you are in the right place. Here are some things which you should keep in mind before getting started with this daunting addictive game.
Remember you are not only the single person who is getting in the game, but millions are also there. You might get confused while initially starting the game, you might get lost at your first drop and it may take some time to you to get deportable. Just chill man, still, you are not a pro so keep moving.
You will get a lobby of 100 people in every match, at every drop, you will get only a pickaxe and so everyone with which you can destroy the hurdles and grab the resources for your survival and defence. Here storm is the main settling factor in a match which encircles every player, the storm will continuously begin to close in after a certain interval of time till it shrinks to a white circle, which you can see in mini-map. You need to be always in this storm if you are outside then it will continuously damage you till your time expires.
Collect and use the resources you get on the way to get hands on them. There are three game modes you will get while you are booting the things up, they are Solo, Duo and Squad. As the name suggests if you choose to solo it will drop you in alone if duo then with a partner and if you have chosen squad then you will be dropped with a team of four.
So that's enough for a starter, as you grow to play you will easily figure out the stuff and that's my promise you will become a Pro in a short time till then keep playing and see you in next!