LinkedIn is one of its own kind. Unlike Facebook or Twitter, it is a professional social network, where people, especially working professionals connect with each other. No doubt, in a few years of time span, LinkedIn has revolutionized the methods of recruiting across the globe. Now, most of the recruiters and hiring managers make use of LinkedIn to hire perfect and highly skilled candidates for their company.
A profile on LinkedIn describes your professional persona and acts as a medium for you to connect with highly successful people. In this article, I will try to highlight some of the key points that you should keep in your mind while making a Linkedin profile.
These tips will help you to form your profile in a much competent, polished, and organized manner. you can find your dream jobs in any area of interest easily by showcasing your skills to the potential job recruiters. So, don't wait, start leveraging your professional network profile today.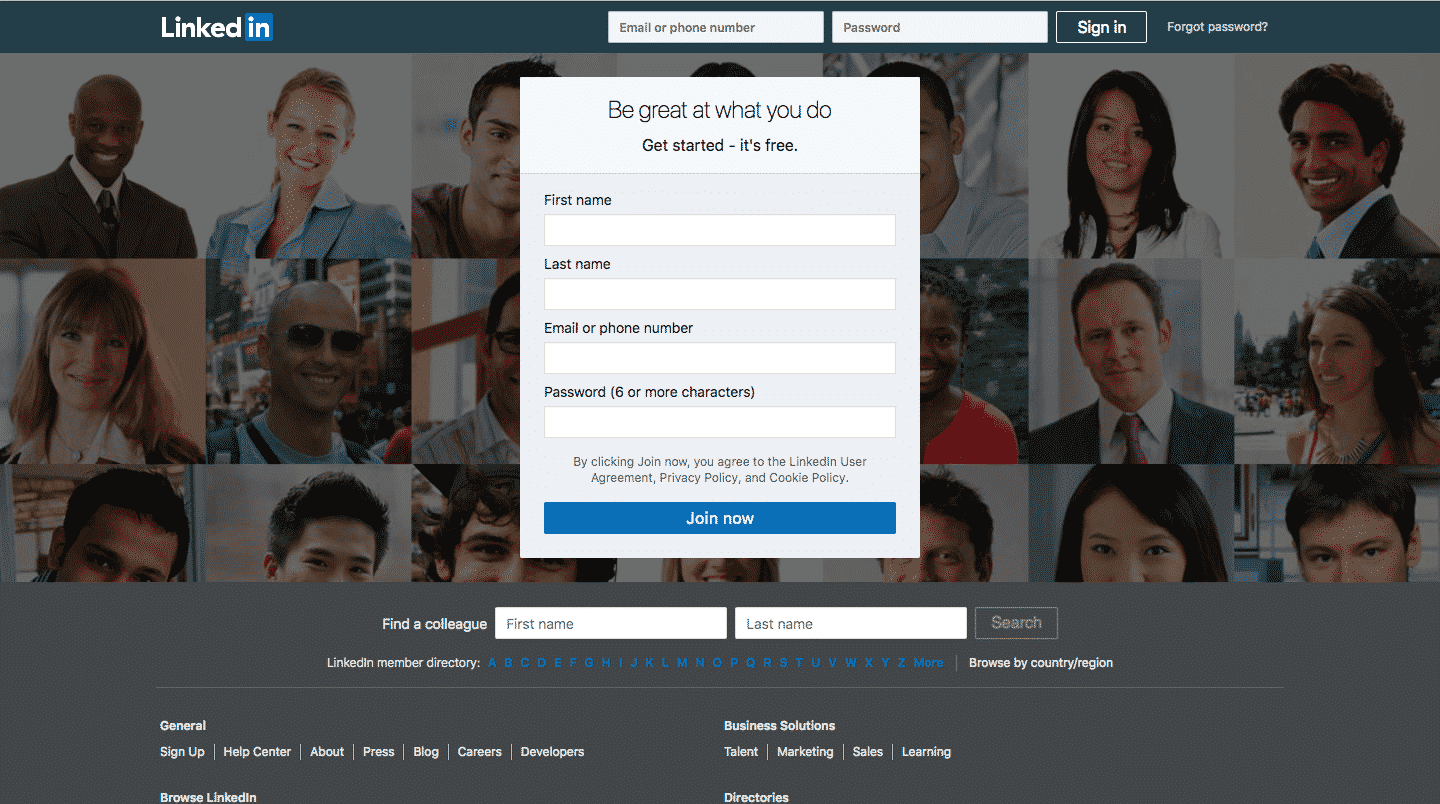 About LinkedIn
Founded in December 2002 by Reid Hoffman and launched in May 2003, Linkedin is one is the most engaged sites for youths who are seeking for their desired jobs. As of 2015, LinkedIn had more than 400 million members in over 200 countries and territories and is significantly ahead of its competitors Viadeo (50 million as of 2013) and XING (11 million as of 2016). As of 2018, there are over half a billion LinkedIn members.
According to Alexa Internet ranking, this site is the 29th most popular website (Sept. 2018). This site is available in various languages, including Arabic, Chinese, English, French, German, Italian, Portuguese, Spanish, Japanese, and much more.
In December 2016, Microsoft acquired Linkedin and according to the SEC filing, Microsoft paid about $26.4 billion to do so which was really a wise investment seeing the popularity and growth of the company.
Here are a few tips that can help you to make a better Profile
1. A Professional Photograph
The fact that, the first impression is the last impression, matter a lot here. This factor is enough in getting you hired. Generally, choosing a picture for Linkedin sounds simple, doesn't it? But it is not. Using casual or photos of vacation like a picture with a dog, dancing one, or a beach timepass photo usually depicts your friendly mood and funny behavior. So, use a simple yet clear photo that may be in a suit, or just in a normal shirt or simply a photo of your face is enough.
You don't have to be in a business suit, but a full three quarter length photo in smart clothes shows you're work-ready and aware of appearing professional. So, try to put such kind of photo.
2. A Right Title
The title of your profile if done right can do wonders as you will be easily searched by the hiring managers. The title should be full of keywords. Not only the title but most of the subtitles and descriptions as well. What I am trying to say is that LinkedIn is a massive search engine and a powerful tool which could be challenging for a lot of job seekers to use in a right manner.
Like other search engines, the algorithms of the LinkedIn also works on many keywords. A right keyword can put your profile to be ranked on the top as compared to other similar profiles. Having a compelling, attractive and right words can make a world of difference. So, think before you type your title.
3. A Custom Public URL
Most of the job sites ask your public LinkedIn profile. Even there could be the number of occasions when you need to share your profile instantly either to some recruiter or when you are commonly applying for some positions on the career's page of any company.
By default, LinkedIn provides us a boring and big public url. Well, thanks to Linkedin that we can change them. You can edit your url on the Edit Profile section as shown below.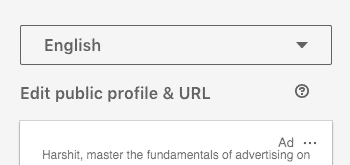 once you click on this, you can change the url which you should keep as simple as possible so that you could share them without actually looking at it again and again.
4. A Thorough Profile
Matching up, and displaying your skills and experience in the best possible way, is one sure way of standing out in front of recruiters. By being thorough, I mean you must complete your profile by providing genuine and detailed information, linking up each and every company you worked properly and every other aspect keeping in mind great attention to details.
You must include a brief yet attractive summary that should describe you and your passion for work, narrate your history a bit. It should show your enthusiasm and your personality with a bunch of anecdotes. Moreover, make sure that whatever you have embedded should be in working condition, for example, a site,  sample works, projects, certificates and much more.
Your work experience, education, volunteer experience, and skills are what most the people will be interested in so, it should be updated on a regular basis. The experience section is the soul of your entire LinkedIn profile where the hiring or talent acquisition team will be putting a glance so don't make silly mistakes in those sections. It should be highly expressive, correct and must include your opinion about the company previously you worked for.
You should also specify the time period that will show your loyalty to the previous company, and as mentioned above, your position title should be full of keywords.  Mention your skills and do ask for endorsements for your skills which acts as a proof that you know those skills, mention your achievements, awards, and published papers. These all will eventually grow your profile and will put you in a much stronger position from others.
Having a recommendation is like icing on the cake for your profile and will definitely increase your chances in getting selected so, don't hesitate in asking for a recommendation from the known once like professors, peers or colleagues.
5. Be Socially Active
When you make a profile, you should use it to its full potential. By being socially active I mean, try connecting as many people as possible and grow your network. They could be either working in the same field that you want to work or maybe some other area of interest as well.
After you achieve the status of an "All-Star" profile, take advantage of LinkedIn's publishing and posting features to stay top-of-mind in your network. Tag people in interesting posts and foster your network as you search. This will make your profile highlight among the active recruiters. Stay active on the site and try replying to important messages. Always update your profile whenever you have something new whether it is a professional accomplishment or a new position.
Conclusion
LinkedIn profiles are your first footsteps in the professional world and a solid profile is definitely an asset. So, give enough and sufficient time to make a good profile that can stand out among millions of people. There is no doubt that if you slam at this, tons of opportunities are waiting for you that will finally help you to be a successful person. I personally love spending time on LinkedIn and it has truly opened various paths for me. Hope it will open for you as well!