If you want a new Windows 10 tablet along with android os in affordable price and you trying hard to find in the market, you don't have to do it anymore. The CHUWI Hi10 Pro 2 in 1 Ultrabook Tablet PC is the perfect choice for you. Because sometimes User's want something unique and one which will satisfy their heart then only they will buy Your Product rather than the Bullshit tech out there. Anyways, we will get back to the point now. For those who are not familiar with this CHUWI, it's a China-based tech firm that specializes in building feature-rich tablets. Let's get started with the Review
CHUWI Hi10 Pro is a 2 in 1 ultrabook-tablet PC device, equipped with a 10.1-inch display that supports for 1920 x 1200 pixels with an aspect ratio of 16:9. Besides, The CHUWI Hi10 Pro is a dual OS supporting device that allows users to take advantage of both Windows 10 and Android 5.1 (Remix OS) operating systems on the device.
It is powered by fifth-generation Intel Atom Z8300 graphics and eighth-generation Intel HD graphics, coupled with 4GB of RAM.. Windows 10 OS, smart processing power that adapts to what you are doing. Its HDMI technology integrates your other devices, so you can easily switch from your Tablet PC to your smart TV or smartphone while working and playing.
Main Features of CHUWI Hi10 Pro :
1. Android 5.1 (Remix OS) Lollipop Operating System
Allows you to remain connected and productive
2. Microsoft Windows 10 OS
Windows 10 brings back the popular Start Menu from Windows 7 and introduces new features, like the Edge Web browser that lets you mark up Web pages on your screen
3. Intel Cherry Trail Z8300 64bit Quad Core 1.44GHz, Up to 1.84GHz
Ultra-low-voltage platform and quad-core processing provide maximum high-efficiency power to go. Intel Turbo Boost Technology delivers dynamic extra power when you need it
4. Intel HD Graphic Gen8 GPU
On-processor graphics with shared video memory provide high image quality for Internet use, basic photo editing and casual gaming. Optimized to use less power
5. 10.1 inch IPS Touch Screen with 1920 x 1200 Resolution
Natural finger-touch screen makes the most of Windows 10. The 1920 x 1200 resolution boasts impressive color and clarity and IPS technology provides wide viewing angles
6. 4GB RAM for Advanced Multitasking
Substantial high-bandwidth RAM to smoothly run your games, photos and video-editing applications, as well as multiple programs and browser tabs all at once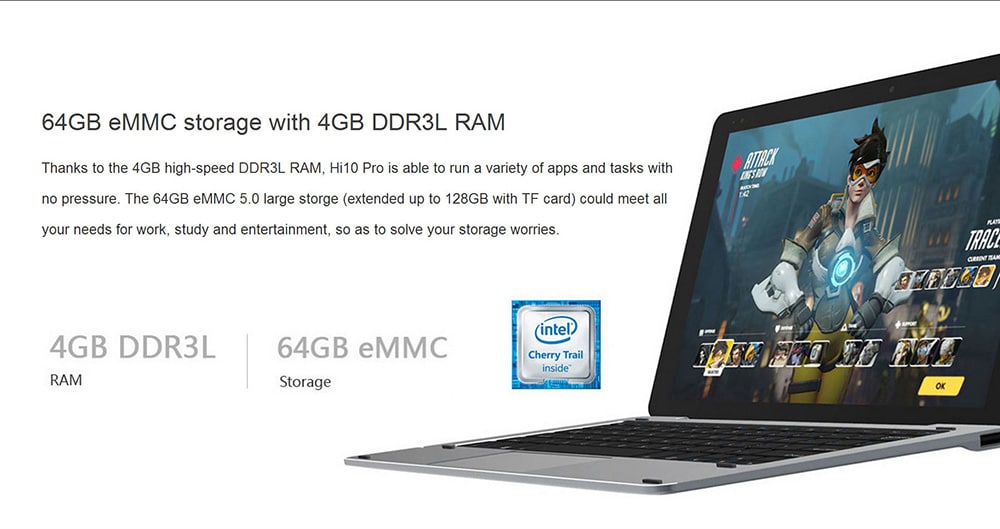 7. 64GB eMMC ROM Storage Capacity
Provides room to store pictures, videos, music and more
8. TF Card Expansion
Accepts compatible cards up to 128GB (not included) for easy expansion
9. HDMI Output Expands Your Viewing Options
Connect the tablet to an HDTV or high-definition monitor to set up two screens side by side or just enlarge pictures
10. Dual Cameras for Photos and Face-to-face Chat
2.0MP front and rear cameras let you capture memorable moments or chat with friends
11.Bluetooth 4.0 Interface Syncs with Compatible Devices
Wirelessly transfer photos, music and other media between the computer and your Bluetooth-enabled cell phone or MP3 player, or connect Bluetooth wireless accessories