If you have been downloading PC software from the Internet, you must have come across a website named Softonic. Softonic is a site that allows you to download free and paid software and games for various platforms like Windows, Mac, Android, and iOS. But is Softonic safe? Is it legal to download software from Softonic? Why might you choose to download from Softonic?
In this article, we'll discuss the safety, security, and legal aspects of Softonic.
About Softonic


Softonic is one of the oldest services for downloading apps for PCs. The website started back in 1997 and it is still up and running. There are thousands of apps and games you can download from Softonic. It also allows you to rate the apps and find alternative apps.
Apart from software and games, you can also download Google Chrome extensions, browser-based games, Video Game mods, and Progressive Web apps. The website works on both mobile and desktop and supports all major operating systems and web browsers.
The Softonic website allows you to download various Android and iOS apps directly from its mobile website.
Why Should You Use Softonic?
It is a good practice to download apps from the original source websites. However, you'll need the exact product name, website, and access to the download page. This can be a problem when you are looking for new software or are unable to access the software's website. In this case, Softonic can be a very useful tool. Here are the reasons why you may wanna use this platform.
1. Big Library
Softonic provides a huge variety of software, games, and mobile apps. With these many choices, you have most of the apps in one place to look for.
2. User Reviews and Ratings
The website includes user reviews and ratings to help you decide if a program is right for you. It's really crucial if you are trying any software for the first time. It increases your trust in the software.
3. Alternatives
Softonic often provides suggestions for alternative software to what you're looking at, so you can compare and choose the best option for your needs. For example, if you are looking for an alternative to your favorite PDF reader or antivirus software, you'll get all the similar apps on that page.
Is Softonic Safe to Use?
Softonic website is very safe in terms of its website-level security. However, for the apps listed on Softonic, we are not 100% sure. According to the Softonic team, they check and verify all the programs listed on the platform. So, for most apps, Softonic is generally safe to download apps.
Make sure you are downloading the correct file, and pay attention to any additional software that might be bundled with the main application. If the installer offers a custom installation option, use it to control what components are installed on your system. This can often help you avoid additional unwanted software.
Is Softonic Legal?
Yes. Softonic is a 100% legal platform for downloading software and games. It is operated by a legally registered company Softonic International SA. However, the legality of specific software on the platform can be more nuanced.
It is your responsibility to ensure that the software you are downloading and using complies with all relevant licensing and copyright laws. Remember, Softonic is a host, not the user. When you download software, particularly commercial or proprietary software, it's advisable to consult the software's licensing agreement and ensure that the version you are downloading is being distributed in a manner consistent with that agreement.
How to Download From Softonic?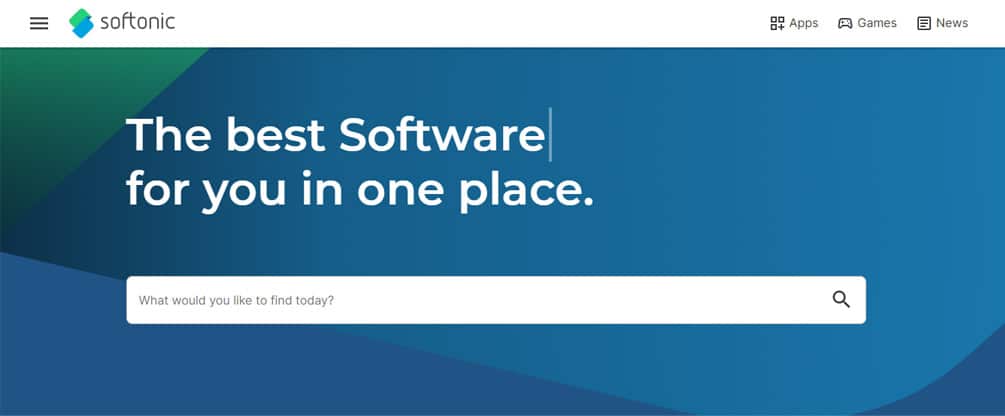 It is a very easy process to download software from Softonic. However, please keep in mind when downloading files from any website. Here's a guide on how to download software from Softonic:
Go to Softonic's official website.
Search for specific software you want to download or browse through the categories.
Once you've found the software, click on its name or thumbnail to go to the detailed description page.
On the software's page, you should see a 'Download' button. Click it to proceed.
Sometimes, there might be different versions or alternatives available. Select the one you want, if applicable.
Follow the instructions provided, and be mindful of any additional bundled software or optional offers that may be included in the download process.
Depending on your browser, you may be prompted to save the file to a specific location on your computer. Choose the location and confirm the download.
Before opening the downloaded file, scan it with a reliable antivirus program to ensure it's safe to install.
Pay attention to any optional components, toolbars, or additional software that might be bundled with the main application, and opt-out if you don't want them.
Why You Should NOT Use Softonic?
We've talked about the reasons why you should use Softonic. But, we should also know about the reasons one might not want to use Softonic.
1. Bundled Software and Adware: Softonic sometimes includes additional bundled software, toolbars, or adware with downloads. Even though you get the option to ignore them while installing the software, non-technical users may find them difficult to understand.
2. Quality Control: Softonic claims to quality check every software for malware and viruses. However, looking at its huge library, one may suspect if they are all checked thoroughly.
3. Potential Legal Issues: Even though Softonic itself operates legally, there may be concerns about the distribution rights of some of the software hosted on the platform. Users must ensure that they are complying with relevant licensing and copyright laws.
4. Alternative Reputable Sources: Many users prefer to download software directly from the developer's official website or other well-known, reputable sources.
5. UI/UX: The website might have pop-up ads or a design that some users find cumbersome or confusing, leading them to seek alternative platforms.
6. Privacy Concerns: Like many websites, Softonic collects user data. Some users might be uncomfortable with the type and amount of information collected.
Conclusion
In summary, Softonic offers a valuable service by providing an extensive library of software and related resources. For those who prioritize convenience and a wide selection, it can be a useful tool.
On the other hand, those concerned about potential safety, legal, and quality issues might prefer to download software directly from official sources or other trusted platforms. The decision to use or not use Softonic is a matter of individual preference, weighing the benefits and potential risks according to personal needs and priorities.