Now, after reporting from a lot of users about WhatsApp voice call feature (users with Nexus 5 + Android 5.0), here we have iOS users having seen addition of a new feature to the pre-existing interface with the latest update.
However, the new call button present on the latest version of the App (via Appstore) brings up ONLY the default iPhone call dialer instead of performing a call through WhatsApp. Well, we expect the addition of the function with the official announce.
Also read: WhatsApp on Android gets Voice call feature.
As reported, one button, near the contact name within a chat conversation, features the phone symbol, while the other is present on the left side below the top pane, labelled "call". These new buttons are definitely a new addition to the interface and they seems to be independent of the regular call feature via dialer, when the user opens a contact's info page and navigates to the phone number.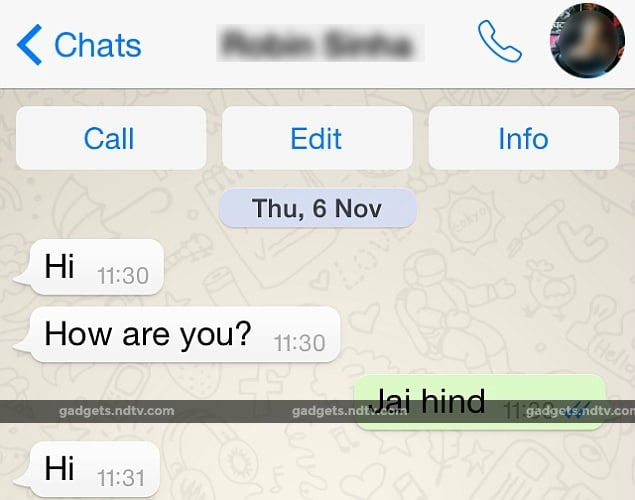 It is worth noting that the feature is distributed much widely if we compare it to that of Android last week. iOS users can download the latest version of the App and can access the new feature BUT the feature is not operational yet like that of the fully functional one available on Android.
WhatsApp app available on Google Playstore does not feature the call button, neither has it offered the functionality to all users. Users having Nexus 5 smartphone with latest Lollipop update reported having seen the function and posting screenshots to Reddit of the same.
It is true that the new calling feature for WhatsApp is not just a rumor, as it was confirmed by CEO Jan Koum last year. They as well promised that the feature would be available in the first quarter in 2015; that leaves them with nearly two more months to remain true to their promise.
Koum also told that the team is facing some difficulties in some mere issues like, how to access microphones in certain smartphone to enable active noise cancellation, how to improve the call quality in poor data coverage areas, etc.
Also read: WhatsApp on Android gets Voice call feature.
The screenshots shared last week created a literal hype in Android users all over the world, as millions of them tried downloading the app from company's official site. However, the strict availability of the feature only on Nexus 5 phone with Android Lollipop, is a major issue. We expect the company will soon roll out the much anticipated feature of the instant messaging app.