Well, WhatsApp Inc. is releasing new exciting updates in interval of every 2-3 months. Recently, the company released Web-Client feature, known as WhatsApp Web which is highly encouraged by users worldwide and is technically easiest way to use WhatsApp on Home PCs, rather than opting much slower Android Emulators.
Now, the company is slowly rolling out the much anticipated WhatsApp Voice Calling feature (only for Android users now).
Also Read: Android became first Smartphone OS ever to ship more than 1 billion devices.
The upgraded version of the app — v2.11.508 — alone won't enable this feature on the handset.
Reddit user pradnesh07  claims (via gadgets.ndtv) users who are running the aforementioned combination of WhatsApp app version, Android OS version, and device make will not be able to activate the voice calling feature until they receive a call from someone else with the feature already activated – hinting at a slow, almost invite-based roll-out.
Even with feature enabled on the app on the phone, one cannot place the call until unless he/she receives a call from the person who has the feature enabled. User pradnesh07 claims that he wasn't able to make calls himself; he got the calling feature activated after receiving a call from WhatsApp.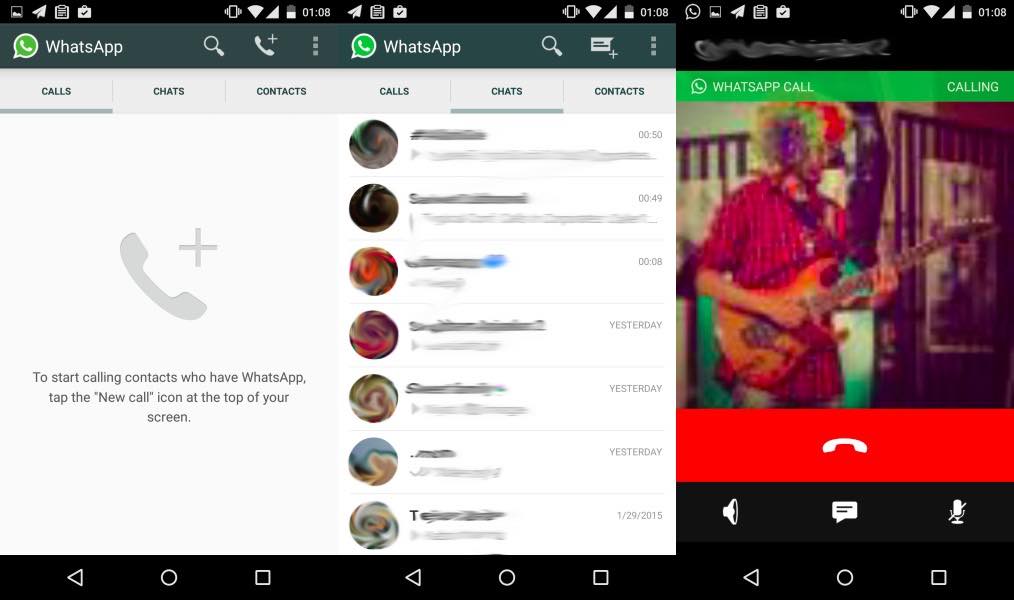 The way the update is available to only limited users, we can infer that the company is still testing the feature. Also, the way UI is described in the screenshot, it needs more improvements.
The changes are as follows:
Introduction of "Call" tab , alongside Chats and Contacts tab.
The call screen include basic call features – disconnect, mute, loudspeaker mode and message access.
Although, the feature was awaited and is expected whenever out cell phones pops out a notification for WhatsApp update, but now, we'll soon be having the feature enabled on our phones. The current update is available only for Android phones, we expect the later updates for iOS, Windows and Blackberry too.
Stay updated! Stay smart! StayTN!