To get access to Verdansk's closed sections, you'll need the Warzone bunker codes and locations. We can assist you. The Warzone bunker locations are what you need if you want the greatest loot Call of Duty Warzone has to offer or if you need to hide as the zone shrinks. To enter certain of the Warzone bunkers, you'll need special codes, while others will require red access cards. Regardless of which sort of bunker you wish to visit, we've got all the information you'll need. Here you'll find all of the Warzone bunker codes, locations, and other information you need.
Warzone Bunker Codes
The Warzone bunker codes are:
Prison – 72948531
Farmland – 49285163
South Junkyard – 97264138
North Junkyard – 87624851
Park (nuke) – 60274513
TV Station – 27495810
Bunkers that needed codes rather than a Red Access Card were included as part of the Call of Duty: Cold War reveal. Scroll down to the part further down this page if you're looking for the original bunkers that don't require a code. Otherwise, watch the movie above or glance at the map below to see these updated bunker placements. Don't worry, these Warzone bunker codes are all set, unlike the stadium bunker.
Warzone Bunker Locations
A list of all original Warzone bunker locations may be found here.
If you need a visual reference, you can use the map below; however, keep in mind that certain places are close together, thus the map's indications may be incorrect. If you're still unclear, the descriptions below might help.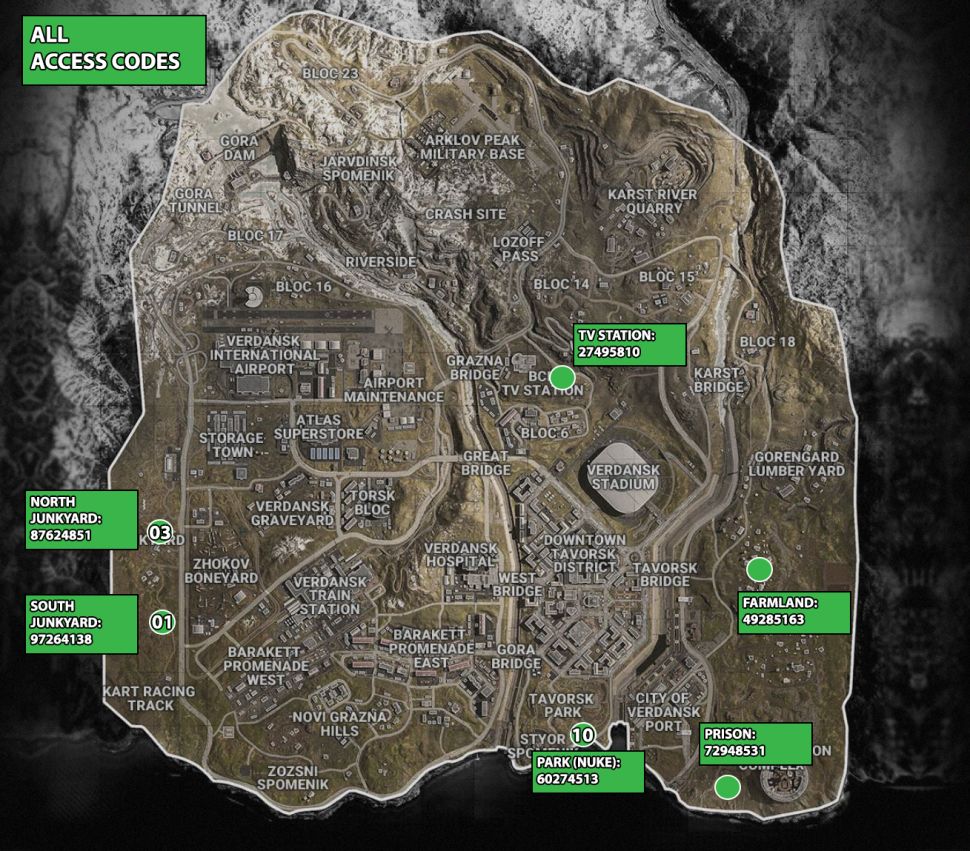 00: To locate the route to this mischievously hidden location on the shore south of Promenade West, go down the cliff as though you're heading out of limits.
01: North of the go-kart track and southwest of Boneyard.
02: Drive north along the road from the previous bunker.
03: Right next to bunker 02, but you'll need to drop through a trap door.
04: Southeast of Dam, in the cliffs above the large Russian sign.
05: On the west side of Crash Site.
06: Between Quarry and Lumber, above the railroad tunnel, on the extreme east side of the map.
07: East of the TV station, northeast of Stadium. Look for another trap door.
08: Opposite bunker 07, head down the steps inside.
09: Northeast of Prison, cut into the cliff below the bridge.
10: South of Tavorsk Park on Verdansk's southern edge.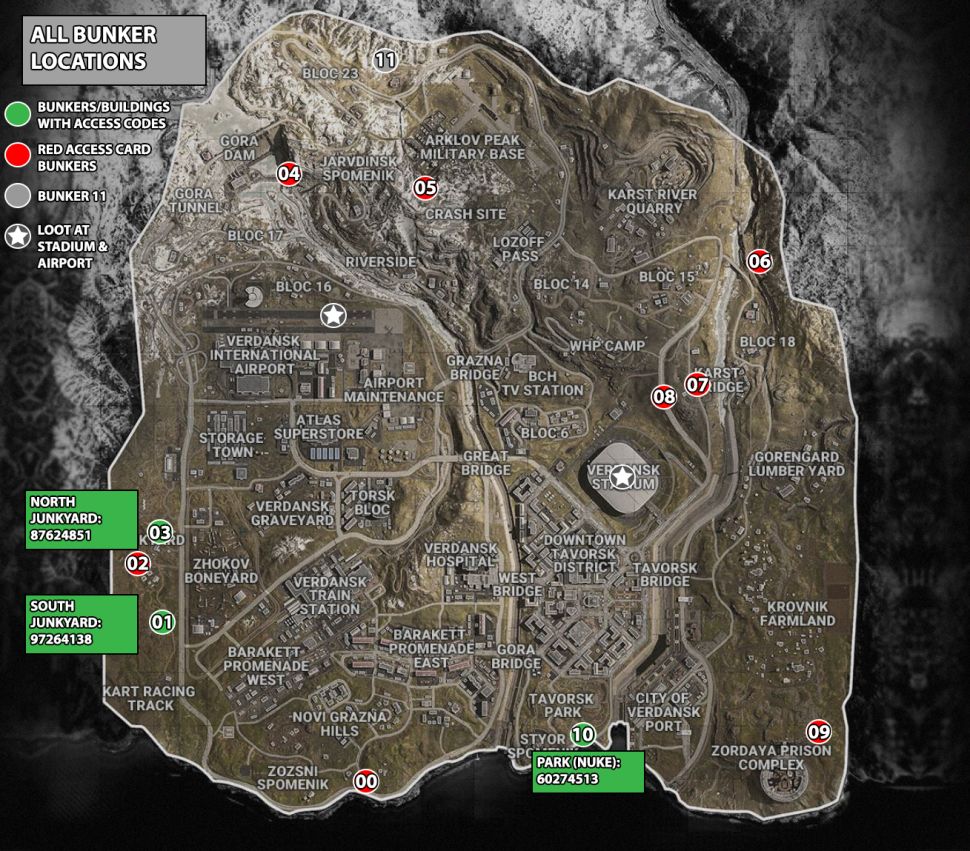 What is the best way to go inside Warzone bunker 11?
Bunker 11 differs from the other bunkers in Warzone in terms of how it operates. It is located northwest of the Military Base and does not require a keycard to enter. To get the riches within, you'll need to track down a few phones and learn to read Russian—though looking at the reference below could be a better option.
It's not as simple as locating any old phone. You'll need to find a phone that's playing a Russian message—any of the phones highlighted with blue icons on the map above may be the one. The list below will assist you with translating the Russian numbers once you've discovered it and listened to the message. You can go on to the following stage when you've written them down.
0: ноль ("nohl")
1: один ("a-deen")
2: два ("dva")
3: три ("tree")
4: четыре ("chye-tir-ye")
5: пять ("pyat")
6: шесть ("shest")
7: семь ("syem")
8: восемь ("vo-syem")
9: девять ("dyev-yat")
Now that you have the three digits, look them up on the map above. These match to certain phones, so figuring out which ones you need to hunt for should be simple. You must go to each one in the sequence in which you heard them in the original message. Pay a visit to each one and listen to the messages they broadcast.
Warzone stadium bunker
If you're looking for a way to get inside the stadium bunker, you'll need a Warzone bunker code. However, because the code changes with each match, you'll have to repeat the process.
Warzone Airport bunker location
The airport bunker was included with the release of Cold War Season 1, and there is no code required to enter. You must locate and enter the break in the runway at Verdansk Airport. You should discover a tunnel leading to an abandoned Soviet bunker crammed with supply containers.
The biggest problem with this bunker is that it is located in a highly public area. There's a lot of treasure stored there, which makes it difficult for players to ignore it, so anticipate a lot of competition if you're looking for those prizes on the runway.
How to enter into a non-keypad Warzone bunker?
If you want to get to the loot in a bunker that doesn't have a keypad, you'll need to locate a Red Access Card first. These cards are very uncommon and can only be obtained in legendary crates, with no assurance of a drop. However, obtaining an access card is just half the fight; you must now make it to a bunker alive.
This is easier said than done because gamers will rush to these areas in the hopes of snagging the goods. There's also the possibility of chancers stealing your card before you've even had a chance to use it. Congratulations on making it to the Warzone bunker in one piece. Have fun collecting your rewards.