WhatsApp, the most popular messaging service acquired by facebook this year, will provide free voice calling service very soon . This will increase the popularity of this messaging app because many people says that WhatsApp is not doing good job of keeping pace with newer offerings in terms of adding popular new features to its app.
Though , in recent months Whatsapp is improving it's features like encrypting messages and other privacy options. But we can not call them interesting and improved features because there are so many apps in the market that provide so many features.
In February this year, Whatsapp annonced that very soon they will provide free calling service. The WhatsApp founder and chief executive, Jan Koum, announced that the new Facebook company is working on voice calling to be introduced into the WhatsApp messaging app, initially on the iPhone and Android in the second quarter of the year, with BlackBerry and Windows Phone to be updated later.
Finally , yesterday Androidworld.nl leaked some screenshots showing how free whatsapp calling will look like. Interestingly, the free whatsapp calling feature is separate from the chat feature. The call logs, dialer and the contacts screen is separate from the main chat window. It also combines recording and playback.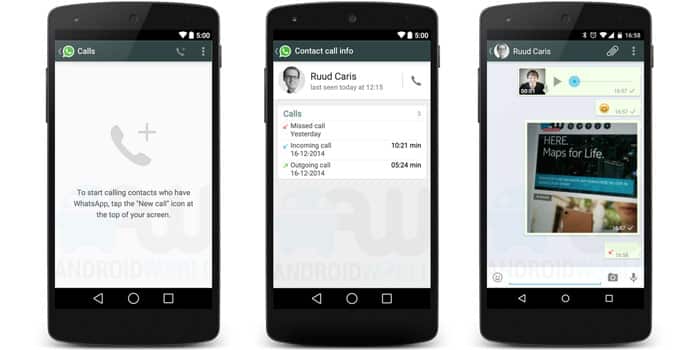 According to rumors, the build is may be getting tested by employees and will be included in the official build when it's finally announced by the company. Though, This function is clearly unofficial for now as the company makes no mention of it but it seems they are ready to announce it very soon.
Also, This is not clear that there will be any limits on free calls or not but all we can do it is to wait untill they officially announce it .