Xiaomi MIUI 6, the latest version of its popular xiaomi's custom Android UI, bringing a design change that will have more than a few people thinking of iOS 7.
A more colourful, minimalist interface with supposedly enhanced security features awaits developers who have booted the new OS. Devices such as the upcoming Mi 4 and hotselling Xiaomi Mi 3, will receive the MIUI 6 official update in the next couple of months after another round of developer testing.
Xiaomi claims to have made MIUI 6 less distracting and there's definitely a big change when you compare the existing MIUI5 to the upcoming version. Xiaomi has chosen to use big white spaces accented with bright colours within its core apps, which immediately call for comparisons with iOS 7. In particular, the calendar, mail apps and the gradient-heavy icons remind us of Apple's mobile OS.
Let's have a look to it's new features:
1. Phone calls
It's the most basic function you would expect your phone to have, and now xiaomi made the phone call experience even better.
With MIUI 6, you can identify, mark or block unwanted calls with several detailed options.
Identify unknown number
Mark service numbers
Visible menu of voice service calls
2. Home Screen
The home screen has always been the central place to switch between apps and enable or disable features.
With MIUI 6, xiaomi brought in new global operation gestures that are also optimized for devices with large screens.
Batch organize icons, quick search tools and other features are easy, intuitive, and even fun to use.
3. Notification Center
Notifications let you know about new messages, missed calls, reminders, app notices, and more.
The MIUI 6 Notification Center now makes it even easier and more reliable for you to get information you need.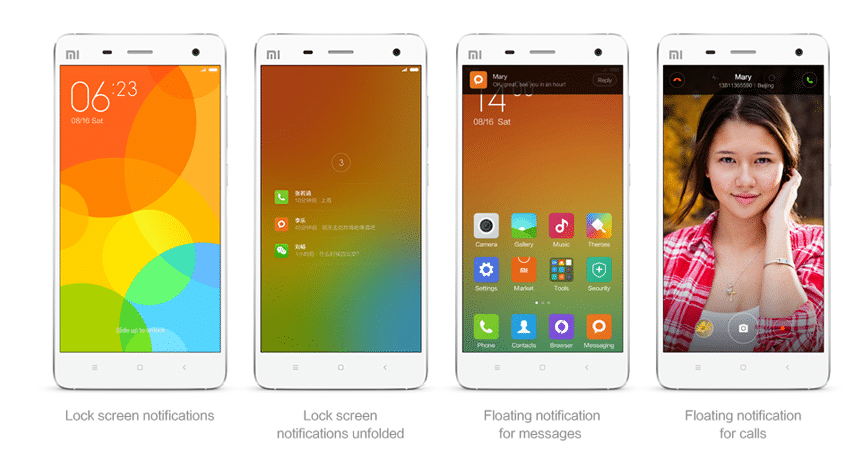 4. Themes
Access over 5,000 beautiful MIUI themes for your phone, each artfully designed by renowned designers to customize your phone the way you want it to be.
The all-new Mi Space also breaks the icon's traditional grid layout to bring new ways for you to interact with your phone. This allows the interface to access your favorite game or other platform.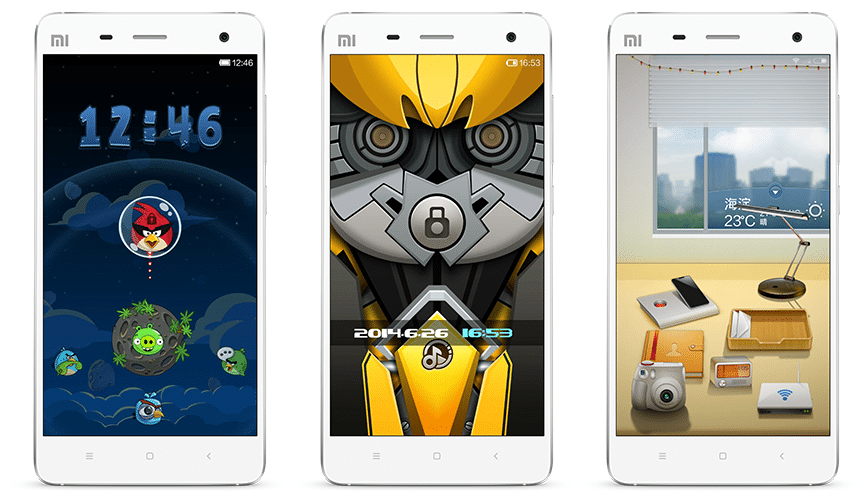 5. Mail
Xiaomi redesigned the Mail app to put all mails with the same subject into one folder so that you can see what's new at a glance. Decide which emails you want to read first and when. An attachment list also allows you to view and save attachments directly. Hundreds of mail accounts types are supported, just fill in your email address and password
6.Online Resources
I. Music
Load in your own song files or select the best music from various FM stations in the Music app.
The more you listen, the more personalized it becomes.!
II. Video
MIUI provides all kinds of movies, TV series, news, animations, entertainment shows, and documentaries.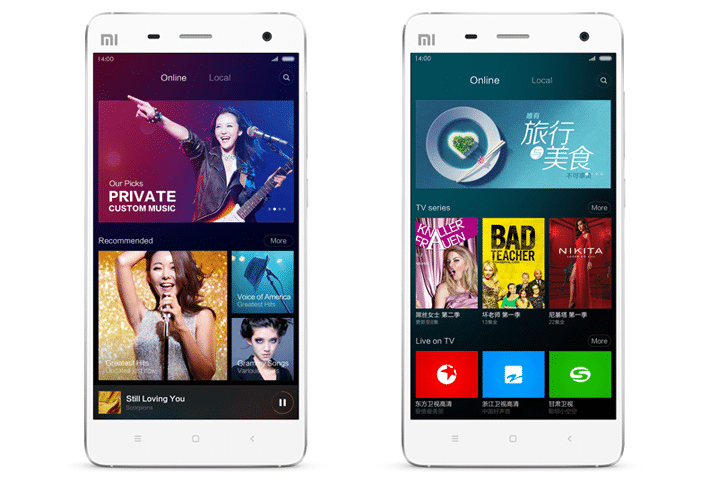 III. Market (Apps and Games)
MIUI Market is one of the largest app stores in China. Every app in the market is manually reviewed and tested. Search for popular and interesting games in MIUI Games. You'll be in for a ride.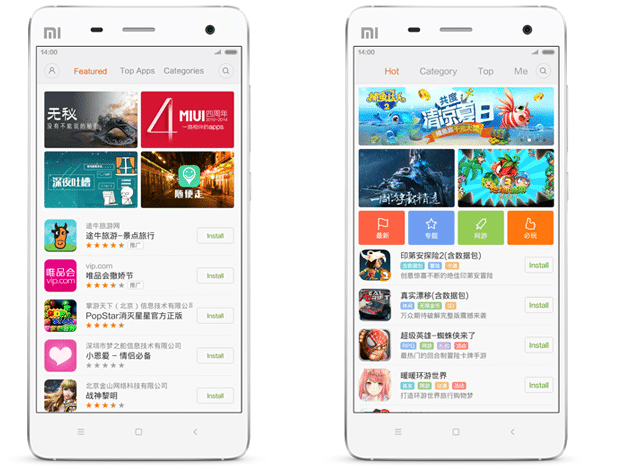 7. Mi Life services and Directory
Mi Life deeply cooperates with several group-buying websites to let you enjoy food and movies with the lowest prices possible.
MIUI Directory combines all life services information like express delivery, food, hotels, and plane tickets in one place. The things your need, all in one place.