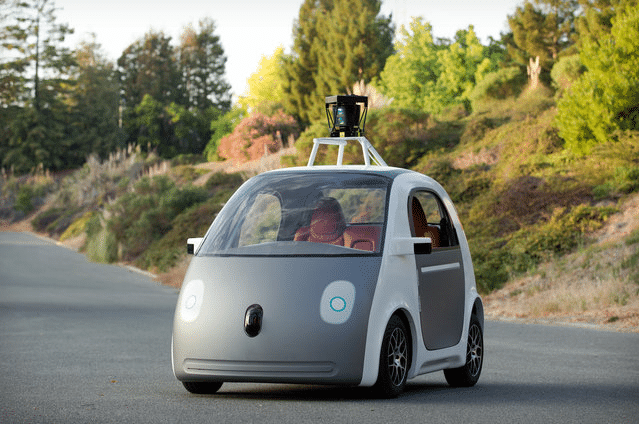 Google announced its own design for self-driving cars, which will drive people around without a steering wheel or pedals. It's the latest project from Google X, the company's skunkworks group headed by Google co-founder Sergey Brin.
TWO PEOPLE, NO DRIVERS
The company has already shown off its own self-driving technology, which retrofits existing vehicles made by Toyota and Lexus. However this new version, which was announced by Brin at the Recode conference, is a new design that fits two people, and is driven entirely by computer using a variety of on-board computers and sensors.
Google says the program is currently in a prototype phase, but that it plans to build around 100 early versions of the vehicles for testing this summer. Those cars, which are reminiscent of a Fiat 500 mixed with Playmobil toys, will initially include manual controls in case something goes wrong, just like the company's current self-driving car program. After a pilot program in California, Google says it will develop a broader program with the help of partners, presumably for commercial use.
Google's overarching goal with the self-driving car program has been to develop vehicles that are safer than the ones driven by humans. 33,000 Americans die from auto accidents each year, with that number ballooning to 1.2 million worldwide, something Google believes it can trim by as much as 90 percent using a technology that can sense and react to things faster than humans.
This latest prototype was made using off the shelf car parts, Brin says. That includes heavy use of foam, and an electric motor. The company would not divulge specific partners on the project, short of saying that it's been building prototypes for some time, and still has work to do before you see these hauling people around.
Word that Google was working on building its own self-driving car reference design leaked out last August, with a report from The Information, however the company's progress was described as being only at the discussion level with contract manufacturers. Even so, the description of providing "robo-taxis" for people to get rides on demand was spot on. Brin essentially confirmed that, describing the need for these smaller, self-driving vehicles as incredibly important for people underserved by typical transit options, especially those who don't live in densely-packed urban areas.
"The reason I'm super excited about these prototypes is the ability to change the world and the community around you," Brin said.
Source: The verge