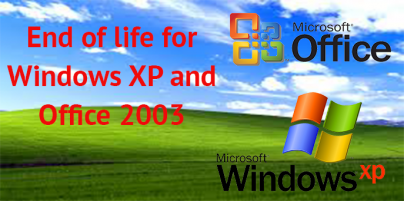 In two short weeks, Microsoft will end support for Windows XP, effectively marking the end of the popular desktop PC operating system. Although XP is getting the lion's share of attention as the April 8 deadline approaches, the company is getting ready to say good-bye to another major, company-defining product: Office 2003.
Over a decade after Microsoft launched Office 2003, the company will also stop issuing bug fixes and security updates for the productivity software on April 8. In a retrospective, the company said at the time of its release, Office 2003 "was on the cutting edge of productivity it sported a new Office logo, gave birth to OneNote and had a new look and feel that excited our customers."
The past 10 years—the last couple of years, in particular—have roiled the personal computing landscape. Smartphone and tablet adoption rates skyrocketed while PC sales tanked. Buoyed by the cloud, new mobile and collaborative work styles took hold across the enterprise, luring workers away from their keyboards and mice.
Microsoft is keenly aware of the dramatic shift in how today's workforce gets things done. "Office 2003 no longer meets the needs of the way we work, play and live today," stated the company. "For this reason, it is time to say farewell to Office 2003 and embrace the productivity solution of today—Office 365."
Office 365 is Microsoft's cloud-enabled business software suite, and it marks a big departure from the company's traditional packaged software offerings. Instead of a major new release every few years, the company has moved to a subscription-based approach that continually delivers updates and features as required or as Microsoft advances its technology.
Office 365 users "never have to worry about outdated software, security installs, or purchasing a CD with an installation code again—Office 365 is always up-to-date, equipped with built-in security and available to purchase online (no CD required!)," stated the Office Team in a blog post. Further contrasting the new software to Office 2003, the company said that the "days of editing documents via multiple attachments, iterations and printouts are behind us."
On the hardware front, an accompanying infographic depicts the big differences between cutting-edge portable computing then and now. In 2003, a new Windows laptop with a 60GB hard drive was 2 inches thick; tipped the scales at 7 pounds; and retailed for a whopping $3,800, according to the company. A new Surface tablet today offers 64GB of flash storage, is 0.35 inches thick (8.9mm) and costs $549.
Not transitioning away from Windows XP and Office 2003 can have dire security consequences, warns Microsoft. Many businesses may experience the flood of malware and hackers that the aging OS is expected to attract. Last April, Gartner estimated "that more than 15 percent of midsize and large enterprises will still have Windows XP running on at least 10 percent of their PCs after Microsoft support ends [April 8]."
source : E-week