Nokia has unveiled its first three Android smartphones, after several turbulent years that saw the Finnish manufacturer lose its top spot in the mobile market as Google's free OS became the biggest mobile software in the world.
All three Android phones by Nokia – X, X+ and XL – run on a 'customized' version of Android operating system and will not have access to Play Store. This means that those looking for a number of popular Android apps will still not have access to these.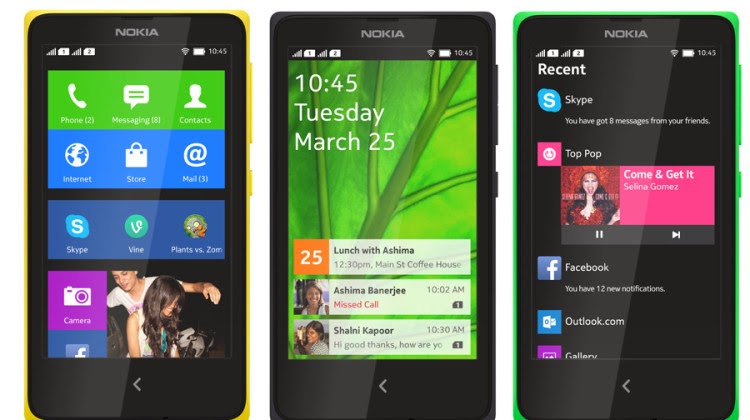 Nokia XL, the biggest of the three new smartphones, has a 5-inch screen, 768MB RAM, 5MP autofocus camera with LED flash on the back and 2MP front camera. On the other hand, Nokia X and X+ have 4-inch screens and 3MP fixed-focus cameras, said former Nokia CEO Stephen Elop while unveiling the devices; the former has 512MB RAM, whereas the latter has 768MB of RAM. All three devices will run on a 1GHz dual-core Snapdragon processor, have access to 3G networks and have display resolution of 800x480p. Nokia will offer a 4GB microSD card free with X+ and XL smartphones, but not with the entry-level Nokia X.
The company has also not innovated much by way of design for the new range and carried over the monobody design of its Lumia series in the new Android smartphones. The three models will also feature expandable storage.
As expected, Nokia has preloaded the X, X+ and XL smartphones with Microsoft's cloud services like SkyDrive and One Drive, instead of Google's software, which may prove a dampener for some. The company is offering 10GB of One Drive storage for free.
Some of the apps pre-installed on the devices are Here Maps, Nokia Mix Radio, Facebook, Skype, BBM etc. Users can download apps from the Nokia store, or can choose to sideload apps directly from the web.
Interestingly, the home screen of Nokia's three Android smartphones is heavily influence by that of Windows Phone operating system and features Live Tiles. The company has also included FastLane multitasking solution, which it debuted with the revamped Asha series, and Glance Screen in the new smartphones.
Nokia announced that Nokia X will be available immediately in Europe for 89 euros, whereas X+ and XL will hit the stores in early Q2 2014 for 99 and 109 euros respectively. However, it added that the three models will hit markets like India, Africa, Middle East, Asia Pacific and Europe first, without indicating the price range for these markets.
Elop said that Nokia, set to be acquired by Microsoft soon, will encourage app ecosystem for the Nokia X platform. It will offer developers different monetization methods in emerging markets. Operator billing has already been established for 60 markets.