WhatsApp is currently developing a slew of new features to improve the overall user experience. It was revealed a few days ago that WhatsApp is testing the ability to allow users to hide their statuses, last seen, and profile images from some contacts, according to the report.
The messaging app has previously been discovered testing the function on the iOS beta app; however, the messaging service has now been caught testing the feature on the Android version of the app.
Users will be able to hide their Last Seen on WhatsApp
According to Wabetainfo, WhatsApp is preparing to launch a feature that would allow users to hide their last seen, status, profile picture, and other information from certain contacts. Specifically, the source claims that "WhatsApp is going to introduce a new "My contact except" option for Last Seen, Profile Picture, and About, allowing you to finally block a contact from viewing certain data without setting it to Nobody."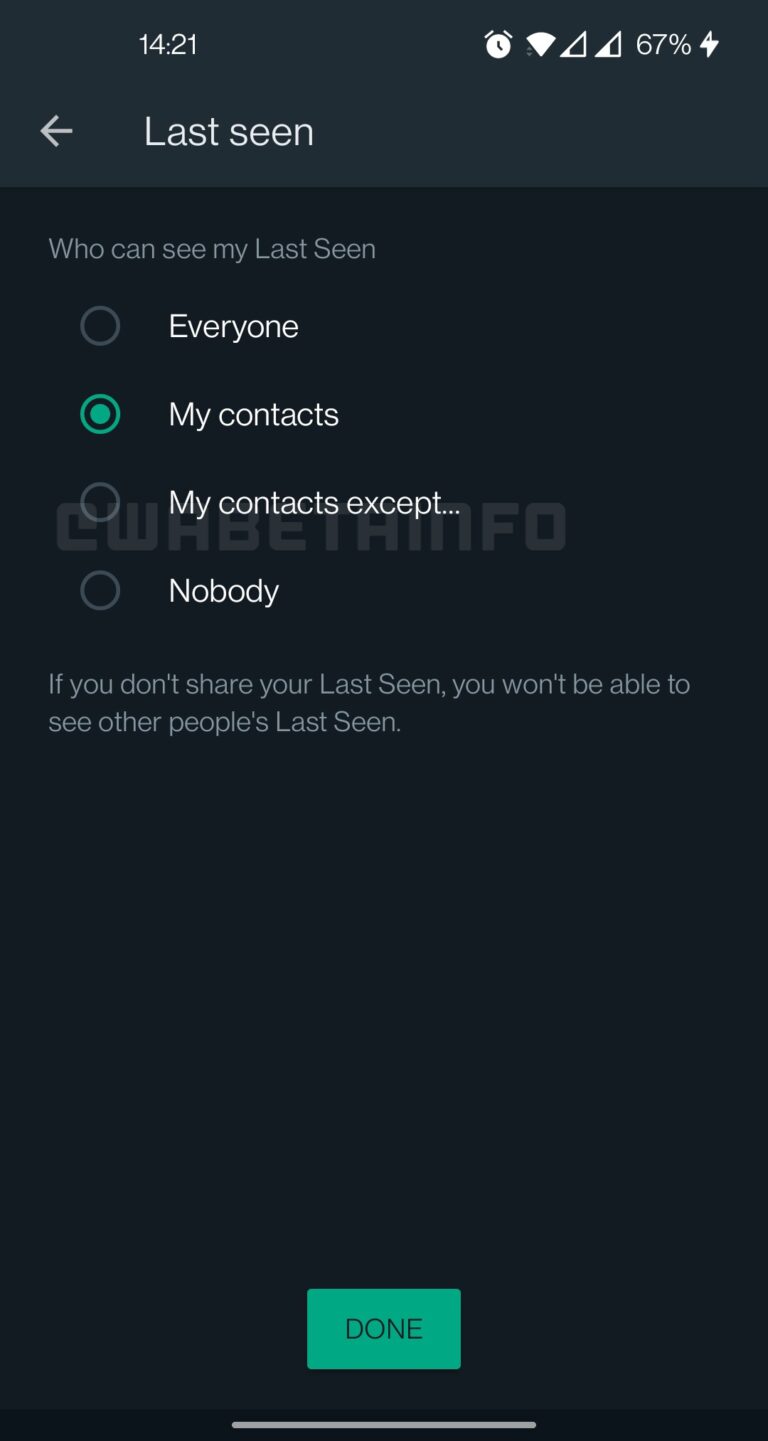 According to the WhatsApp features tracker, a screenshot of how the feature will look once it is pushed out has been posted. In the screenshot, you can see four options, which are Everyone, My contacts, My contacts except, and Nobody (which is the default setting). Because of this, if you have a nosy friend or a coworker with whom you do not like to share your updates, you can select the contact except option. Also included is the ability to hide your last seen, profile photo, and anything else from all of your contact's computers and phones.
"When you omit a contact, the contact will not be required to utilize an updated version of the app since the server will automatically handle this setting for you," says the author. As a result, when this functionality is made available to beta testers, you will be able to begin removing contacts instantly," according to the article.
It is essential to note, however, that if you hide you're last seen from someone, or the entire public, you will not be able to view their last seen, and the vice-versa is also true. If you prevent someone from reading your WhatsApp stories or statuses, you will also be unable to view theirs as a result of this restriction.
On both the iOS and Android platforms, WhatsApp is presently testing the feature. There have been no formal notifications from the messaging app about this matter. Currently, the feature is under development, and it may not be accessible immediately after launch.