WhatsApp iOS: For both Android and iOS, WhatsApp is releasing new beta versions that are now under testing.
As a result, the chat application is introducing several new capabilities to its users across both platforms. In the most recent of these upgrades, the firm appears to be planning a makeover of the chat bubbles that WhatsApp users on iPhones are now seeing.
The feature appears to be in the early stages of development, and it may be made available to iOS beta testers in a future software update. Because it has already been viewed by Android beta testers, we can have a better idea of what we should anticipate from the new chat bubble design.
According to WABetaInfo, the newly redesigned chat bubbles have a more rounded appearance than they did previously.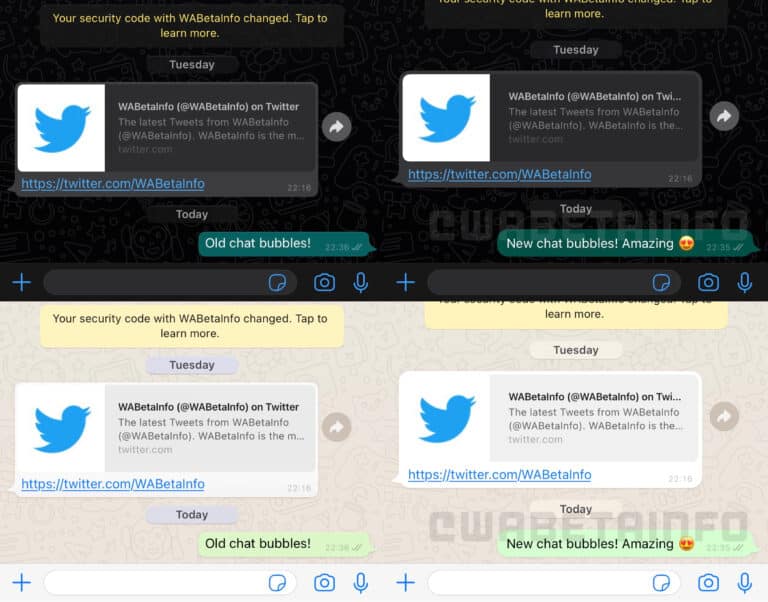 They also look to be bigger and more "modern" in appearance than the ones we are accustomed to seeing on iPhones in the first place. The bubbles even have a new green color that is brighter and shinier than the dark green that we are used to seeing at this time. The new color gives the chat window a more vibrant appearance, whereas the former green appears much paler in contrast.
According to WABetaInfo, WhatsApp is now working on making this makeover available to iOS beta users. The chat bubble makeover was originally featured on WhatsApp beta with the Android 2.21.13.2 upgrade, which was released in June. After a long period of development, the firm is now focusing on delivering improvements to its iOS user base as well.
We will have to wait till we see the new design in action before we can make any additional comments on it. Although, based on the pictures given by the newspaper, the makeover appears to be fascinating and will undoubtedly bring a breath of fresh air to the WhatsApp experience that we are all so accustomed to.
The makeover also serves as a reminder of WhatsApp's ongoing efforts to improve the user experience. Another example is the use of WhatsApp responses to communicate with others. According to reports, the app is working on the functionality and might launch soon.
Once available, these reactions will allow users to respond to another person's messages using emojis, similar to how the Instagram chat function works. Users will be able to choose from a total of seven different emojis for their replies. According to WABetaInfo, the functionality is presently under development and should be available to Android and iOS beta testers soon.