Google may introduce a new Health app for its customers in the near future to assist them in bringing and managing all of their medical information in one location. According to reports, the app will function similarly to Apple's health app, allowing for the accumulation and exchange of such health data with others.
The revelation comes in the form of a leaked screenshot of the Google app that is currently under development. According to a report by 91mobiles, the app's description refers to "a single perspective of your health," with the data for this view being derived from the person's trips to physicians, labs, and other healthcare establishments.
Users will need to link their online accounts from places where they have gotten healthcare before they can begin using the app. It is anticipated that the app will then obtain the user's health information from these places and assist in displaying it to the user directly on their phone.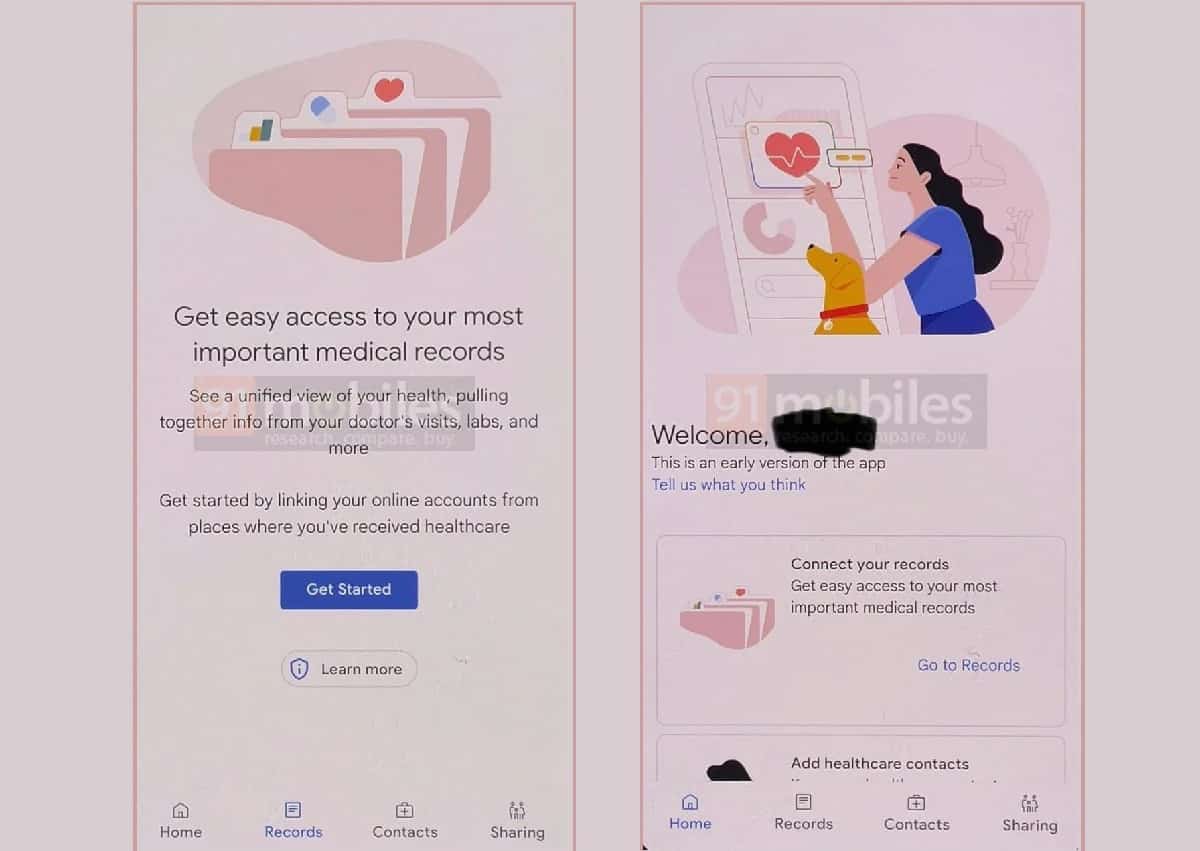 This sort of health data collection is extremely beneficial for individuals who must visit hospitals or other healthcare institutions on a frequent basis. It will also assist a person in sharing their entire medical record with their doctors in order to gain the greatest amount of clarity possible about their health trends.
According to the information given by tipster Ishan Agarwal, the leak shows that the software is currently in the early stages of development. Despite the fact that it is currently being tested for a number of new features, it is unclear whether or not the app will ever be released.
The app's menus, according to Agarwal, are divided into four sections: profile pages; records; contacts; and sharing. This implies that the Google Health app, similar to Apple's Health app, will allow users to share their health data with their loved ones, just as Apple's Health app now allows users to do. It will, as a result, prompt the user for contact information and authorization to share information upon usage.
It is believed that the new Google Health app would be released initially for Android smartphones, followed by other platforms. It's possible that an iOS version may be released shortly after. Once Google has completed the rollout of the app across all platforms, it will use the data collected by the app to improve the health-related services in the company's software portfolio. Furthermore, it will provide good competition to Apple's Health app, which is heavily influenced by the hardware that the company produces, such as the Apple Watch. It remains to be seen if Android-based wearables or other health monitoring devices will assist Google in creating a similar ecosystem with the app.