Valorant is getting entry into Mobile Gaming Industry as we spotted it on the TapTap platform. The game is available on the website and can be pre-registered for both Android and iOS users.
This entry was made under the 'Developer On Board' badge and was listed as the developer by Riot Games Inc. There are other Riot Titles on the developer page that mentioned the VALORANT Mobile. The creator page where VALORANT Mobile lists are inconsistent, which in turn creates doubts about whether or not the page is official. No official pre-registration announcement has yet been made in the Riot Games. Many leaks and rumors about Riot's controversial 'VALORANT' Mobile edition have been published. Here's it, we know so much about the edition of the handset.
VALORANT Mobile Expectation
The code of the VALORANT leaks 'ValorLeaks' discovered in September of 2020 says that VALORANT's smartphone version could be in WIP (Work In Progress) by Riot Games. These codes have been discovered in in-game archives, where precise controls for mobile devices are suggested. PlayIGN, the PLAYERUNKNOWN Battleground data miner, shared in March 2021 that 'VALORANT may be revealed at E3 2021 this summer.' IGN India has recently announced that VALORANT Mobile is underway and that Riot games expect to announce this summer.
All Valorant Mobile Settings | #VALORANT pic.twitter.com/LKfAN8b9wi

— Mike – Valorant Leaks & Info (@ValorLeaks) October 13, 2020
From 12 June until 15 June 2021 is scheduled for E3 2021. There is one month to figure out whether or not PlayerIGN's VALORANT Mobile speculation is right or wrong. The smartphone edition of the iconic royal battle 'Apex Legends' was recently revealed by Electronic Arts. The regional beta tests for India and Singapore have been launched.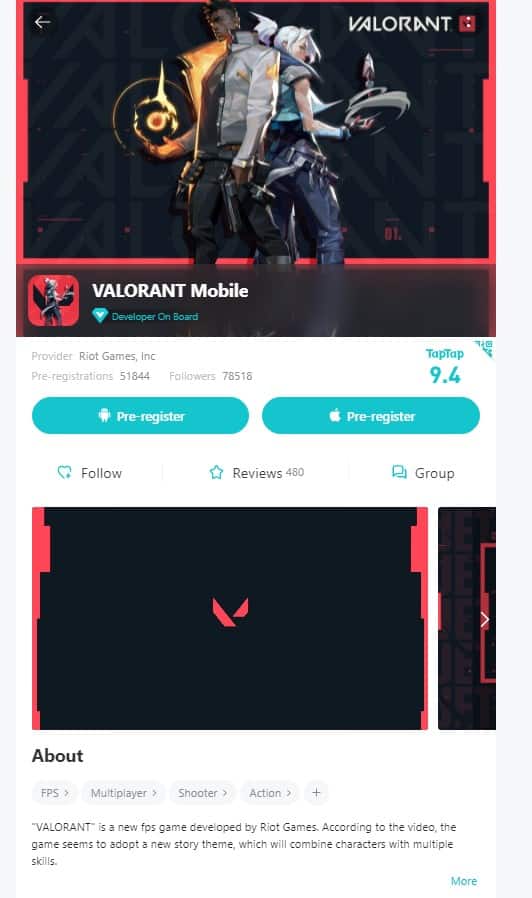 In recent years, the increased success of mobile gaming has contributed to the launch of mobile video game projects. Naturally, at the time of release, Valorant Mobile is expected to be a big success for the mobile community.
About TapTap
TapTap is a mobile game-sharing community and a search engine to find new titles. Games can be removed from the play store or apple store, but without any limitations, you can import these games. You can quickly and reliably find the largest games in TapTap.