Weapon Skins in any FPS games are stuff that a player would not miss to try on or consider using them. Similarly, we have arranged a list of Best Valorant Weapon Skins accordingly on the basis of each Weapon and this series of articles will help you to choose the best skin for a particular weapon.
10 Best Vandal Skins in 2021
In this article, we've listed 10 Best Vandal Skins, Battlepass Skins included, and other skins from the various Bundles. The list might be the Opinion of the Author and is also specified by the popularity of each skin. You may also want to check our list of Best Phantom and Operator Skins in valorant.
1) Prime Vandal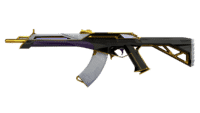 Prime Vandal is the most popular Vandal Skin for which people have submitted many tickets regarding the purchase to the Valorant Support Team. The animation, VFX, and Finisher of Prime Vandal just satisfies users and blow our mind. The Prime Collection was released on June 2nd, 2020, it leans heavily on gold plating much like the Aristocrat Collection.
Cost: 1,775 VP
2) Elderflame Vandal

After Prime Vandal, the most discussed Vandal skin is Elderflame Vandal, as its dragon animation, VFX and finisher attract users to keep using it. The Elderflame collection was released on July 8th, 2020.
Cost: 2,475 VP
3) Reaver Vandal

We can call it Reaver 2.0 because Reaver Skins were released during BETA Version and they were a bit darker in look than the current version. Still, the Reaver Skin attracts users with its awesome reloading animation and the death animation. Also, its Kill effect with a sound effect just satisfies the user's wants. The Reaver collection was released on October 26th, 2020.
Cost: 1,775 VP
4) Glitchpop Vandal

The Glitchpop Collection is newly released on February 4th, 2021. But, within hours it has become most actively discussed Vandal Skin with awesome looks, VFX effects, and Animation with Finisher. The collection is known to be "Glitchpop 2.0" (not officially).
Cost: 1,775 VP
5) Ego Vandal

The Ego Vandal is just like the Default Skin of Vandal but the only difference is, it has a good design and painted with some awesome graphics. This skin doesn't have any animation or VFX effects and that makes it an awesome skin. The Ego Collection was released on September 15, 2020.
Cost: 1,775 VP
6) Sensation Vandal

The awesome pinky texture and design on Sensation Vandal makes it look more attractive. The Sensation Collection was released on December 3, 2020.
Cost: 875 VP
7) Winterwunderland Vandal

The Winterwunderland Vandal differs from every Vandal Default Skins. The Reflection and shininess of this skin make it look more attractive. It reflects darkness when in Light and Shines away when in Dark. It also doesn't have any VFX effects or any animation. The Winterwunderland Collection was released on December 9, 2020.
Cost: 1275 VP
8) Wasteland Vandal

The Wasteland Vandal is made up of waste materials or recycling materials that look good and attract users in that way. The Wasteland Collection was released in November 2020.
Cost: 1275 VP
9) Luxe Vandal

The Luxe Vandal is similar to the Default Vandal but the Blue Skin makes it look attractive. Though it is not that better than Ruin, yet it was popular at that time. This skin was since BETA Version. The Luxe Collection was released on June 2, 2020.
Cost: 875 VP
10) Ruin Vandal

The Ruin Vandal was from the Episode 1 Act III Battle-pass and the Royal Texture of the variant looks so awesome and attracts users in different ways. The Ruin Collection was released with the Act III Battle-pass on October 13, 2020. Also, the Ruin Dagger is among the popular Melee Skins of the same Battle-pass. The Ruin Vandal was available to unlock at Tier 45 of Episode 1 Act 3 Battle-pass.
Cost: Battlepass Included (1000 VP)
We hope, this article might have helped you choose the right skin for Vandal, and do comment about your favorite one.
More about Valorant:
Riot Games' Valorant has been a classy FPS Game after CSGO. With that being said, Developers of Valorant are so actively performing on future projects of the sport. Valorant may be a tactical shooting game involving two teams with five players in each team.
Every player can check in and play remotely from anywhere within the world. Every game has 25 rounds, and therefore the team that wins 13 of the first wins the sport. Players can choose their in-game characters called agents at the beginning of the sport.