HyperX SoloCast Introduction:
In everyday life content, creators might have searched for some suitable equipment types like a microphone to deliver their best to the content they make. But unfortunately, many people didn't get satisfied by purchasing a microphone, whether it's a budget one or the condensed one. In this article, We'll show you the best microphone available in the market right now.
You must hear some popular microphone brands such as Boya, Maono, Samson, or Snowball, and they're worth it in performance depending upon their price. HyperX SoloCast is one of the trending microphones right now. Hyperx India just posted about its products in stock on Social Media, and HyperX Solocast is available on Amazon India for the price of ₹5,799
As a content creator, your voice quality is the priority to deliver any quality content. For example, streaming any game wherein your microphone is everything like GTA Roleplay or any FPS game where your communication matters for your teammates' callouts. Capturing great audio and video builds an excellent output for which every content creator tries to invest a considerable amount.
HyperX calls Solocast a Budget Mini Microphone, which is less than $80, and you're paying for the durability, portability, and ease of use. The sound quality will never let you down, as you usually get what you pay for, and HyperX is known for the better quality of Microphone and Audio. You can opt for other cheap microphones, but you won't get such premium feeling and quality audio as you get in HyperX products.
HyperX is also known for its best Quality Gaming Headsets, such as the HyperX Cloud series, one of the prosperous headsets. The similar quality we do get in HyperX SoloCast Microphone. The directional pattern of this product is the Unidirectional Cardioid Polar pattern. It features a headphone jack, audio gain control, shock mount, internal pop filter, notable RGB Lightning, and the braided wire's quality. Also, the USB Type-C connection makes it easy to plug and play along with playing nicely on PC, Macs, etc., platforms.
The HyperX SoloCast is a single-condenser microphone with an adjustable stand, boom arm and mic stand threading, and tap-to-mute sensor. It does have a mute button as a standout feature similar to Razer Seiren Mini.
HyperX states on its website about SoloCast,
"For the video editor, streamers, and gamers looking for a USB microphone with great sound quality, the HyperX SoloCast is a must-have. It's Plug N Play, making it simple to use, with some of our fan-favorite conveniences like the Tap-To-Mute sensor and LED mute indicator. The versatile microphone has a flexible, adjustable stand and is compatible with most boom arms, so it can either sit on your desk or work mounted. Certified by TeamSpeak and Discord and compatible with OBS, XSplit, Streamlabs OBS, and several other programs. It's an extremely streamer-friendly microphone."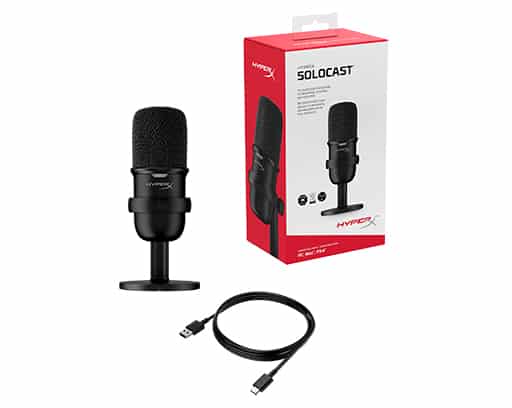 Features of HyperX SoloCast:
Plug N Play audio recording
Tap-to-Mute sensor with LED status indicator
Flexible, adjustable stand
Boom arm and mic stand threading.
Multi-device and program compatibility.
Cardioid Polar pattern
PC, PS4, and Mac compatible
It has sampling rates of 48kHz, 44.1kHz, 32kHz, 16kHz, and 8kHz with a bit depth of around 16. For windows, it is compatible with Windows 7 and above. The length of its cable is 2m. The Microphone weighs about 261g; the Microphone stands 125g; its total weight with the USB Cable is around 429.9g. The Frequency response is 20Hz-20kHz, which is quite good.
HyperX SoloCast Pricing:
The HyperX SoloCast is now available on the Amazon India eCommerce website. Grab the deal now as it's just for INR 5,799