For some many years, the video game industry remains one of the most prolific economic sectors. Game developers release new games with enviable regularity, organize promotional campaigns, and make us rub their hands together in anticipation of a new sensation. Indeed, the video game industry's creations fascinate players with stunning graphics, breathtaking soundtracks, captivating storylines, and incredibly realistic, customizable characters. Nevertheless, more and more people feel bored and somewhat tired of those sophisticated titles promoted and advertised so scrupulously.
What is the reason behind our undying love for simplistic old-school games such as Super Mario Bros, the Legend of Zelda, Felix the Cat, Pokémon, Kirby, Donkey Kong, and lots of other arcade and console games that once thrilled hordes of teenagers? It's hard to say for sure. If you've landed on your website, you're definitely thinking about playing retro games, but probably don't know where to start. With our help, you'll learn how to re-experience almost forgotten nostalgic emotions.
Abandonware Websites
Have you ever heard of abandonware? This term is used to denote digital products, typically software that is no longer supported by its manufacturer or developer. Needless to say, no updates are released and no support is available for disregarded products.
Sadly, abandonware owners don't bother to keep their creations alive, notwithstanding the fact that it still may represent value to many people. Neither do they care to provide free access to abandonware, though, in reality, manufacturers rarely track any copyright violations.
Luckily for all connoisseurs of retro games, which are also considered abandonware, there are special stashes where all abandoned video games reside. They are abandonware websites scattered throughout the Internet. Not all retro gamers know about their existence, but all rejoice once they discover them. If you really want to play old-fashioned, simplistic, but original and peculiar titles, don't hesitate to visit abandonware websites.
Among the most popular are My Abandonware, Internet Archive, and Vetusware. There, you can find truly fossil games, including Last Bronx, Transylvania, 221B Baker Street, Dark Devotion, and many more. Still, if you're looking for less dinosaur-like games that were popular, say, some twenty years ago, you're unlikely to find them on abandonware resources.
Retro Gaming Websites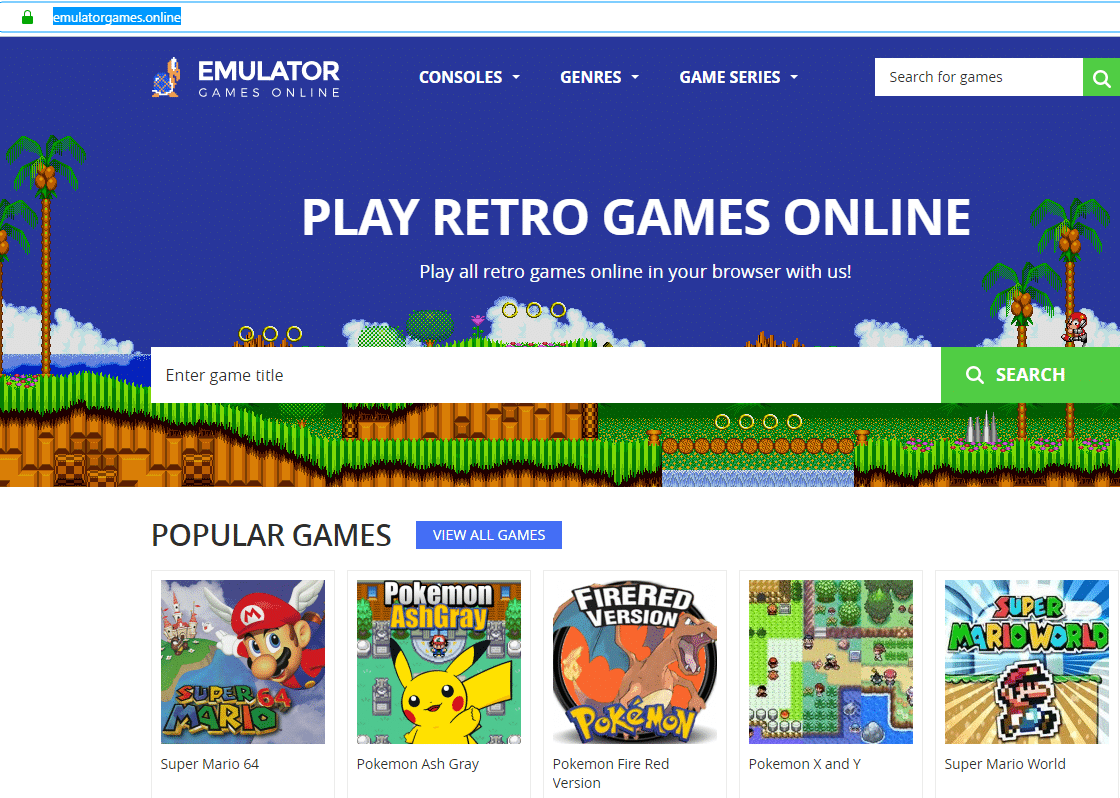 With the growing popularity of retro games, lots of websites start distributing popular console games and even allow retro gamers to play their favorite titles online. If you're in search of a reliable online resource offering retro games for download, consider using emulatorgames.online. To our mind, the given website boasts one of the most extensive collections of the best retro games. Avail yourself of a convenient search bar to find your favorite game on the site. You may also search under the "Genres" and "Console" sections to quickly find the desired title.
If you don't want to download any games onto your computer but are still eager to quench your nostalgic thirst, you may play any available game online. Playing in your browser saves you much time and effort. So, you can start playing such cult titles as Super Mario, Kingdom Hearts, Resident Evil, Sonic the Hedgehog, or some Kirby Games Online, you may head straight to emulatorgames.online. Alternatively, you may opt for Archive.org, Retro Games Online, or Emulator Online to find the best retro game.
What Else you can Do to Get a Retro Game of your Dream
If you're thirsty for a truly authentic experience, you may try getting a vintage console to play retro games on. You may be surprised to learn that eBay is teeming with vintage gaming consoles, cartridges, and game CDs.  And lots of collectors and retro game fans are willing to pay big money to get a relic. If you're one of them, you also can avail yourself of a vintage Nintendo, Sega, or PlayStation console, connect a gamepad to it, and start enjoying legendary games.