Sharing a large-sized file has always been a major concern for many of us. Neither we can send them as an attachment through email nor we afford to upload it to the less-secure third-party cloud and waste our hard-earned money.
Mozilla has finally made its Firefox Send, an end-to-end encrypted file sharing service available for everyone. It allows you to transfer files up to 1GB in size, but if you need more. you can sign up for a free Firefox account anytime and enjoy an upload limit up to 2.5GB.
There are a lot of other file transfer tools available out there. But most of them don't guarantee your privacy. With Firefox Send, files will be encrypted before uploading them to the Mozilla server, and can only be decrypted by the recipients.
Read: Firefox to Add Letterboxing Tor's Anti-Fingerprinting Technique
According to a blog post by Nick Nguyen, Vice President of Firefox Product, "We know there are several cloud sharing solutions out there, but as a continuation of our mission to bring you more private and safer choices, you can trust that your information is safe with Send."
How to Use Firefox Send?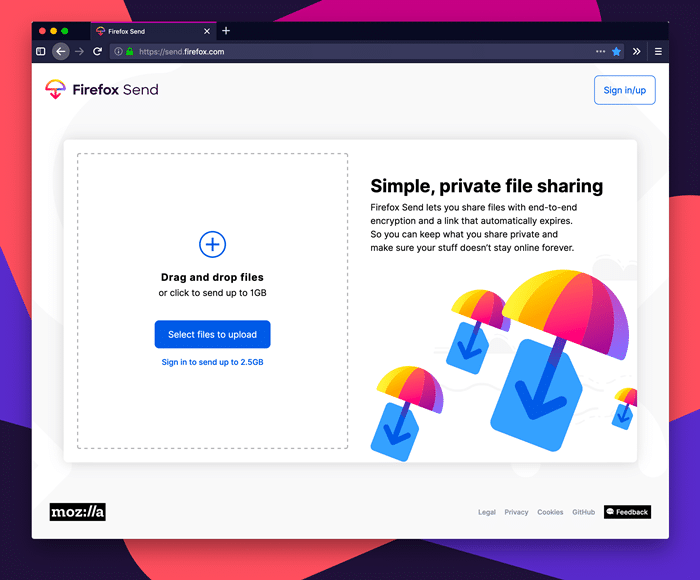 Firefox Send is an online service that uses browser-based encryption technology. You just have to visit its website, upload a file, protect it with a password (optional), set an expiration date and finally share the generated link through any medium you want.
It doesn't matter whether the recipient has a firefox account or not. He/She can simply download the file just by visiting the shared link. Firefox Send allows you to share large files such as Videos, Audios, Photos, etc which cannot be sent via email and other popular means.
Here are some of the important features of Firefox Send: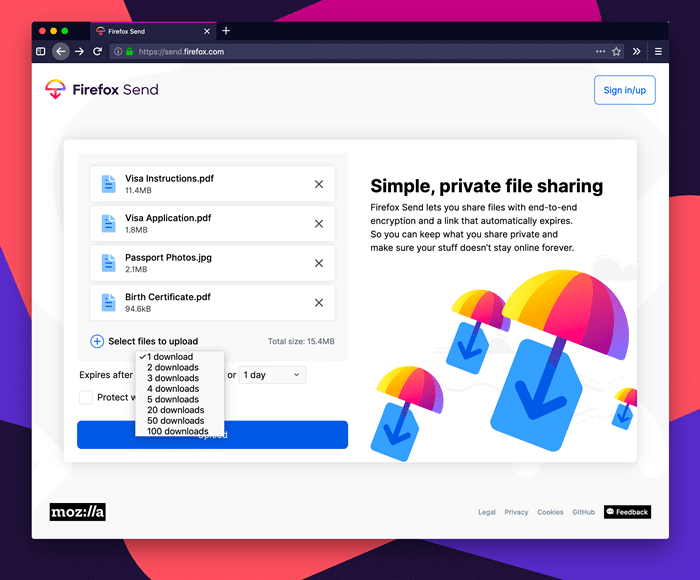 End-to-End Encryption: It uses 128-bit AES-GCM encryption via the Web Crypto API and encrypts the file even before uploading to the Mozilla servers.
Password Protection: If you want to set an extra layer of security, Firefox Send allows you to set a password that will be required before downloading the file.
Time Limit: If you don't want to keep the shared link alive for forever, just set a time limit ranging from 5 minutes to a few weeks. In this way, you can ensure that the file cannot be download after the set time period.
Downloads Limitation: Firefox Send comes with an option to limit the number of downloads for the uploaded files. You can allow the file to be downloaded from 1 to 100 times, and after the limit, the link will automatically expire.
Also Read: W3C Approves WebAuthn For Passwordless Web Authentication
Firefox Send file sharing service was initially rolled in August 2017, as a part of the Mozilla's Test Pilot experimental program. Unlike other popular alternatives like Google Drive, OneDrive, or Dropbox, Firefox Send is not available as a desktop Software. But with an online portal, Mozilla is launching a Send Android app in beta later this week. We hope the app will make the service more user-friendly and readily available.