PUBG mobile players have less complain about gaming performance than those who play on PC. However, if you own a low-end Android smartphone then it can be a different story. PUBG mobile game runs fine on decent mid-level Android smartphones but you get limited fps and performance to play with. That's a problem especially when your rivals are playing on High-end gaming smartphones.
The developers at Tencent games are aware of this issue. They've launched a minimal version of this game called PUBG mobile Lite to increase gaming performance on low-end smartphones. This version will increase PUBG mobile performance in budget smartphones. However, it may take a few weeks or months to get released worldwide. If you own a low-end smartphone and can't wait for PUBG mobile lite then we have a tool called PUB GFX+.
In this article, I'll be discussing about PUB GFX+ tool to increase PUBG Mobile performance and graphics Quality.
Increase PUBG Mobile Performance using PUBG GFX+ tool
PUB Gfx+ is an app developed by Senior XDA Fourm Member Abhinandan Trilokia. It's a free to use application designed to increase PUBG mobile performance and graphics quality on your Android smartphone. It'll unlock some important graphics setting which your device can handle but not provided by game developers.
PUB GFX+ Features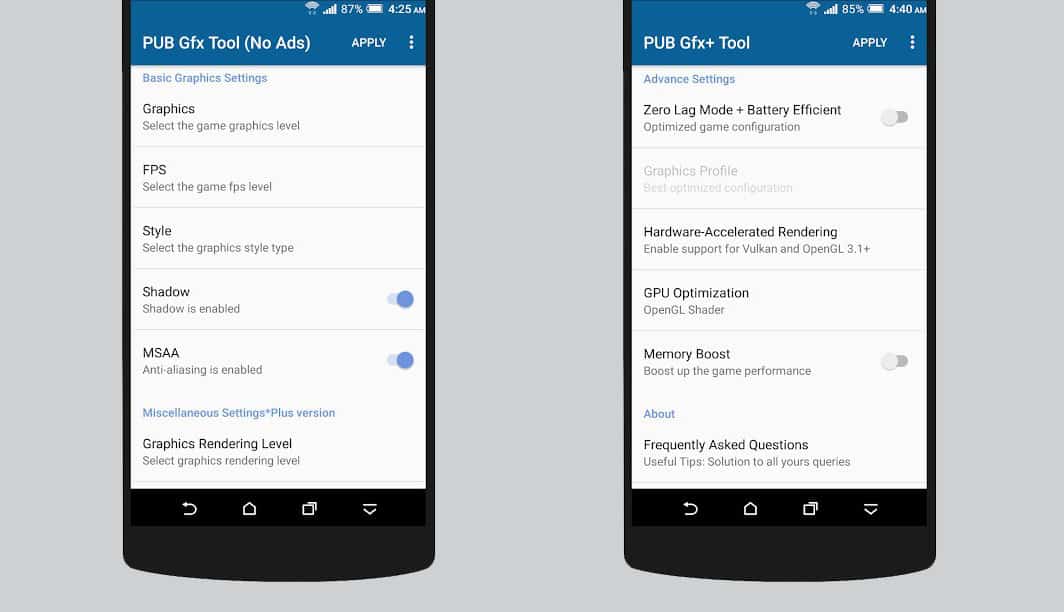 This app comes with a lot of great features that allows you to modify the game config file. You can change the following settings to increase PUBG mobile gaming performance:
Change resolution upto 1080p
Unlock HDR Graphics
Change Graphic Style settings
Manipulate Shadow Quality and Shadow Resolution
Unlock device FPS Limit
Enable or Disable Anti Aliasing
Select the Anisotropic filtering(AF) level
These settings can help you get the best performance or best graphics on your device. Apart from this, the app also allows you to set graphics rendering level in order to enhance the quality of graphics and enable or disable light effects in game. But that's not all you also get some settings to accelerate your device hardware. You can enable support for VULKAN and OPENGL 3.1+ and also optimize gaming shaders.
If you are wondering why game developers don't provide such settings when it possible to be done using third-party app then the answer is obvious. Game developers don't know what other apps do you have in your phone and how much resources other apps use in your phone. In order to make your phone run efficiently, developers don't provide such detailed settings.
How does GFX+ tool work? Is it Safe?
It is a simple app that modifies the game's configuration files on your device. Usually, game developers don't recommend modifying game files unless you know what are you doing and not ruining the game experience of others on the server. The only time you can get banned in the game is when you try to modify game files in order to Hack PUBG mobile game.
However, GFX+ only modifies configuration files that are related to graphic and performance settings only. It is safe to use. This tool and its previous version have not gotten users banned. At the end , it is your responsibility if you use an external tools to modify your gameplay.
How To Download GFX+ tool?
There are two version of this tool available on playstore, PUB GFX and PUB GFX+ tool. The first one is free version with limited settings but sometime it's enough for many devices to increase PUBG mobile performance. The  PUB GFX+ tool provides all the advanced settings we've mentioned above but it costs around $1.5. However, you can get the GFX+ tool for free if you are a member of XDA labs
Conclusion
There's no doubt that PlayerUnknown's Batteground deserves all the love from gamers as they've created such a masterpiece. Specially the mobile version they've given us for FREE. If your device struggles to provide playable FPS, you can either wait for PUBG mobile lite version or use these tools to increase PUBG mobile performance.