We all need to edit and convert our videos from time to time to make them support all different – different devices. But, it's always hard to find a good software for this purpose. That's the reason today I'm going to review the Wondershare Video Converter Ultimate software.

Video Converter Ultimate is all in one solution for converting your videos in many formats. It supports thousands of formats and gives you the lightning fast result. Wondershare Video Converter ultimate converts video and accomplish tasks with handy features. It not only converts the video but also allows you to pull other features silently. It converts video that is compatible for many devices with up to 30X faster conversion speed. Wondershare had come up with another beautiful software, with many in one feature what else look for.
Be it creating a new gif, burning a DVD or batch processing everything is made simply easy. You can not only convert a video you can edit it too. Be it anything that video demands in editing, crop or trim, apply effects etc. You can download video from any streaming website or you can screen record the video or you can download them over a single click. Wondershare Video Converter Ultimate is simply a wonder box for us. Name it what it can not do.
So many features it has to offer and they did it with sheer perfection. Challenging every aspect of video conversion Wondershare had put up a package of features and a bundle of surprises in a single method. With so many features to look upon in Wondershare Video Converter ultimate Software, it will be extremely exciting to discuss every feature.
Features of Video Converter Ultimate
Let us see what you can do with this Wondershare Video Converter Ultimate
It is Fast
Waiting has been an irreplaceable part of the video conversion. Gone are the days when you have to wait long to finish a single video conversion. Wondershare Video Converter Ultimate provides you up to 30X faster speed. NO need to wait long to convert your video. Get it done 30X faster. It saves time and frustration.
Convert Video from any Formats to any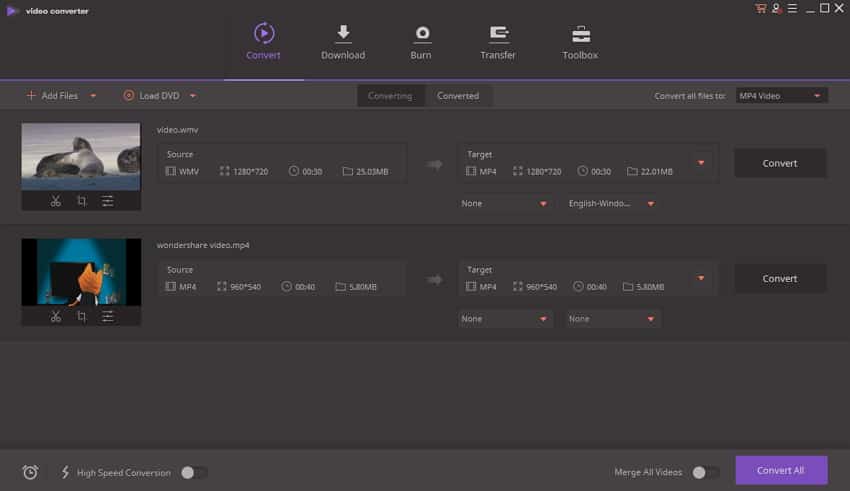 Not getting the formats you want? Does your video converter software has enough support for the latest formats world has been adding day by day? Over 1000 formats available for you to convert your video. You can use any trending to usual formats to convert your video. Formats like WebM to MP4, TS to MP4, MP4 to MPEG, AVI to MOV. The latest addition to the markets like 4K and VR devices are also supporting to wide extents.
Burn Video
You can any time burn the video to DVD and Blue Ray discs. Convert any format to DVD and vice Versa. You can also edit the DVD with built in video editor and you can provide DVD Templates. Blu ray Burner to burn Videos To DVDs. Create a backup of your creations by making them on DVD. With the burning tool, Wondershare has made it easy to create a backup of your work. It has a great DVD burning software feature included with video converter.
Process Batch Video At once
Processing each video one by one! Get Wondershare Video Converter Ultimate and Process them in a batch. No need to wait long to convert the batch. You can always get it done in one go.
Video Editing
You can not only convert a video but also you edit them as you want. Video Converter Ultimate allows you to use tools to edit the video. You can trim the vieo. You can crop the video. You can apply effects. Can Add subtitles. And you can add watermarks to call it yours.
GIF Maker
You can create gif files. Yes, you heard it right, the gif you had been searching for and never found, Just create one. No need to wander over the internet for your favorite gif. Wondershare Video Converter will help you create the gif you were looking for.
Screen Recorder
Record what you do! You can now record your editing and creation on wondershare Video Converter Ultimate. You can guide yourself in case you have lost what you had done before by recording what you are doing that with the help of screenm recoreder featue of the Wondershare Video Converter ultimate. You can record video from streaming sites too.
Free, Trial Version
You can also Try Wondershare Video Converter Ultimate for free with basic features to stimulate your desire to get big. Get the glimpse of formats it has to offer you and speed that it converts in a flash. Burn the video you create rather be having a backup purpose or any other.