We've all been there, searching for the "cheap and best" gaming peripherals, best bang for the buck blah blah. And also been disappointed after receiving them for poor build quality. Let me think who's responsible for that?? hmmm!?, You of course.  So here I am, your savior will guide you to the right peripherals to add to your rig.
You should also check my previous article on How to Build a Budget Gaming PC under ₹25,000 if you are looking to build a low-cost decent gaming PC.
Best Budget Gaming Peripherals
The Parts
I'll be talking about 2 products in each section and also will mention the alternatives for the same. Based on cost, performance, and reviews, one will be a mid-range option and the other will be a budget option. I'm not gonna cover high-end Razer/Logitech/Corsair products that cost over 4000 INR and above; which totally makes the title of this article absolutely "Irrelevant".
Keyboard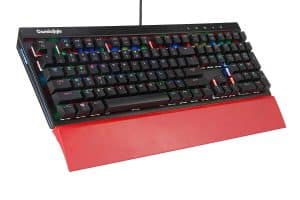 The first Keyboard in this list is Cosmic Byte CB-GK-11. It's a mechanical Keyboard with wrist rest, Cherry MX-Brown Switches, "Real RGB" lighting (as displayed in the link).  It goes for 3,399.00  INR on Amazon and has a rating of 4.1 stars. It's a good keyboard for the gamers who are looking for good Lighting effects along with mechanical switches.
The keyboard is also quite quiet (see what I did there xD) thanks to Brown Switches. The selling point of this Keyboard is it's "Lit AF" Lighting (I did it again in case u didn't notice). It has 13 backlight effects 3 levels of brightness adjustment and also 4 levels of backlight speed adjustment. Do check this video for an in-depth review of the keyboard.
Next up we have Cooler Master Devastator Gaming 3 keyboard and Mouse combo. It goes on sale for 2,499.00  INR on Amazon and also has 7 Colour LED Backlit Lighting system. It's a membrane keyboard basically but it's the branding and builds quality of this keyboard that has earned it a 4.5-star rating. It's a full layout, low profile design keyboard.
It also features 8 multimedia keys for media control and also very good grip at the bottom to counteract slippage. The mouse included in the combo is also very functional. It also features the same lighting system as the keyboard and is a 3200 DPI mouse (no DPI change button) also comes with standard browsing buttons. 
Honorable Mentions: Logitech G100s Wired Gaming Combo and Logitech G213 Gaming Keyboard
Mouse
In this case, there are infinite options but every gamer would prefer a Logitech or a Steelseries budget product for the sake of performance and budget. And that is why I've chosen to go with the ever-so-popular, fan favorite "Logitech G102". The mouse is being sold for 1499 INR on Amazon and has a rating of 4.3. I personally have used 5 gaming mice over the period 3 years from Reddragon to Havit to Logitech, I've used them all. And we all know the clear the winner is. G102 has a 6000 DPI sensor and RGB Lighting with support for 16.8 million colors of the spectrum (totally irrelevant :D). My only problem with this mouse was the cable and many had reported the same issue. I still don't understand why the manufacturers don't make Braided Cable a standard (If you know where this is going :P)
Next up we have SteelSeries Rival 110, successor to Rival 100. It goes on sale for  2,885.00 INR. If the price was as low as sub-2000, then this mouse would have been a great competitor for G102. Nevertheless, it has earned a 4-star rating on Amazon and some even say the weight balance on this Mouse a selling point for FPS games. It has a TrueMove1 sensor which is a 7,200 DPI, 240 IPS optical sensor. With amazing build quality and SteelSeries software, the mouse makes up for a great buy if you have the pocket for it.
Honorable Mentions: Logitech G402, Logitech 302 (for MOBA games)
Headphones
Again in this category, there are tons of products that advertise with terms such as "Gaming, 7.1 surround sound, LED" blah blah but fail to deliver when it comes to reality. So after goofing around with few products myself and the internet haystack, I've found few good ones for Y'all.
We'll start with the cheapest one. The Flipkart SmartBuy Inferno Pro Gaming Headset with Mic and LED lights (Over the Ear). Damn, that's one hell of a product name. If they only used that much time in proper business as well (Pun intended). This headset goes on sale for 799 INR only and has a rating of 3.9 on Flipkart.
Please don't hate me for this, but most of the gamers don't actually have a decent mic nor headphones. Most of them play with their earphones which is so inconvenient and also damages earphones due to frequent change of ports between Phone/Laptop/PC. So I say, save some money for a month and spend it on a decent headset and for god's sake protect your teammate's ears instead of krrrr noise when you speak through your Earphone mic.
With that rant aside, the headset is a decent buy for the first time buyers and has Over the Ear design, which means it won't hurt your ears during long gaming sessions. It comes in 2 different colors Red and Blue and also corresponding LED lighting because "Advertisement". 
Ok jokes apart, we now look at Logitech G231 With a price tag of 3,499.00 INR and having a rating of 3.8 stars(surprising), this headset makes it to this list. I know it's a bit pricy but if you're lucky you can find one on sale for 2,999.00 INR (Very rare). There's only one color options Grey with Orange accents and has 7.1 Surround Sound and is compatible across all major platforms. It earcups are comfortably soft and breathable, also sports performance cloth ear cups which are removable, washable and resist heat and sweat. Of course it has a swiveling microphone which is decent in sound quality and its cable length is 2m which is long enough for PC users.
Honorable Mentions: HyperX Cloud Stinger,  Gamdias Hebe E1.
Summary
Like I said earlier, there are tons of options on the internet, but don't fall for the Advertised title or aesthetics. Do check the reviews and research before making the purchase.
If you have any recommendations/changes feel free to comment down below. See you guys in the next one!