KFC's iPhone Killer in China.
This will be the best thing you will read on the Internet today. If you are a fan of fried chicken and gadget lover, there would be no joy greater than this. KFC has made an exciting partnership with Huawei to make phones.
KFC and Huawei will release a limited KFC edition smartphone on the special occasion of KFC celebrating 30 years since opening its business in China.
Let us talk about the name and specifications of the device KFC edition Huawei Enjoy 7 Plus.
Also, read China's Latest 250-Acre Panda Shaped Solar Farm is Amazing
The device got a 5.5-inch screen which has Snapdragon 425 processor with 3GB of RAM and 32GB of storage, can be expanded up to 128GB via a microSD card. The device has a 3,020mAh battery which is huge and a fingerprint scanner(Don't Lick your fingers, LOL).
The design of the phone looks interesting and good. When you look at the back of the device Colonel Sanders art is embossed.
KFC made an official announcement via its Weibo page(China's leading social media platform), but the announcement is written in Chinese.
(Translated)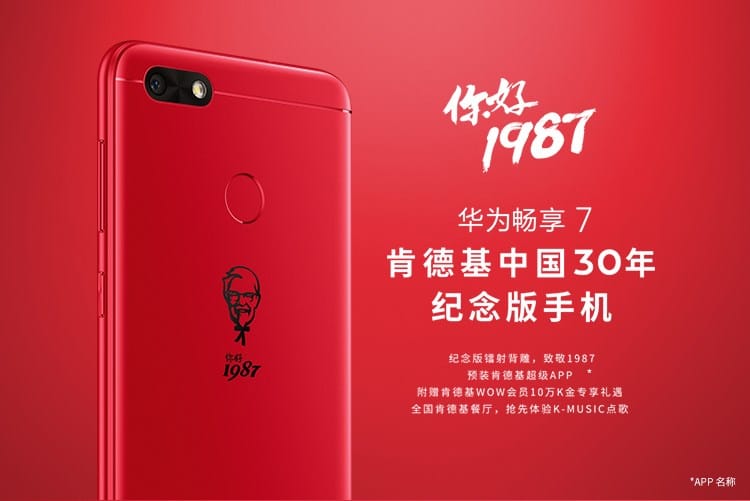 "# Kentucky China 30 years from 1987 to 2017, 30 years accompanied by the taste of the times, such refers to the aftertaste! Kentucky together with Huawei cooperation, the introduction of Huawei Chang enjoy 7 Kentucky commemorative version of gorgeous struck! Commemorative Edition laser back carving, pre-installed Kentucky Super APP, with WOW member 10 thousand K gold, but also the first to experience k-music song function. Limited to 5000 will soon be on sale, waiting for you to grab!"
The above translation of announcement is taken from the Verge
The device comes with a KFC-branded music pre-installed app, which makes you create and share playlists at KFC restaurants. This device is absolutely a roller coaster ride of emotions for KFC and gadget lovers
As mentioned Huawei and KFC partnership will only release 5,000 devices and the phones will be available at the cost of $162 USD(1,099 yuan). Add this device to your bucket list ASAP.