If you are serious about gaming and always want to be a professional one, you can't do it with your regular keyboard and mouse as you usually think you can do. A little investment to buy a good gaming keyboard can change the way you play your games and it will make you a better gamer.
n this article, I will be listing 5 best Gaming Keyboards to help you achieve more success in your games. You can ask why should we buy a fancy new gaming keyboard when we already have a keyboard which is not bad at all while playing games? Yes, No problem! You can! but as I said before it won't make you a professional gamer. In our previous article, We have talked about What makes a Good Gaming Keyboard? . You should read this to know the difference between a regular keyboard and a gaming keyboard.
5 Best Gaming Keyboards
1. SteelSeries Apex M800

The SteelSeries Apex M800 is on the top of the list of the 5 best Gaming Keyboards. It is the world's fastest and most programmable mechanical gaming keyboard. It gives you a quick response and personal control to master your favorite games like CSGO and DOTA 2.
Price:  $176 on Amazon.com
Features
Layout: Low-Profile
Dual Processors
USB Ports: 2 USB 2.0 Hubs
Ergonomically Raised Macro Keys: 6
Fully Anti-Ghosting Support
N-Key Roll Over 256 Key
Illumination: Per-Key RGB LEDs
Dedicated Media Keys
Fully Programmable Keys
Cable Management System
Weight: 1390 g, 3.06 lbs
Height: 174 mm, 6.85 in
Width: 510 mm, 20.08 in
Swappable Rubber Feet
2. Razer Blackwidow Chroma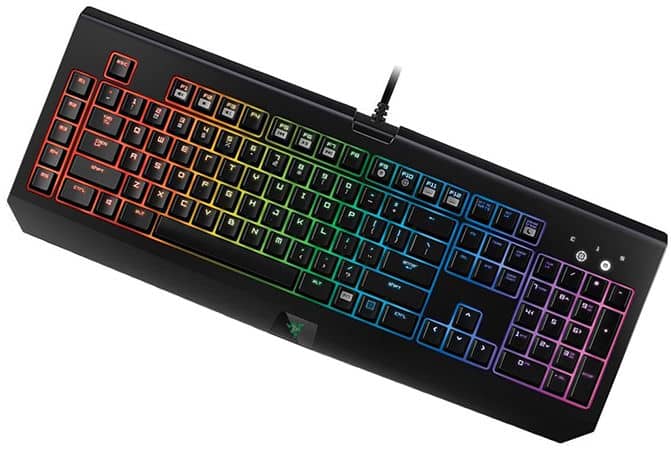 Razer Blackwidow Chroma is the award-winning keyboard for its mechanical switches. Razer Mechanical Switches specifically designed for gaming, actuate at an optimal distance, and give an amazing speed and responsiveness you never felt before.
Price: $159 on Amazon.com
Razer™ Mechanical Switches with a 50g actuation force
80 million keystroke life span
Chroma backlighting with 16.8 million customizable color options
Razer Synapse enabled
10 key roll-over anti-ghosting
Fully programmable keys with on-the-fly macro recording
5 additional dedicated macro keys
Gaming mode option
Audio-out/mic-in jacks
USB pass-through
1000Hz Ultrapolling
Braided fiber cable
Approximate size: 475mm/18.72 in (Width) x 171mm/6.74 in (Height) x 39mm/1.54 in (Depth)
Approximate weight: 1500g/3.31lbs
3. CORSAIR Vengeance K70 RGB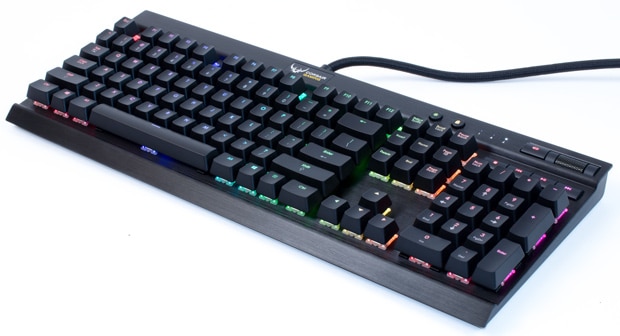 The K70 RGB mechanical is not one of just another gaming keyboards. It begins with the performance of the legendary K70 and adds multicolor per-key backlighting for virtually unlimited customization. Every key is backed with a Cherry MX RGB key switch for precise actuation and superior feel. 104 full key rollover and 100% anti-ghosting ensure accurate gameplay. It is one of best Gaming Keyboards in fair price.
Price: $175 on Amazon.com
Features
100% Cherry MX RGB mechanical key switches for ultimate performance
Multicolor per-key backlighting for virtually unlimited game customization
Display controller is driven fast and fluid 16.8M multicolor animation
Aircraft-grade anodized brushed aluminum for superior rigidity
The entire keyboard is programmable to assign a macro to any key
100% anti-ghosting with 104 key rollovers on USB
Onboard memory to take performance and lighting settings with you
All-new desktop control software
4. Roccat Ryos MK Advanced Mechanical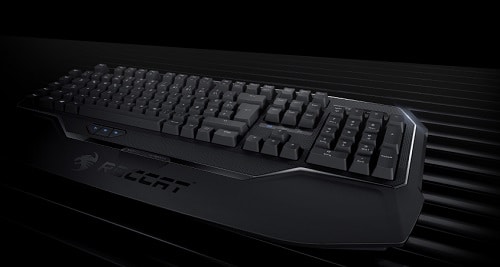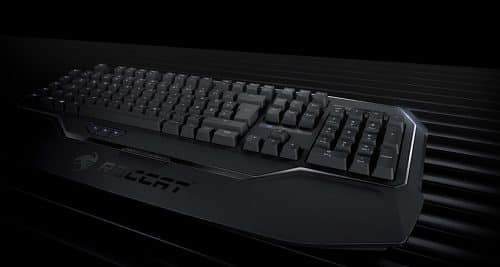 If you want the best gaming keyboard but your budget is low, Roccat Ryos MK is perfect for you. The Ryos MK is the most refined mechanical keyboard. Using all of ROCCAT's industry expertise and gaming experience, the Ryos MK boasts a feature set so comprehensive your enemies won't know what hit them and a design that will make you the envy of all your fellow gamers.
Price: $75 on Amazon.com
Features
Mechanical keyboard with 113 keys
High-Powered Hardware 32-bit ARM Cortex processor + 2 MB of flash memory
Advanced anti-ghosting with N-key rollover
CHERRY MX key switches
3 programmable thumbster keys (T1 – T3)
Easy-Shift [+] Becomes easy Keyboard – assign a secondary function to virtually any key. N-Key Rollover – means advanced anti-ghosting
High Powered Hardware – 32-bit ARM Cortex processor + 2 MB of flash memory. Roccat Achievements Display – keep track of your vital statistics.
5. Coolermaster CM Storm Quickfire TK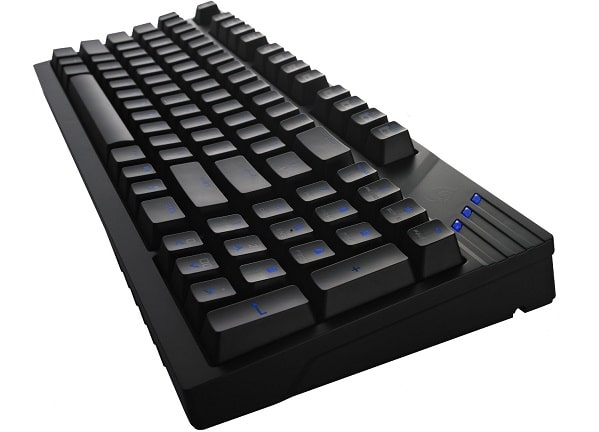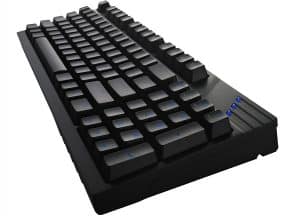 The QuickFire TK takes the QuickFire Rapid and put it on steroids! Choose between 3 different Cherry MX switches. Each keycap is UV coated to make it durable. NKRO over USB means every single keystroke will be registered. An embedded steel plate give you maximum stability and durability. 7 easy-access multimedia shortcut keys save time. A complete numpad lets you get work done while not gaming. The slim and lightweight size gives you plenty of room for your mouse. This is one of the best gaming keyboards to buy in just $85.
Price: $86 on Amazon.com
Features:
Mechanical BLUE CHERRY MX switches with a lifespan of over 50 million key presses
Compact and ergonomic layout with an integrated numpad section
Fully backlit with blue LEDs, 3 modes, and 5 brightness levels
NKRO through USB for unlimited simultaneous keystrokes
Embedded blue steel backplate for maximum stability and durability
Super grip pads and keyboard standoffs with rubber feet for increased stability
7 easy-access multimedia shortcut keys
Windows keys can be disabled for uninterrupted gaming