Each year we see newer better phones come out. The ASUS ZenFone 2 is the 2015 phone masterpiece of Asus. This work of art offers the user the ultimate value for money with more advanced features than previous ZenFone editions. It is definitely the phone of choice for any tech lover with its advanced features and high performance.
Product Summary
The Asus Zenfone 2 boasts a whopping 1080p display with a 13 MP camera. In addition it has a fast 64-bit processor, and a long-lasting battery all for a very affordable price. At the back of the phone, lies a volume rocker. It has great speakers suited for clarity of sound. This beauty dons a frame textured of brushed metal which is perfected further by the dual tone flash on its back.
Product features
The Asus ZenFone 2 has a number of features that work together to make it one of the best innovations Asus has yet come up with. These include;
Display
This Asus phone houses a Gorilla Glass-3 protected display with a resolution of 1080´1920 Pixels. The large display provides a suitable working area to view applications and operate the device. It emits 400 nits of brightness which is ideal for clear display in any conditions of lighting.
Processor and memory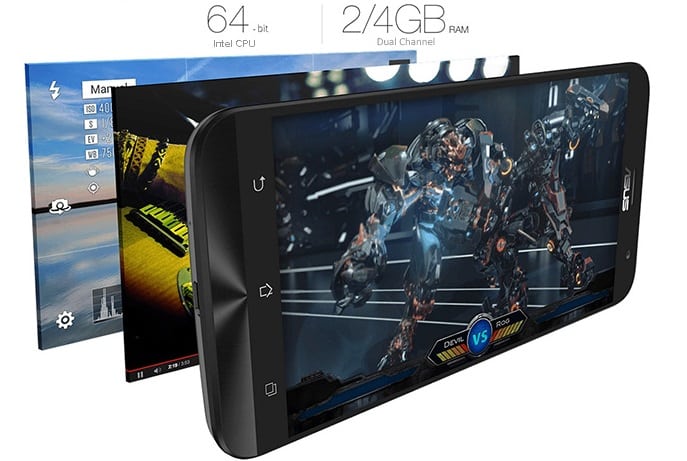 The Asus ZenFone 2 is the pioneer when it comes to the 64-bit frugal Atom silicon. This means that with four cores that can go to frequencies of up to 1.8GHz and a PowerVR G6430 GPU it sticks with the enabled Intel Atom Z3560 processor with open GL 3.0 support. The processor has been proven as one of the fastest making Zenfone 2 an ideal choice. It also has a 4GB memory which is perfect for all storage needs.
Camera
The Asus ZenFone 2 has a 13 megapixel unit front camera. It boasts 5 element f/2.0 aperture lens for high clarity and sharp focus. A duel colour harmonizes the framework. The front boasts a 5 megapixel selfie snapper that is accentuated with 85 degree lens which offer a wide-angle of shot. Additionally, one can shoot selfie landscapes making it all the more a great phone for photography lovers.
Why Buy Asus ZenFone 2?
The ZenFone 2 has a number of advantages that have seen it gain popularity with users. These include;
Low cost thus ideal on a tight budget
Fast and economical processor that can accommodate the latest Android software including 3D games.
Large memory with a 4GB RAM
Better gaming performance than previous ZenFone editions
The camera has a dim light shooting mode so that photos can be taken that are 400% brighter
Supports 2G, 3G and 4G networks
Dual camera offering both front and back camera service
3000mAh battery that has a long life
What are the cons ?
High digital noise with the dim light shooting mode
Fragility and lack of aesthetic appeal
Average camera performance
For its price, the Asus Zenfone 2 is an amazing investment for those seeking an upgrade with good specs at an affordable price. The large display, high gaming performance and fast processing functions make it a great investment.