It appears that the top of the line and stringent parts of the PC segments business sector isn't just about pace, it is likewise about contrivances. The most recent of those originates from memory producer Geil, which has made its new execution DDR4 modules "inhale" progressively in view of their temperature.
Geil offers its DDR4 Super Luce quad direct memory modules in three hues (red, blue, and white) with 2666MHz, 3000Mhz, and 3400Mhz rate alternatives accessible. The breathing highlight uses licensed iLUCE Thermal-radiating innovation, which permits clients with a windowed case to visually see the temperature of the memory as it exists in real- time.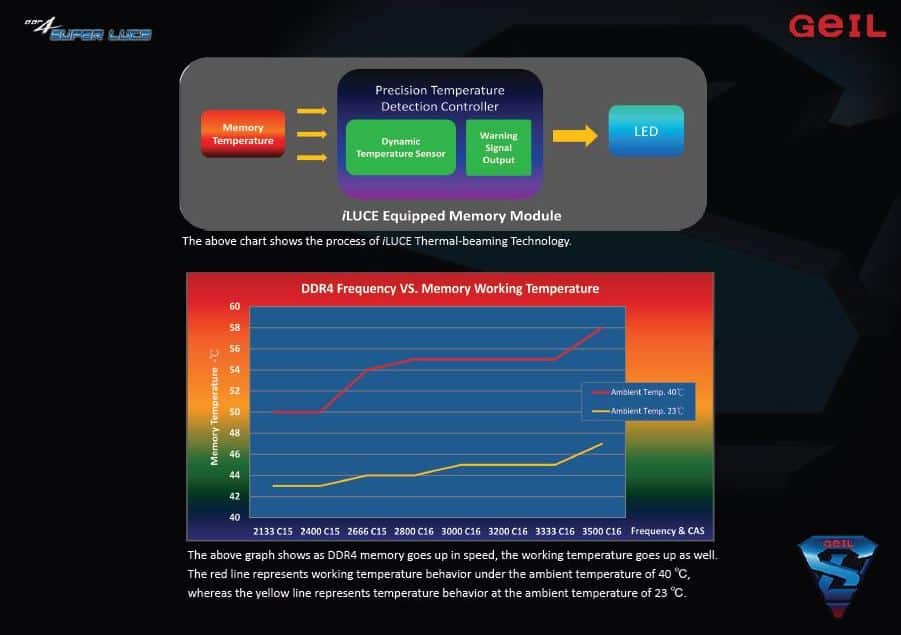 Geil has accomplished this via blending beating LEDs fitted to the highest point of the memory modules with an exact temperature location controller. A dynamic temperature sensor always upgrades and conforms the beat of the LEDs. The beats get progressively speedier relying upon how hot the modules are. There are five levels of this relaxing. Level 1 is of 40c or less with 13 beats/min. Level 2 is of 40-45c with 60 beats/min. Level 3 is of 45-50c with 80 beats/min. Level 4 is of 50-55c with 120 beats/min and finally level 5 is of 55c with 200 beats/min.
So as the memory meets expectations harder, the heart beat of your framework gets quicker. Furthermore, in the event that it gets too high then a notice will sound.
I'm certain under the right lighting conditions this could look incredible with the shading coordinated to your motherboard and case. The impact and effect will soon wear off, however, particularly if your case winds up covered up under a work area. At this time Geil has made quad module 16GB units accessible for buy extending in cost from $225 to $320 relying upon your choice.