First mobile phones produced were enormous and heavy with long antennas. As throughout the years technology significantly evolved, they managed to decrease its dimensions. At the beginning of the 21 century, they started making small mobile phones. Because at that time mobile phones were only used for talking and texting, the smaller was the better. However, today, when we can watch movies and play games on our phones, we need big screens. For that, the phablet is an ideal solution.
Ecoo E04 is a Chinese high quality 5.5-inch screen Phablet. Thanks to its extensive high definition LCD screen, it will provide you an astonishing range of colors that will enrich any content you watch. It runs on a MediaTek MT6752 64 bit 1.7 GHz octa-core processor that, combined with 2 GB of RAM, 16 GB of ROM that can be upgraded with an SD card and ARM MALI T760, ARM's most fastest GPU, will ensure you run any application smoothly with no stuttering or thinking if you have sufficient space for it. It runs on an Android 4.4 based OS software and has a strong, durable 3000 mAh removable battery.
Ecoo E04 supports GSM, WCDMA, FDD and LTE networks so that you can achieve the fastest internet speed.What makes this phablet unique is its high quality camera. With 8 MP front and 16 MP dual LED flashlight and autofocus supported back camera, this phablet will put to shame world's best mobile phones.
High Dynamic Range feature it provides will help you capture environment as you envisioned it. It also has a built-in option of panorama, in case you want to take a photo of a sight that can't regularly fit on one picture.
As the manufacturers know that security is an important factor, this phablet comes with a fast fingerprint scanner that will unlock your device in less than a second. To make it more comfortable to use, you can add up to 10 different fingerprints.You can also adjust your fingerprint to open an application of your choice automatically when you unlock it with that particular finger.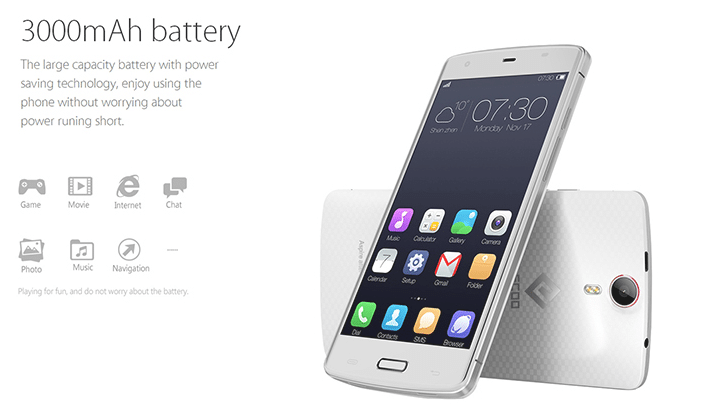 That is not the only feature it has. Proximity sensor this phablet offers will reduce the display power consumption, drastically increasing your battery life. Proximity sensor works on the basis of detecting the presence of an ear. It will also disable the screen so that you do not touch anything with your cheek while talking. It also has a gesture sensor, similar to Samsung's. With it you can quick glance, scroll through webpages, e-mails and move items and icons without touching the screen just by moving your hand above it. But its most important feature is most definitely the dual SIM option. It has a micro SIM and a regular size SIM slot.
With that added, you do not need to carry multiple devices with you anymore. It comes in handy for those who have one SIM for internet packages and an another for talking and texting or for business people who do not want to give their personal phone number to their associates.
It is affordable, and what is most important, reliable phablet you and your family will enjoy using.