Arduino's SuperDuino a super innovation…
Arduino project SuperDuino, a petite touch screen powered by a coin cell battery and reared up by a small Arduino-Like processor.
This kit can be utilized to make smartwatches and other mini devices and costs about $25 for the whole system. You can insert microSD readers, Bluetooth, and wireless connectivity to the Arduino's SuperDuino. This project SuperDuino is ideal for Hobbyists, Professionals and University Students.
What can you do with the Arduino's SuperDuino? As you can notice above you can embed the device into a watch or make use of it as a mini-display for a sensor. It can be used for many technical things. It can also work as a mini oscilloscope and, most interesting thing; it runs most annoying Flappy Bird.
Arduino's SuperDuino is created by Mohsin Farooq the project has got huge support and response, already surpassed its funding goal and where 23 days left for end of crowd funding. It's an intelligent, cool little product and could be helpful for innovative wearable experimenters and for micro-Flappy Bird fans.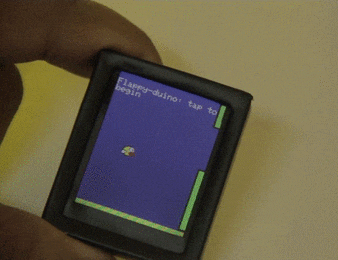 Specifications of Arduino's SuperDuino:
USB Programmable (Micro USB Connector)
16 Mhz/ 32Khz System clock
Two 8-bit Timer/Counters with Separate Prescaler and Compare Mode
One 16-bit Timer/Counter with Separate Prescaler, Compare Mode, and Capture Mode
Real Time Counter with Separate Oscillator
Six PWM Channels8-channels 10-bit ADC USARTMaster/Slave SPI
Byte-oriented 2-wire Serial Interface (I2C) On-chip Analog Comparator
Interrupt and Wake-up on Pin Change23 Programmable I/O Lines
1.7″ 128X160 16bit color TFT LCD
USB / CR2032 coin cell (Can charge rechargeable cell) / 3-12V Supply operated
3 axes Accelrometer (can detect single click, double click, down, up, right, left tilt)
2.54mm I/O pin Header
Speaker Option
Bluetooth Add-on
WIFI Add-on
MicroSD Add-on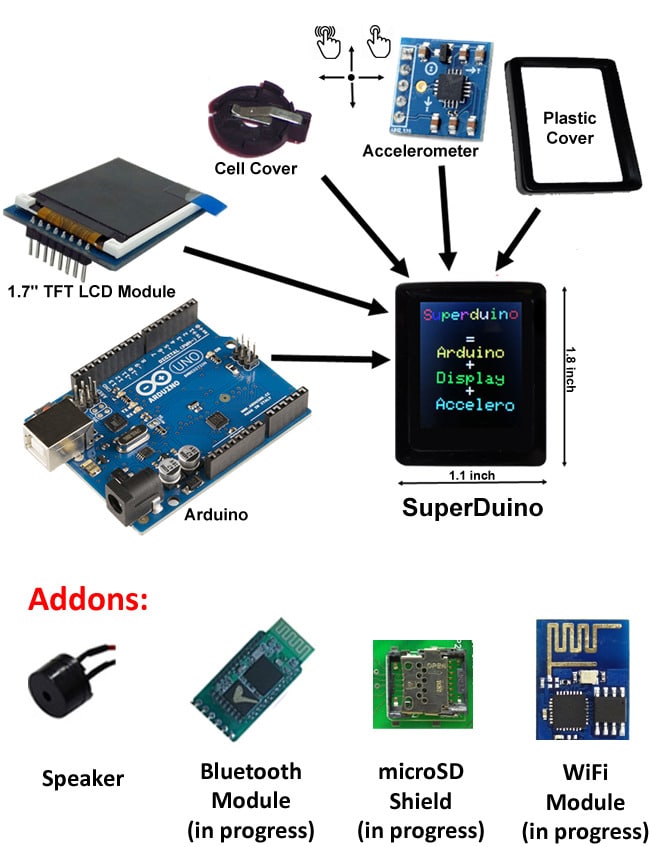 These learning Tutorials will be provide with SuperDuino displaying Text and colorful Graphics patterns, temperature and Humidity controller, Frequency Meter, Osciloscope ,Volt and Ampere Meter, Watch, Talking Clock,  Capacitance Meter,  , Digital Logic Analyzer, Pedometer, Smart Bricks Breaker Game, Connecting devices via mobile phone ( Wi-Fi ), Flappybird Game.