Sennheiser CX 275s is the best affordable earphones under Rs. 2000.
Sennheiser CX 275s is an earphone for true bass lover earphones under 50$. Sennheiser CX 275s is neither cheap nor over-priced which proffer perfect solid, flawless audio quality. The enhanced lows will shock away classicist, and where everyone might get the lofty. An inline remote control in this earphone and microphone add value to the CX 275s, but one small thing that Sennheiser CX 275s is it remote lacks volume controls, which is a bit of a disappointment that does not matter a lot for its price. On the whole, the CX 275s is a great pair with a lot to love for music lovers, but they live in a crowded area with a lot of admirable competition.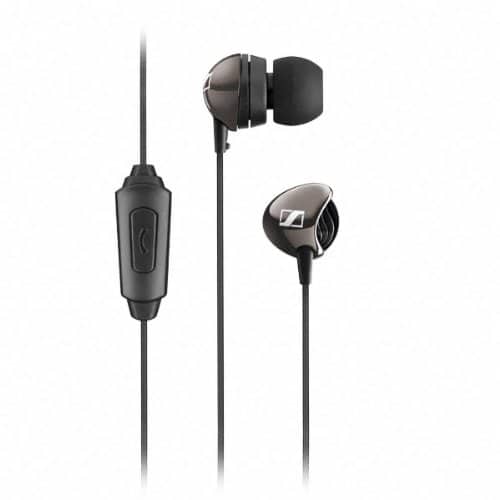 Talking about the features of the CX 275 it is simple, neat design, grooved accents with dark and metallic gray earpieces. Sennheiser logo polishes both earpieces so beautifully, and thin black cable which has inline remote and microphone that fall down from the left ear's cable, making it to hang just below the chin. The CX 275s sounds pretty secure the earpieces are so lightweight and small, it is not easy to put in at first, but once they stick off the canal, they will never leave ears. The CX 275s manages to maintain a decent balance between lows and highs well.
The inline remote is of the single-button is unique, how many times you press the button; you can play or pause, answer calls and navigate tracks. Sadly, there is no volume control on the remote. This inline remote will work on multiple devices, but it would be good if it has dedicated choices for each type of phone, with volume controls. CX 275's Call clarity through the inline mic is pretty much decent; your call partner can understand you just fine. The CX 275s inbox contains with 3 pairs of black silicone ear tips, a small black carrying pouch and, a cable adapter for Nokia-type phone connections.
PROS
Sennheiser CX 275s is a Powerful, flawless free audio performance with deep, boosted lows. It has an inline remote control and microphone for mobile devices. It is Comfortable, lightweight and secure.
CONS
Sennheiser CX 275s sounds sharp or harsh at times. It is boosted deep bass response not for classicists. The Inline remote has no volume controls.
BOTTOM LINE
The Sennheiser CX 275s would be your perfect branded pick where price is affordable which can be used for your music player or mobile devices. It combines serious bass response with a light. These will be a true pick for bass lovers.
Bonus Article : Enjoy Swimming with Music.