Smart is the new trend. Smartphone is a just an initiation in this field, there is a lot more to come. Tech world has already witnessed a sharp increase in the smart gadgets and devices including robots. Not only can these devices perform multi- tasking but also their efficiency is unquestionable. Such level of technology has given birth to a new field, a field which is a window to the future, bringing the futuristic aspects closer to humans as none has brought till now. Home Automation. Yes, indeed smart homes are a thing of the future in which our generation is slowly stepping. Various home automation gadgets have been released like smart robots and smart locks but nothing makes a house, a home like coffee does. So a smart coffee maker for your smart house is a must and Remington's iCoffee has brought you your perfect home coffee machine.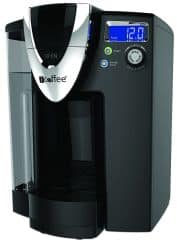 No it is definitely not Apple Inc. product as many might think owing to its name but its performance ratio is no less than that of Apple iProducts. This single serve brewer is designed to compete with that of Keurig. This splendid piece of coffee make is hoisting SpinBrew technology which guarantees you a perfect cup of coffee to start your morning. It is christened the Single- Serve Opus Brewer and it assures you a pod- based cup of coffee with a latent bitter taste when you have had your share of coffee. It also lets you prepare which ever brand of K-style pod you prefer, thus increasing the flexibility of the product.
The SpinBrew technology, which is the essence of the coffee maker uses a patent- pending needle which is used to steam, spin and stir the contents of the coffee. This needle creates a small French Press effect which cannot be brought about by using any other kind of brewers. It will also completely blend with your kitchen interior providing your kitchen a grand as well as futuristic look, a combination hard to come by.  The iCoffee Opus has sleek, shiny and glossy black, boxy build structure with stainless steel aids. The LED's provide it a glazy appearance through the water accumulator having the capacity of 75- oz.
This amazing embodiment of coffee and technology also hosts the world's first ever Dial-a-brew control. This control allows the users to customize their coffee according to their taste and preferences. In this control the user need to dial up a brew size which ranges between 4 to 12 ounces and also allows to choose the precise amount of beverage when brewing over ice.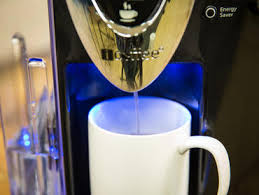 The company has marked the product price to be $140. Well, it is a one- time investment for your new home as this will not only make your mornings better but will also please your guests when you invite them for a cuppa. You can buy your at any Bed and Bath stores near you in a couple of days.