Everyday new and better upgrades are being launched to make user experience better. Just to provide the customizability option many new gadgets have been launched. To provide extension for your smartphones we now have smart watches. But what about music? We need extensions for that too. Though there are many reputed companies in the market like BeatsAudio and Skull Candy and they have launched satisfactory products, still there is room for improvement. So to compensate that we have Parrot Zik 2.0 Bluetooth Headphones which will smarten you up with the look it provides as your accessory.
The ZIK model was a real hit with critics and the press, after which Parrot is going one step further by launching its ZIK 2.0.  The Zik 2.0 headphones which are advertised as the world's most advanced headphones are very impressive. The improved design is both handsome and understated. The features are many and varied and possibly a little bit overkill for some people. The app is incredible, though it might also be overkill. And, of course, the sound quality is fantastic. They are put to a price that subjectively explains the quality imparted by them. These handsome headphones are going to make you frail after paying for them as they cost $400.
These smart headphones were designed by Philippe Starck, and are ideal for listening on-the-move, boasting outstanding functions including enhanced noise-reduction technology and direct connection to a complementary iOS/Android audio application of the highest caliber. The brand once again appealed to superstar designer Philippe Starck to design these elegant supra-aural headphones, available in six colors ranging from simple to flashy. With a weight of 270g, the ZIK 2.0 claims to be the answer to on-the-move music via Smartphones/tablets.
Though some 17% lighter than its predecessor, the advanced headwear packs all kinds of features like an intuitive touch-sensitive control panel at the side, a 32-bit sound processor that works in compatibility with the 6 microphones to identify and cancel distracting noises, and Bluetooth 3.0 connectivity that allows users to share and control audio. These Zik 2.0s also boast up to 18 hours of continuous playback; all housed in a lush leather and brushed metal body.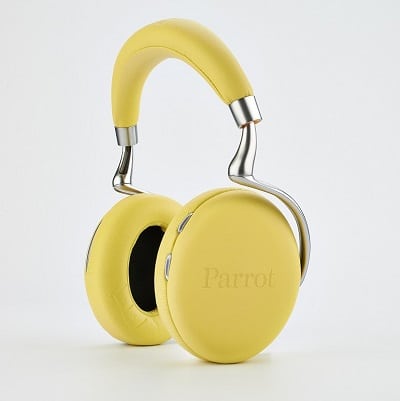 The Zik 2.0 has noise-cancellation features which are driven by eight microphones embedded in it. These microphones enable the headphones to act like a pair of open backed cans. There is also a Street Mode that inserts completely enveloping noise into whatever a user is listening to and hence facilitating it to carry on conversations while the user is wearing them. A bone-conduction sensor in one of the ear cups helps with voice quality for outgoing calls.
On top of that, the 2.0 headphones also pack an intuitive touch-sensitive side control panel used in the original Gold collection for simple track playback and navigation. Simply slide your finger horizontally (right/left) to play the next song or go back to the previous track, and tune up the playback/call volume by a simple vertical swipe (up/down). Pairing with source devices is easy, too – simply tap the headset to connect to NFC-enabled devices via Bluetooth 3.0 and control, customize or share your music by a subtle touch of a finger.