Science fiction has provided inspiration for many gadgets and so we have a new one in this league. Star Trek is one of the most famous series ever made displaying some of the futuristic concepts and one such device has come to reality. How cool it would be to have a private communicator like a walkie talkie but of a much better quality of voice rendering. A personal communicator would be such an awesome possession to have among your group of friends and above all it would be so classy to have such a futuristic- looking gadget with you.
The Onyx, a $99 push-to-talk personal communicator, brings Star Trek-style voice chat to the real world. The Onyx pairs with an Android or iOS smart phone and allows users to instantly chat with other Onyx wearers. San Francisco startup OnBeep is changing that with a new wearable called Onyx. The small $99 device clips on to your clothing and allows for real-time voice communication with a group of people also wearing an Onyx. You just press a button and start talking. Onyx is connected to your smartphone via Bluetooth and as long as your phone is connected to a network, Onyx will work. The battery life is relatively short at 12 hours of heavy usage.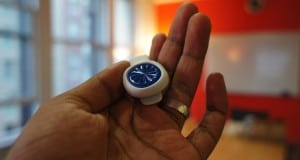 The Onyx is a palm-sized orb that clips onto a lapel, sleeve, or bag strap. It has a built-in speaker and a big button in the middle for activating the device's microphone. When connected via Bluetooth to a companion iOS or Android app, it lets a group of users communicate over the Internet with either a Wi-Fi or cellular connection. OnBeep is taking pre-orders for the Onyx now and plans to start shipping by year-end, though the company isn't promising delivery in time for the holidays.
The app comes with a few nifty features designed to help teams connect while they're out and about. Users can see who has their device switched on, as well as where those people are, if they have opted into geolocation through the app. Onyx's battery lasts for about 12 hours with what Robbins calls "active" use, though actual battery life is dependent on how much someone uses the device. People who use their Onyx less frequently will get more life out of a single charge.
Founder Jesse Robbins believes Onyx will be popular with first responders and event staff who can't look down at their phones to place calls or respond to text messages. Communicator technology has technically been around for two decades. Nextel's nationwide push-to-talk technology debuted in 1996, turning cell phones into extremely long-range walkie-talkies. But texting and unlimited cell phone minutes killed push-to-talk, and Sprint shuttered the Nextel brand last year.
OnBeep thinks Onyx can also help revitalize digital voice tech, which Robbins calls "the most powerful way of communicating when you're not face-to-face." Robbins envisioned "countless" uses for the technology, including families and friends staying in touch. For example, spouses might use Onyx when one person goes to the supermarket and doesn't want to call home a dozen times to ask if the pantry is stocked with various products.