Graphics play a crucial role when it comes to interfaces. Primitive interface portrayed minimal graphical enhancements with basic pixel formations. Since the level of graphics has increased manifold, overruling the additional dimensional graphical views, virtual reality has been created. Virtual reality sometimes referred to as immersive multimedia, is a computer-simulated environment that can simulate physical presence in places in the real world or imagined worlds. Virtual reality can recreate sensory experiences, including virtual taste, sight, smell, sound, touch, etc. It is like stepping into a completely different world portraying its own situations and scenarios. Many gadgets have been created to implement this concept, but they all carry a heavy price on their head and so is not common among the masses. So Carl Zeiss has stepped up to assemble a virtual reality head gear, VR One, with a modest price to make it easy for the consumers to get their hands on.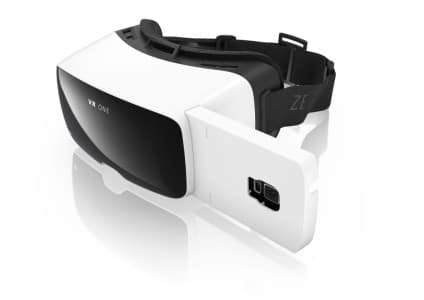 Carl Zeiss, a company known for high-end lenses, is now in the virtual reality business. Their headset, the VR One, is currently available for pre-order, with shipping scheduled to begin before Christmas. The VR market is beginning to heat up, currently the biggest contenders in the field are Oculus VR and the Rift, which has had multiple development kits, prototypes and an up-and-coming consumer version of its VR headset. VR One is priced at $99, and is a smartphone VR headset that is aimed at the mass market. VR One is based around the same principals of Samsung's Gear VR, which was co-developed with Oculus VR, but with a much less specific hardware requirement. The VR One will work with any smartphone that that is 4.7 to 5.2 inches, but VR One still has one big requirement: users will have to order different "drawers" to install their smartphones, to accommodate for the different sizes between the slew of handsets on the market that would be between 4.7 and 5.2 inches.
$99 is definitely a modest price for such a gadget but it is to be made sure on compromises have been made on the quality being rendered. Beyond the design and famous quality Carl Zeiss lenses, the VR ONE contains no electronic equipment. It's also cheap because the project is completely open; development, growth and to a point, marketing is down to the developer community. The first version of the device will support iPhone 6 and Samsung Galaxy S5 smartphones, trays for other smartphones coming soon. The black shield on the front of the device is transparent, so apps could use a phone's built in cameras, either for augmented reality or for positional tracking. The device comes with an open source, Unity3D software development kit functions, to simply app development. The SDK is available for both iOS and Android devices on Bitbucket. For applications, Carl Zeiss is leaving this open to the community. We've seen a couple of demonstration applications: there's a photo viewer and an augmented reality proof of concept application.  To encourage developer support, Carl Zeiss will be running a competition from their Tumblr blog.