With the raging trend of werable technology, many tech giants have stepped into the arena with their latest wearable products. These gadgets are not only trendy but are a magnificent example of your smartphone extensions. Some of the werable are also autonomous cellphones. Many companies have done their contribution to the field of wearable technology, to name a few; Lenovo launched its latest smartband recently, Amiigo fitness tracker, Google Glass, Sony's Smart Eyeglasses. And some of the notable companies have announced their prototypes to be hitting the market soon. After witnessing all this hustle and bustle to prove them best, Microsoft has also come up with its wearable band to keep you up with your health parameters at a reasonable price.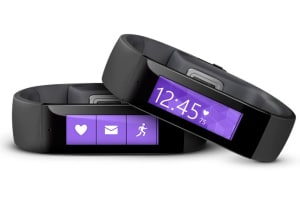 The new Microsoft Band is a black $199 wearable that tracks your steps, heart rate, and stride length, all while showing you text, email, and Twitter alerts. It will be available from Microsoft Stores in the US shortly. "It's the most advanced band we've seen in terms of technology on the wrist," according to Microsoft's Corporate Vice President of Devices and Services, Yusuf Mehdi, "and it's really designed to do two things: have people live healthier, and be more productive, by having a band that can serve on the opposite side of your watch, worn 24 hours a day, and get some of the most accurate data that you can possibly get."
While this is a wearable device from Microsoft, it will not be competing with the likes of the Apple Watch or the other Android Wear devices out there. Instead if it had to compete, it would most likely go up against other fitness devices like the Nike FuelBand SE which would be a more accurate and closer competitor. The Microsoft Band will feature heart rate sensing, calorie counter, pedometer, and a GPS which will help track your run so that you can leave your smartphone at home. It will also be able to measure your skin's temperature and will also come with a built-in microphone that will allow Windows Phone users to use Cortana with it.
Microsoft's plan is as simple as it is large: to be the central repository for all the world's fitness data, to develop and distribute the best hardware and the best software for helping people live healthier lives. It doesn't matter what platform you're on, it doesn't matter what app or device you use. Microsoft wants to be everywhere.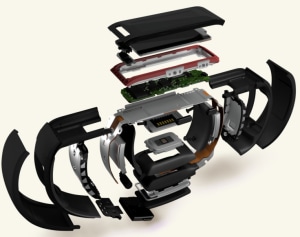 Microsoft detailed these partnerships tonight, most of which are right in line with what someone buying a fitness-centric device would expect. Gold's Gym is on board, for example, providing both guided workouts and a trial gym membership for Band owners. Not all the partners are related to fitness, however, with Starbucks also dishing up goodies for those who nab Microsoft's new wearable. Microsoft has also partnered with Jawbone, which it says is working alongside it to integrate the UP platform with the Microsoft Health platform. RunKeeper fans will be happy to know they can link Band with their account to get the best of both worlds.