Day after day new technology is being released. Gadgets are getting more compact, less expensive and smart. Every few days a new model is released hoisting a set of new features. There have been a lot of new models in the range of laptops. The earlier models were bulky and had limited functionality. But these models have now gone under a lot of modifications. And now these laptops have evolved into tablets and Ultrabook. To add a contribution to these advancements Lenovo has launched its Yoga series having multiple features that laptops did not have till now.
The Chinese electronics giant recently unveiled its latest trifecta of tablet technology, in the form of the premium Yoga Tablet 2 Pro, and also the Yoga Tablet 2, which can run either Windows or Android. The Yoga Tablet 2 Pro comes with a 13-inch form-factor QHD display, with a resolution of 2,560 x 1,440 pixels. The tablet comes with an Intel Atom processor and the Android operating system as standard. It also includes a kickstand to prop up the tablet in display mode. Lenovo updated its Yoga lineup with tablets for Android and for Windows, as well as Windows laptops known for their twisting screens and multiple positions, as their name is meant to imply. Like all Yoga Tablet 2 models, the Pro will have a 180-degree kickstand—that's the "y0ga" part—but the stand here will have a one-button release that quickly snaps the stand back into the body of the device. It'll also ship with speakers from JBL, and a built-in subwoofer, as well as a built-in pico projector that can throw an image up to 50 inches onto the wall, says Lenovo. On the outside, the 8- and 10-inch Lenovo Yoga Tablet 2s look and feel very similar to the original Yoga tablets, with a bulbous edge that contains a large battery and makes the devices easy to grip. Inside, both the Windows and Android devices are powered by an 1.86GHz Intel Atom Z3745 processor and feature a full HD 1920 x 1200 display, dual band Wi-Fi, and a micro USB port. The tablets also boast 8MP rear cameras and front-facing speakers enhanced by Dolby Audio and Wolfson Master HiFi.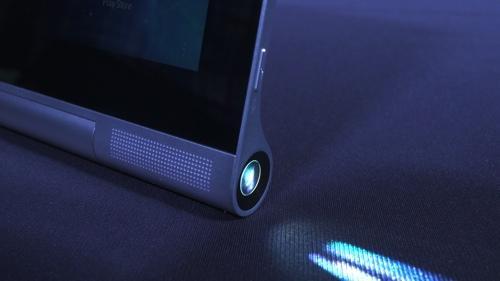 The cylinder also houses the Yoga Tablet 2 Pro's massive 9,600-mAh battery, which Lenovo says should get you a whopping 15 hours of usage. Compared with the 10 hours of usage Apple says to expect with the iPad Air, that's a big difference. Lenovo says the projector creates an image with an 854 × 480 pixel resolution at 50 inches, which is lower than your average 20-inch TV. I also noticed that the projector's image was a bit dim. That could change when the device hits stores, though; Lenovo says it's still perfecting the projector. You can enable projector mode by either long-pressing the dedicated button on the side of the Tablet 2 or selecting Projector from the slate's quick settings menu. Lenovo has also incorporated powerful speakers into the tablet's base. There's even a subwoofer on the slate's backside that pumps up the bass.