Since the technology has become so advanced that the latest streams of laptops and tablets provide every necessary functionality that a desktop might provide and even much more. So as a result, desktops have been kicked out from the spotlight of tech maniacs. Many desktop manufacturing companies have suffered a major setback because of it and so a step had to be taken to bring the category of desktops back in the league. HP has produced its new Sprout pc, which has many awesome features that make the latest technology laptops look lame.
Hewlett-Packard (HP) is cementing its reputation as an innovator with Sprout, the desktop computer system that surpasses our ingrained expectations of what a desktop computer can and cannot do. We've seen our share of innovative PCs, but we've never seen anything pop up like the HP Sprout. Five years in the making, the 23-inch all-in-one uses a depth-sensing camera, overhead projector and touch-sensitive mat to digitize, manipulate and share real-world objects while providing a unique dual-screen experience.
The Sprout sports a host of premium specs, including a 3.2-GHz Core i7-4790S processor, Nvidia GeForce GT 745A graphics, 8GB of RAM, and a 1TB hybrid hard drive. With a 23-inch full HD monitor that supports 10-point touch, DTS sound and these high-end components, the system promises a great multimedia, productivity and gaming experience on its own. However, the Sprout's Touch Mat, Illuminator projector / camera and proprietary software are the real stars of the show.
Sprout will look similar to the Spectre One, an HP all-in-one touchscreen desktop, with the scanner attached at the top, facing down onto a workspace attached to the base of the computer. It will be priced somewhere between $1,200 and $2,000 and will run on Windows 8, though early versions were on Android, according to our source. It's a bit reminiscent of HP's TopShot, a printer with a 3D scanner on the top, though that product was an all-in-one scanner-printer rather than a personal computer.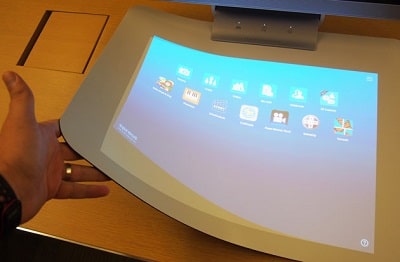 Key to Sprout's game-changing new computer is the combination of an Illuminator equipped with a 14-megapixel camera and an array of sensors equipped with Intel's RealSense 3D tracking technology and a 20-inch flexible Touch Mat that works as a capacitive, multi-touch projecting screen with 20 touch points. Users can write or draw anything on the mat, which are captured by the scanner on the Sprout's Illuminator and digitized so that they can be resized, rotated, moved around, edited and combined with other elements on the touchscreen.
It's not just 2D, however. HP is making a big leap into blending the physical and digital into what it calls "blended reality" by allowing users to place real, physical objects, such as a ball, a mug or anything that could fit into the mat, and have them transferred into the screen. For now, scanning can only accommodate one side of the object, but the technology is new, and HP is working on an update that will allow full 3D scanning that will be available in 2015. At $1,899, Sprout is less expensive than Apple's $2,499 iMac. Buyers will be able to get hold of their first Sprout computers next month from select Microsoft and Best Buy stores and also through HP's website, which is taking pre-orders now.