With the advent of latest researches in nanotechnology, we have come to such a stand now, that our expectation for a perfect gadget always contains the criteria of compactness. The compact a gadget is, the better rating it gets as it becomes easy to carry around and be used wherever and whenever needed. The second most sought out factor is the smartness of the device, the functionality it has in store to offer. The third factor that that has now started to count a lot in this field is wearablity. Yes, indeed this is the third most important factor being look forward to. We have all witnessed the various smart watches or remote notification systems hitting the market because they provide the wearablity factor. Recetly Ringly was launched which was just another step in this direction. And now we have MOTA's vibrating ring.
Following up on its sleek smart bracelet released in 2013, MOTA has unveiled a smart ring that takes up less space on your body, but still promises the same kind of smartphone-notification interactivity. Officially announced at Berlin's IFA consumer-electronics show, the MOTA SmartRing is designed as a notifications hub for your finger, delivering updates when you have new text messages, email, calendar events and incoming calls. Do you remember Ringly? The idea behind it was that people would use a vibrating ring to alert you about incoming calls, emails or text messages. If you can imagine that same concept, albeit in a smaller and less gendered package, then you have the starting point for the MOTA Smart Ring. Silicon Valley design outfit MOTA believes that in order to stop people checking their phone during conversations, notifications need to be buried somewhere even less obtrusive (and visible) than on a smart watch, and hey, it's pretty easy to look at your hands, right?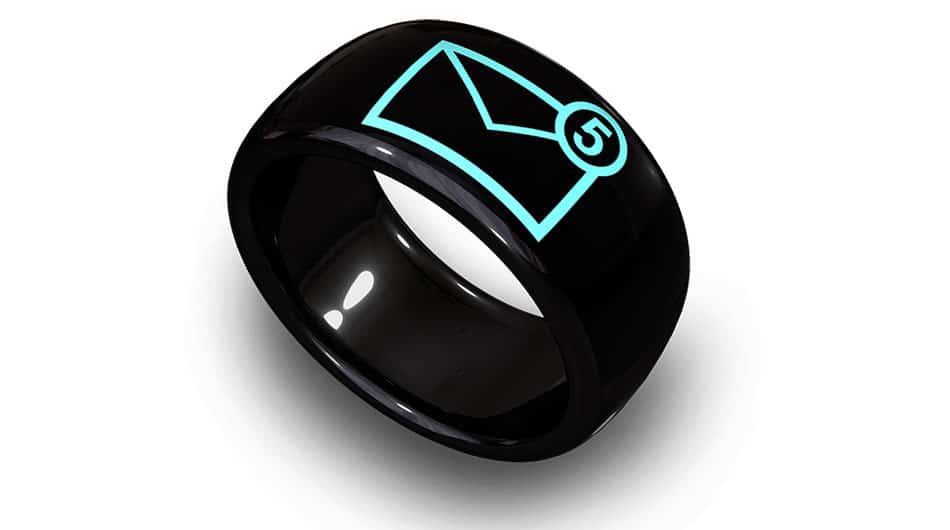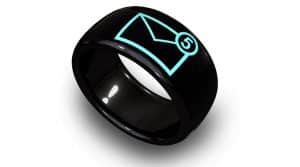 Optimized for use with both Android and iOS devices, the smart ring can also deliver Twitter and Facebook notifications, as shown on MOTA's website. Offered in "midnight black" and "pearl white," the ring also has a silent vibration mode that can be tailored to deliver different vibration patterns for your smartphone contacts. The idea, very simply, is that the screen of the device would face in toward your palm, and whenever you received a call, it would vibrate to let you know. When you got an email or text message, the text would be scrolled across a small OLED touch display that you could read simply by looking at your hands. Once you've digested the contents, you can dismiss it with a swipe and continue to go about your day, and most importantly, not stopping to check your smartphone. Early consumer reviews of MOTA's first smart watch were mixed, so it may be too early to get excited about the smart ring's capabilities. Either way, we'll find out soon, as the company is set to ship the device later this year. No price has been announced yet. More details will likely trickle out at IFA after September 5.