The human kind has developed to such a level that we have attained the stage of extreme engineering. May it be, nano gadgets or robots or latest trend setter smartphones we have reached extreme level of engineering. This aspect of development is also reflected in the field of automobile engineering. There is a peculiar demand of vehicles that can endure the ruggedness of extreme terrains and an all- terrain vehicle perfectly serves this need. To fill this demand, AVTOROS has designed an extreme vehicle, ATV 8×8 entitled Shaman, it is also being considered as the Russian 8×8 off road monster. Shaman is believed to be a person with special abilities. According to Russian theories, "the sacredness of the world, the experience of other shamans gives strength, and being elected. Shaman acts in accordance with the new knowledge of life, taking this knowledge to the human world, bringing new knowledge that meets the needs of society".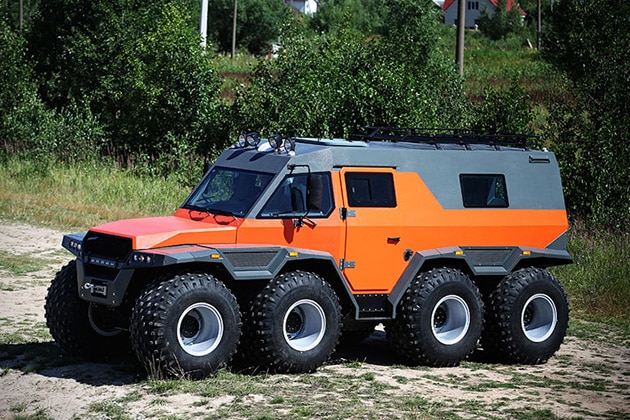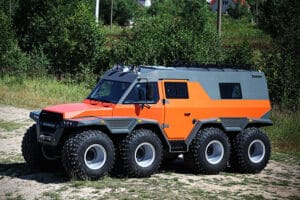 In the old days and now the word "Shaman" has always been associated with something mystical, unknown and mysterious. Shamans were designed to protect people from bad luck and to be agents on the roads of life. The ATV on low-pressure tires Shaman is designed to help people. Measuring in at 6 meters long, 3 meters high, and 2.5 meters wide, this 2.5-ton beast can tackle literally any terrain. In this case, all-terrain includes land, snow, & water. It climbs over the toughest terrain, glides over the frozen tundra, and yes, it's amphibious. The vehicle is powered by an Iveco F1C 3.0-liter turbo diesel that pumps out 146-horsepower through a 6-speed manual gearbox, but it's the steering system that makes this thing really unbeatable. The 8-wheel drive Shaman has 3 different steering systems, allowing the driver (from the captain's chair) the ability to switch between On-Road (front 4-wheel drive), Off-Road (active rear wheel steering), and Crab Mode (turns all 8 wheels in sync to move sideways). Each off-road monster can carry up to 1.5 tons of cargo, is capable of scaling 45-degree inclines, and according to those who have sat behind the wheel, it is actually "pretty easy to drive." The Shaman takes 2 months to manufacture, which means there are plenty of customization options as if it isn't unique enough already.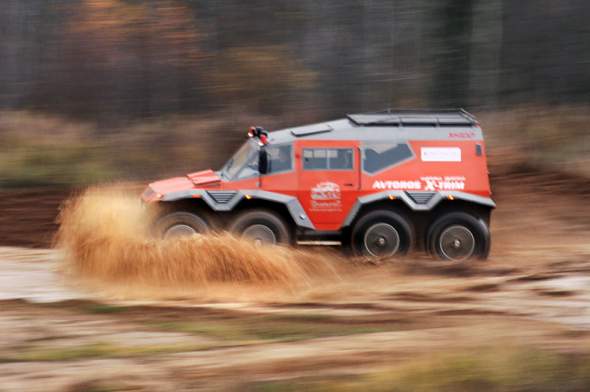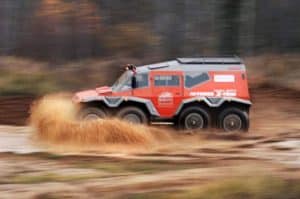 The Avtoros Shaman 8×8 ATV may not be fast (80 km/h, 50 mph), it isn't even particularly powerful, a 3.0 liter diesel Iveco engine with 170 hp or 3.0 liter Hyundai engine which offers 240 hp , but it is humongous and it isn't ever going to stop.  It is roomy for up to 10 adults, with each of the passengers having one seat for themselves each offering the maximum amount of comforts. That's because it has eight bespoke 1.2 meter tall by half a meter wide (4ft by 1.6 ft) tyres. It needs those because that's the only way you can traverse the endless swampy tundras of Siberia. It weighs 2.5 tonnes empty, but the tyres means that that weight is spread out enough to enable the truck to skim over the muck rather than sink in it.