The trend is already set for the werable technology in the market. One by one the top companies are putting forward there newly conceived models and prototypes to prove their worth and grasp in the field of technology. After the recent introduction of Apple iWatch, Moto 360 and LG G Watch we can formulate the fact that this trend is going to bring more candidates into the arena. ASUS has also stepped up on the platform with its Waveface Concept and produced the concept of its bracelet watchphone. Though the prototype is ready but it will not hit the market soon as it is very expensive and not so profitable at the current stage.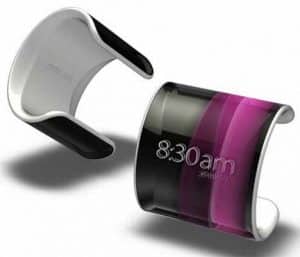 ASUSTeK Computer Inc. and trading under that name, is a Taiwanese multinational computer hardware and electronics company based in Beitou District, Taipei, Taiwan. ASUS is the world's fifth-largest PC vendor by 2013 unit sales after Lenovo, HP, Dell and Acer. ASUS appears in BusinessWeek's "InfoTech 100" and "Asia's Top 10 IT Companies" rankings, and it ranked first in the IT Hardware category of the 2008 Taiwan Top 10 Global Brands survey with a total brand value of $1.3 billion.  Asus has lived up to the expectation of its name with its WaveFace concept.  Waveface is in fact a series of concept devices, created by ASUS and including the Waveface Casa TV, the Waveface Light, a touch tablet and the Waveface Ultra watchphone. ASUS Waveface Ultra is a wearable cellphone concept that can be worn around the wrist, just like a bracelet. This device is a pretty trendy accessory and it uses a flexible OLED display, being also based on gesture control and touch interface. There's also a cloud system supposed to work both with the watchphone and the tablet pictured below, that also features a flexible display. All of these devices, even the Casa TV, are able to access documents and all sorts of content via the platform setup by ASUS. A brilliant idea that we'll hopefully see turned into reality, soon!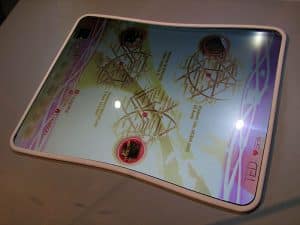 The Waveface Casa is a large widescreen display that acts as both entertainment center and internet portal. When not in use, a flexible, decorative cover obscures most of the screen, only exposing small areas that display contextually-relevant information. Equipped with a touch-sensitive screen and backed by a soft, flexible material, the Waveface Light is an interface to the cloud that can be used in a conventional screen-keyboard configuration or as a flat, single-screen tablet. The Waveface Casa is a TV-like home computer machine, serving as an information terminal. Design-wise it is similar to Waveface LIght except for the fact that when it is opened, you can use it to watch video or handle more complex data. When closed, it would show only simple information like time and weather.
The Waveface Ultra is the most portable of the lot. It has an iPhone like design, and can be used as a hybrid phone and a portable computing device. Interesting thing about this device is that thanks to its flexible OLED design you can wrap it around your wrist but still have a single surface when handheld.